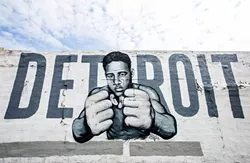 Read the full list of Best of Detroit 2017 Best Art and Music winners here.

Recently, a student from Windsor, Ontario interviewed me for a documentary she was working on for a school project about Detroit. Specifically, she wanted to talk about the impact of Detroit's art scene on the city's revitalization. I told her I was skeptical of her premise. I told the student I thought Detroit was a great place to make art, but perhaps not a place to make it as an artist. There are a lot of galleries, but not necessarily a lot of people buying art. And there's no real arts district here, so to do a gallery crawl you'll have to hop in your car and drive around the metropolis.
After the camera stopped rolling and the student thanked me for my time, I kept thinking about the interview. And I started to feel like maybe I was taking what we have here in Detroit's art scene for granted. Detroit isn't New York. Detroit is Detroit.
For example, take the infamous Heidelberg Project, voted the best public work of art. After three decades of tired "art or eyesore" debates, it's easy to take for granted that Tyree Guyton took what was becoming a forgotten neighborhood and turned it into one of the most unlikely international tourist destinations in the city, or quite possibly the world. (Case in point: every single time I've ever been there, I met someone from another country.) And the site has taken on a renewed interest now that Guyton has announced he is consolidating it into a more permanent installation. In this case, art has had an impact on the city's transformation — a modest one, but a tangible one. Maybe it's not the "normal" idea of what an international arts district would look like, but what is normal, anyway?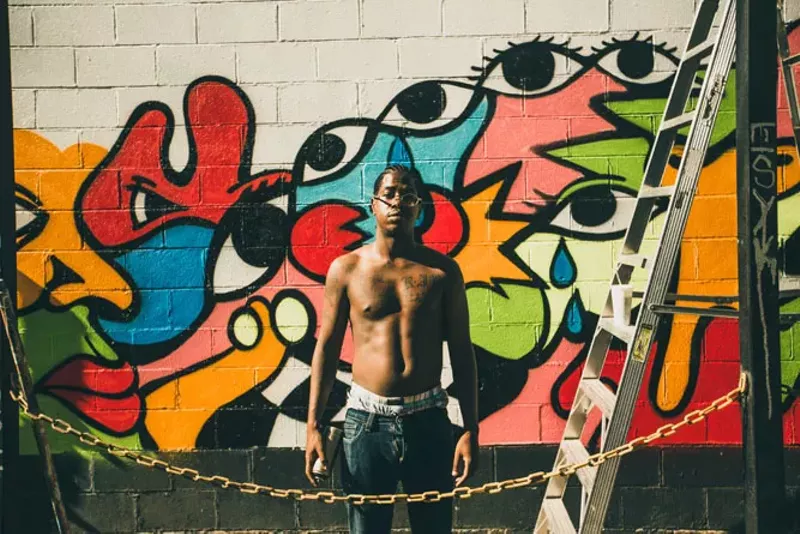 It's also easy to forget how many artists in Detroit work so seamlessly across genre and medium. See our reader's pick for Best Artist, Sheefy McFly, who works in both the visual and musical realms. As a musician, McFly has worked in hip-hop, techno, ghettotech, and rock. This Memorial Day weekend, he'll take the stage at the annual Movement Electronic Music Festival, which highlights the city's role as the birthplace of techno and a pillar in electronic music. And you can see his colorful and creepy paintings as part of 1xRUN's Murals in the Market festival, which has grown over the past two years of its existence into an event that attracts artists and spectators the world over. It has also helped transform Eastern Market into not just a culinary feast but a visual one as well, with murals, street art, and other installations on display year-round.
Of course, there's much more to the artistic offerings available here. For example, the Ann Arbor Street Art Fair, voted the Best Art Fair, is one of the nation's largest. And the Ann Arbor Film Festival, voted the Best Film Festival, is one of the oldest experimental film festivals in the country.
The more I thought about the Canadian student and her documentary, the more I started to think about my city from how it must look from the other side of the Detroit River.

They don't have this stuff in Windsor.

Best Art Fair
Ann Arbor Street Art Fair
721 E. Huron St., Ann Arbor; 734-994-5260; artfair.org

Best Art Gallery
Tangent Gallery
715 E. Milwaukee Ave., Detroit; 313-873-2955; tangentgallery.com

Best Art Supplies
Blick Art Materials
28878 Woodward Ave., Royal Oak; 248-548-7679; dickblick.com

Best Public Work of Art
The Heidelberg Project
3600 Heidelberg St., Detroit; 313-974-6894; heidelberg.org

Best Place for Live Local Theater
Stagecrafters
415 S. Lafayette Ave., Detroit; Royal Oak; 248-541-6430; stagecrafters.org

Best Place to See an Indie Film
Detroit Film Theatre
5200 Woodward Ave., Detroit; 313-833-3237; dia.org

Best Folk Venue
The Ark
316 S. Main St., Ann Arbor; 734-761-1451; theark.org

Best Street Art Seen in Metro Detroit
Eastern Market
Eastern Market, Detroit; 313-833-9300; easternmarket.com

Best Haunted House
Erebus
18 S. Perry St., Pontiac; 248-332-7884; hauntedpontiac.com

Best Rock Club
El Club
4114 Vernor Hwy., Detroit; 313-436-1793; elclubdetroit.com

Best Metal Club
Token Lounge
28949 Joy Rd., Westland; 734-513-5030; thetokenlounge.com

Best Hip-Hop Club
Niki's Lounge
735 Beaubien St., Detroit; 313-964-1400; nikisloungedetroit.com

Best Indie Club
Marble Bar
1501 Holden St., Detroit; 313-338-3674; facebook.com/marblebardetroit

Best Local Film Festival
Ann Arbor Film Festival
734-995-5356; aafilmfest.org

Best Local Music Equipment Store
Third Wave Music
4625 2nd Ave., Detroit; 313-312-0995; thirdwavy.com

Best Cover Band
Killer Flamingos
killerflamingos.com

Best DJ
DJ Godfather
djgodfather.com

Best Poet
M.L. Liebler
mlliebler.com

Best Artist
Sheefy McFly
sheefymcfly.com