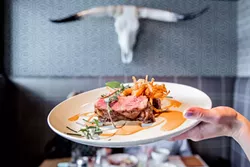 Read the full list of Best of Detroit 2017 Best Food winners here.
While unscientific, Best of Detroit voting can provide a pretty good picture of the Motor City's culinary drift. It's an undeniably exciting time in the region's dining scene, especially in greater downtown, where it's a challenge to stay on top of all of the city's new menus. Despite that, one fact remains: Michiganders still love the region's classics.
Of the roughly 100 food categories, only around 15 restaurants that opened in the last three years are represented (excluding the Best New Restaurant category). That's not necessarily a bad thing, and and it's likely because southeast Michigan's restaurateurs have offered up some damn good eateries for decades.
Among that list are household names like Zingerman's (Best Sandwich, Best Deli in Washtenaw), Joe Muer (Best Seafood), Avalon International Breads (Best Bakery), Fleetwood (Best Diner in Washtenaw), Slow's Bar BQ (Best Barbecue), Green Lantern (Best Round Pizza and Best Macomb Pizza), Bangkok 96 (Best Thai in Wayne), Bucharest (Best Shawarma), Buddy's (Best Pizza in Oakland and Wayne), Andiamo (Best Dessert in Oakland), Red Coat Tavern (Best Burger in Oakland), Toast (Best Brunch in Oakland), and Mudgie's (Best Deli in Wayne). That's a formidable roster of old schoolers.
It was also their ilk that dominated the Best Steakhouse category: Clawson Steakhouse, Knight's, London Chop House, and Mr. Paul's — all of which are deserving, though that'll be an interesting category to check next year after the Caucus Club and Prime and Proper get rolling.
Of the new-ish kids on the block, it was no surprise to find Mabel Gray's James Rigato took Best Chef for his refined, well-crafted modern American fare. The Morrie, with dishes like Kung Pao Cauliflower and Brisket Mac, and Bobcat Bonnie's, purveyor of spicy fried pickles and Queso Fundido, won Best Happy Hour in Oakland and Wayne, respectively. GreenSpace Cafe, which is the newest of the region's vegetarian and vegan shops with a range of creative offerings like carnitas burrito mojado or Salsicce, a flatbread with seitan sausage, took the Best Vegetarian honors.
O.W.L., which quickly built up a reputation for its wonderful marriage of American diner food and mexican fare, won in the Best Diner and Best 24 Hour/Late Night categories, and Pop's for Italian, with its Neapolitan pizzas and classic pastas like baked ziti and fettuccine alfredo, won Best Italian in Oakland.
The Best New Restaurants category saw no real surprises given the amount of chatter and excitement each generated. That includes Black Rock (Macomb), Otus Supply (Oakland), Mikette Bistro & Bar (Washtenaw), and Grey Ghost (Wayne).
Perhaps the most passionately debated dish in Detroit is the coney dog, and the hottest contest in that mix is between Lafayette and American in downtown Detroit. This year, it's Lafayette that wins the contest, while National Coney Island takes the honors in Oakland and Macomb, and Uptown Coney Island wins in Washtenaw. American Coney Island's crunchy taters are considered the Best Fries in town, according to our readers.
Another lively conversation is that on the best Detroit-style pizza. Is it the style's creator, Buddy's, that deserves the award? Or do one if its break-offs, like Loui's, Shields, or the new up-and-comer, Detroit Pizza Company, do it better? None of the above, say our voters: They selected metro Detroit chain Papa Romano's as the best Detroit Style/Deep Dish pizza.
In Washtenaw County, readers say NeoPapalis makes the best pizza pie, and Supino Pizzeria — with its New York-style thin crusts that include options like the Affumicata with smoked gouda, mozzarella, smoked prosciutto, chopped parsley, and roasted garlic — wins in the Most Creative Pizza category.
Metro Detroit also holds a long list of respectable restaurants with international flavors. According to our voters, the best tacos are not found in the heavily Mexican southwest Detroit, but at the popular Imperial in Ferndale, which serves up varieties like papas con rojas, a chorizo, potato, and queso fresco taco. Readers also say Shangri-La, a hip Midtown Chinese eatery that specializes in dim sum, is the region's best option for Chinese food. Corktown anchor Slow's Bar BQ wins for best barbecue, but Smoke Ring, with its Kansas City-inspired barbecue and amazing brisket, is the best of Detroit's thriving food truck fleet, readers say. And for Italian, our readers pointed to fan favorite Giovanni's, a classic restaurant that trades in homemade pasta, fresh ingredients, lots of tangy tomato sauce, and homemade pasta. If it's fresh fish that you crave, our readers say to head to Ichiban in Sterling Heights or Canton, a sleek, hip eatery with all of the classic rolls and inventive specials like the Spicy Girl, with crunchy spicy tuna, yellowtail, and salmon covered in spicy mayonnaise and caviar.
But with all those good dishes to eat, which restaurants stand out above the rest? Which are the best in their respective counties? In Wayne County, readers say it's Selden Standard. The hip Midtown spot sets the bar for seasonal small plates and works closely with local farmers to find the best ingredients for dishes like Cauliflower Fritters or Rabbit Porchetta. In Oakland County, Bistro 82 is what many consider the "crown jewel" of the area's dining scene for its French-inspired menu, attention to detail, and execution. In Macomb, readers selected Luciano's, a mainstay since it opened in the 1980s. It's your classic upscale Italian experience with white linens, soft lighting, and a menu of old-fashioned northern and southern Italian cuisine that's made with fresh, natural ingredients. And in Washtenaw County, voters say Aventura, an Iberian eatery heavy on the olive oil, seafood, chorizo, and manchego is the Ann Arbor area's best restaurant.
Best Bagel
New York Bagel
23316 Woodward Ave., Ferndale; 248-548-2580; newyorkbagel-detroit.com
Best Bakery
Avalon International Breads
422 W. Willis St. , Detroit; 313-832-0008; avalonbreads.net
Best Bar Food
Common Pub
5440 Cass Ave. , Detroit; 313-285-8849; commonpub.com
Best Barbecue Restaurant
Slow's Bar BQ
2138 Michigan Ave., Detroit; 313-962-9828; slowsbarbq.com
Best Breakfast/Brunch (Macomb)
The Pantry
34220 Van Dyke, Sterling Heights; 586-939-1370; thepantryrestaurant.com
Best Breakfast/Brunch (Oakland)
Toast
23144 Woodward Ave., Ferndale; 248-398-0444; eatattoast.com
Best Breakfast/Brunch (Washtenaw)
Sava's
216 S. State St., Ann Arbor; 734-623-2233; savasrestaurant.com
Best Breakfast/Brunch (Wayne)
Parks & Rec Diner
1942 Grand River Ave., Detroit; 313-446-8370; parksandrecdiner.com
Best Burger (Macomb)
Irish Craft
36759 Mound Rd., Sterling Heights; 586-264-9500; theirishcraft.com
Best Burger (Oakland)
Redcoat Tavern
31542 Woodward Ave., Royal Oak; 248-549-0300; facebook.com/RedcoatTavern
Best Burger (Washtenaw)
Sava's
216 S. State St., Ann Arbor; 734-623-2233; savasrestaurant.com
Best Burger (Wayne)
Millers' Bar
23700 Michigan Ave., Dearborn; 313-565-2577; millersbar.com
Best Cajun (Macomb)
Gator Jake's
36863 Van Dyke, Sterling Heights; 586-983-3700; gator-jakes.website
Best Cajun (Oakland)
Howe's Bayou
22848 Woodward Ave., Ferndale; 248-691-7145; howesbayouferndale.net
Best Cajun (Washtenaw)
Mac's Acadian Seafood Shack
104 E. Michigan Ave., Saline; 734-944-6227; macsinsaline.com
Best Cajun (Wayne)
Louisiana Gumbo
13505 W. 7 Mile Rd., Detroit; 313-397-4052; detroitgumbo.com
Best Chef
James Rigato, Mabel Gray
23825 John R Rd., Hazel Park; 248-398-4300; mabelgraykitchen.com
Best Chicken and Waffles
Kuzzo's Chicken & Waffles
19345 Livernois Ave., 313-861-0229; kuzzoschickenandwaffles.com
Best Chinese
Shangri-La
4710 Cass Ave., Detroit; 313-974-7669; midtownshangri-la.com
Best Coffeehouse (non-chain) (Macomb)
Che Cosa
24394 Crocker Blvd., Clinton Twp.; 586-477-1200
Best Coffeehouse (non-chain) (Oakland)
Commonwealth
300 Hamilton Row, Birmingham; 248-792-9766; gocommonweath.com
Best Coffeehouse (non-chain) (Washtenaw)
RoosRoast
117 E. Liberty St., Ann Arbor; 734-369-2494; roosroast.com
Best Coffeehouse (non-chain) (Wayne)
Red Hook
8025 Agnes St, Detroit, 313-458-8761; theredhookcoffee.com
Best Coney (Macomb)
National Coney Island
15555 Hall Rd., Macomb; 586-566-9558; nationalconeyisland.com
Best Coney (Oakland)
National Coney Island
1812 N. Main St., Royal Oak; 248-398-6111; nationalconeyisland.com
Best Coney (Washtenaw)
Uptown Coney
3917 Jackson Rd., Ann Arbor; 734-665-5909; uptownconey.com
Best Coney (Wayne)
Lafayette Coney Island
118 W. Lafayette Blvd., Detroit; 313-964-8198
Best Corned Beef
Bread Basket Deli
Mulitple locations; breadbasketdelis.com
Best Cuban
Vicente's
1250 Library St., Detroit; 313-962-8800; vicentesdetroit.com
Best Deep Dish/Detroit Pizza
Papa Romano's
Various locations; paparomanos.com
Best Deli (Macomb)
Bread Basket Deli
Mulitple locations; breadbasketdelis.com
Best Deli (Oakland)
Bread Basket Deli
Mulitple locations; breadbasketdelis.com
Best Deli (Washtenaw)
Zingerman's Delicatessen
422 Detroit St., Ann Arbor; 734-663-3354; zingermansdeli.com
Best Deli (Wayne)
Mudgie's
1300 Porter St., Detroit; 313-961-2000; mudgiesdeli.com
Best Desserts at a Restaurant (Macomb)
Vast Kitchen and Bar
52969 Van Dyke, Shelby Charter Twp.; 586-991-6104; vastkitchenandbar.com
Best Desserts at a Restaurant (Oakland)
Andiamo
129 S. Main St., Royal Oak; 248-582-9300; andiamoitalia.com
Best Desserts at a Restaurant (Washtenaw)
La Dolce Vita Ann Arbor
322 S. Main St., Ann Arbor; 888-456-3463; thechophouseannarbor.com
Best Desserts at a Restaurant (Wayne)
Rock City Eatery
4216 Woodward Ave., Detroit; 313-265-3729; rockcityeatery.com
Best Diner (Macomb)
Orange Peel
13522 22 Mile Rd., Shelby Charter Twp.; 586-726-7335
Best Diner (Oakland)
O.W.L.
27302 Woodward Ave., Royal Oak; 248-808-6244
Best Diner (Washtenaw)
Fleetwood Diner
300 S. Ashley St., Ann Arbor; 734-995-5502; thefleetwooddiner.com
Best Diner (Wayne)
Dime Store
719 Griswold St., Ste. 180, Detroit; 313-962-9106; eatdimestore.com
Best Fish & Chips
Terry's Terrace
36470 Jefferson Ave., Harrison Charter Twp., 586-463-2671; terrystime.com
Best Food Truck
Smoke Ring
Detroit; 248-974-5745; smokeringdet.com
Best Fries
American Coney Island
114 W. Lafayette Blvd., Detroit; 313-961-7758; americanconeyisland.com
Best Greek Restaurant
Pegasus
558 Monroe Ave., Detroit; 313-964-6800; pegasustavernas.com
Best Gyro (Macomb)
Olga's Kitchen
43201 Garfield Rd., Charter Twp. of Clinton.; 586-416-0300; olgas.com
Best Gyro (Oakland)
KouZina
121 N. Main St., Royal Oak; 248-629-6500; gokouzina.com
Best Gyro (Washtenaw)
Ahmo's
1425 Washtenaw Ave., Ypsilanti; 734-390-9090; ahmos.com
Best Gyro (Wayne)
Golden Fleece
525 Monroe Ave., Detroit; 313-962-7093; goldenfleecedetroit.com
Best Happy Hour Food (Macomb)
Butter Run Saloon
27626 Harper Ave., St. Clair Shores; 586-675-2115; butterun.com
Best Happy Hour Food (Oakland)
The Morrie
511 S. Main St., Royal Oak; 248-216-1112; themorrie.com
Best Happy Hour Food (Washtenaw)
Bona Sera
200 W. Michigan Ave., Ypsilanti; 734-340-6335; eatypsi.com
Best Happy Hour Food (Wayne)
Bobcat Bonnie's
1800 Michigan Ave., Detroit; 313-962-1383; bobcatbonnies.com
Best Hibachi
Kyoto
1824 W. 14 Mile Rd., Royal Oak; 248-288-6666; kyotoroyaloak.com
Best Indian Restaurant
Cardamom
1739 Plymouth Rd., Ann Arbor; 734-662-2877; cardamoma2.com
Best Irish
Conor O'Neill's
318 S. Main St., Ann Arbor; 734-665-2968; conoroneills.com
Best Italian Restaurant (Macomb)
Da Francesco's
49624 Van Dyke Ave., Utica; 586-731-7544; dafrancescos.com
Best Italian Restaurant (Oakland)
Pop's for Italian
280 W. 9 Mile Rd., Ste. #2, Ferndale; 248-268-4806
Best Italian Restaurant (Washtenaw)
Mani Osteria
341 E. Liberty St., Ann Arbor; 734-769-6700; maniosteria.com
Best Italian Restaurant (Wayne)
Giovanni's
330 Oakwood Blvd., Detroit; 313-841-0122; giovannisristorante.com
Best Juice Bar
Beyond Juice
270 W. Maple Rd., Birmingham; 248-594-7078; beyondjuicedetroit.com
Best Late Night/24-Hour Restaurant
O.W.L.
27302 Woodward Ave., Royal Oak; 248-808-6244
Best Middle Eastern Restaurant
Al Ameer
12710 W. Warren Ave., Dearborn; 313-582-8185; alameerrestaurant.com
Best New Restaurant (Macomb)
Black Rock Bar & Grill
12515 Hall Rd., Utica; 586-488-1747; blackrockrestaurants.com
Best New Restaurant (Oakland)
Otus Supply
345 E. 9 Mile Rd., Ferndale; 248-291-6160; otussupply.com
Best New Restaurant (Washtenaw)
Mikette Bistro & Bar
1759 Plymouth Rd., Ann Arbor; 734-436-4363; mikettea2.com
Best New Restaurant (Wayne)
Grey Ghost
47 Watson St., Detroit; 313-262-6534; greyghostdetroit.com
Best Piano Bar
526 Main Dueling Piano Bar
526 S. Main St., Royal Oak; 248-591-9000; 526main.com
Best Pizza (Macomb)
Green Lantern Pizzeria
48848 Romeo Plank Rd., Macomb; 586-221-2768; greenlanternlounge.com
Best Pizza (Oakland)
Buddy's Pizza
2612 N. Squirrel Rd., Auburn Hills; 248-276-9040; buddyspizza.com
Best Pizza (Washtenaw)
Neo Papalis
500 E. William St., Ann Arbor; 734-929-2227; neopapalis.com
Best Pizza (Wayne)
Buddy's Pizza
17125 Conant St., Detroit; 313-892-9001; buddyspizza.com
Best Polish
Polish Village
2990 Yemans St., Hamtramck; 313-874-5726; polishvillagecafe.us
Best Poutine
Vinsetta Garage
27799 Woodward Ave., Berkley; 248-548-7711; vinsettagarage.com
Best Raw Bar
Cacao Tree
204 W. 4th St., Royal Oak; 248-336-9043; cacaotreecafe.com
Best Restaurant (Macomb)
Luciano's Italian Restaurant
39091 Garfield Rd., Clinton Twp.; 586-263-6540; lucianositaliancuisine.com
Best Restaurant (Oakland)
Bistro 82
401 S. Lafayette Ave., Royal Oak; 248-542-0082; bistro82.com
Best Restaurant (Washtenaw)
Aventura
216 E. Washington St., Ann Arbor; 734-369-3153; aventuraannarbor.com
Best Restaurant (Wayne)
Selden Standard
3921 2nd Ave., Detroit; 313-438-5055; seldenstandard.com
Best Romantic Restaurant
Sapori
6067 26 Mile Rd., Washington; 586-786-4674; saporirestaurant.com
Best Round Pizza
Green Lantern Pizzeria
48848 Romeo Plank Rd., Macomb; 586-221-2768; greenlanternlounge.com
Best Saganaki
Pegasus
558 Monroe Ave., Detroit; 313-964-6800; pegasustavernas.com
Best Sandwich
Zingerman's Delicatessen
422 Detroit St., Ann Arbor; 734-663-3354; zingermansdeli.com
Best Seafood
Joe Muer
400 Renaissance Center, Detroit; 313-567-6837; joemuer.com
Best Shawarma
Bucharest
1623 Michigan Ave., Detroit; 313-965-3111; bucharestgrill.com
Best Sliders
Joe's Hamburgers
3041 Biddle Ave., Wyandotte; 734-285-0420; joeshamburgers.net
Best Soul Food
Beans and Cornbread
29508 Northwestern Hwy., Southfield; 248-208-1680; beanscornbread.com
Best Specialty Pizza
Supino
2457 Russell St., Detroit; 313-567-7879; supinopizzeria.com
Best Steakhouse (Macomb)
Mr. Paul's Chop House
29850 Groesbeck Hwy., Roseville; 586-777-7770; mrpaulschophouse.com
Best Steakhouse (Oakland)
Clawson Steakhouse
56 S. Rochester Rd., Clawson; 248-588-5788; clawsonsteakhouse.com
Best Steakhouse (Washtenaw)
Knight's Steakhouse
600 E. Liberty St., Ann Arbor; 734-887-6899; knightsrestaurants.com
Best Steakhouse (Wayne)
London Chop House
155 W. Congress St., Detroit; 313-962-0277; thelondonchophouse.com
Best Sub Shop
Jersey Mike's
23058 Woodward Ave., Ferndale; 248-291-5808; jerseymikes.com
Best Sushi
Ichiban
44955 Hayes Rd., Sterling Heights; 586-580-2546;
Best Tacos
Imperial Bar
22828 Woodward Ave., Ferndale; 248-850-8060; facebook.com/imperialonwoodward
Best Thai (Macomb)
Bangkok Cuisine
2149 15 Mile Rd., Sterling Heights; 586-977-0130; bangkokcuisines.com
Best Thai (Oakland)
Sy Thai
459 E. Big Beaver Rd., Troy; 248-817-2694; sythai.com
Best Thai (Washtenaw)
Marnee Thai
414 S. Main St., Ste. #130, Ann Arbor; 734-929-9933; marneethai-restaurant.com
Best Thai (Wayne)
Bankok 96
2450 S. Telegraph Rd., Dearborn; 313-730-8161; bangkok96.com
Best Vegan/Vegetarian Restaurant
GreenSpace Cafe
215 W. 9 Mile Rd., Ferndale; 248-206-7510; greenspacecafe.com
Best Wings (Macomb)
Tilted Kilt
44935 Hayes Rd., Sterling Heights; 586-799-4135; tiltedkilt.com/sterling-heights
Best Wings (Oakland)
Buffalo Wild Wings
500 Main St., Royal Oak; 248-744-4470; buffalowildwings.com
Best Wings (Washtenaw)
Red Rock BBQ
207 W. Michigan Ave., Ypsilanti; 734-340-2381; redrockypsi.com
Best Wings (Wayne)
Sweetwater Tavern
400 E. Congress St., Detroit; 313-962-2210; sweetwatertavern.net