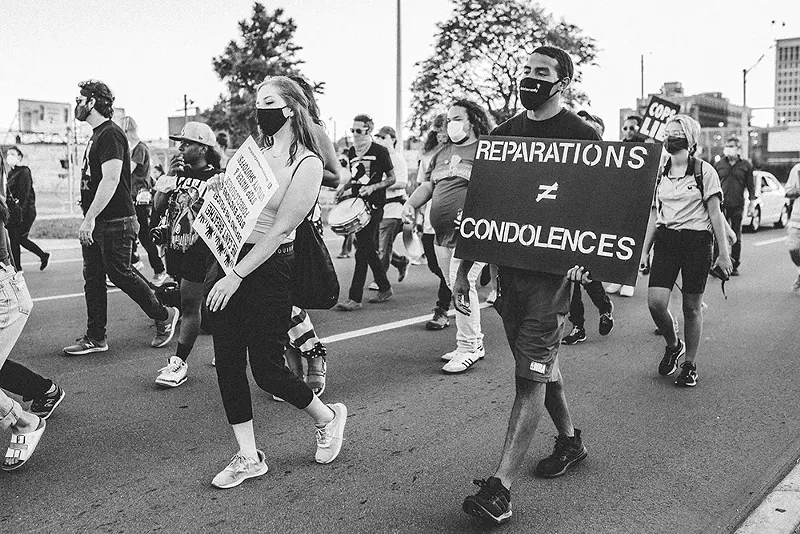 The most popular choice on Detroit's 2021 ballot wasn't the candidate you probably expected. In fact, it wasn't a candidate in the traditional sense at all. It was an idea.
When they hit the polls last November, Detroit voters overwhelmingly approved Proposal R, which will now establish "a reparations committee to make recommendations for housing and economic development programs that address historical discrimination against" Black Detroiters. With 72,490 yes votes (80.1%), Proposal R edged out Mayor Mike Duggan's 69,353 (75.6 %), making it the top vote-getter in an otherwise sleepy election. But as communities across the nation begin to weigh how private and public sector discrimination have looted Black communities while enriching white communities — from Asheville, North Carolina and Evanston, Illinois, to the states of New York and California, whose task force just decided that only "Black Californians who can prove a direct lineage to enslaved ancestors" will be eligible for reparations — it's no surprise that the country's Blackest big city has also found its way to the conversation.
"Folks are ready for reconciliation and atonement," says Denzel McCampbell, a community advocate, aide for U.S. Rep. Rashida Tlaib, and former Detroit Charter Revision Commissioner who unsuccessfully ran on the November 2021 ballot for City Clerk. Ready, he says, "for the city's institutions and the folks who have been in city government" to finally come clean and repair the damage done by creating such "a racially segregated region."
Several questions now loom over Proposal R's victory. Why reparations? What would they accomplish? Are cities the best vehicles for achieving those things? And if so, what is the path for racial and economic justice in Detroit, a city whose history of fiercely enforced segregation is now colliding, and weaving together, with the spiraling inequality of its so-called revival?
The moral questions at the heart of this debate echo much older and newly electrified ones about the foundations of both this country's and city's prosperity: What, and most importantly who, was destroyed in order to achieve that prosperity? And what do we owe to those still living through, as Malcolm X put it in his speech "The Ballot or the Bullet," "an American nightmare"?
The basic case for reparations
In their recent book From Here to Equality: Reparations for Black Americans in the Twenty-First Century, William A. Darity Jr. and A. Kirsten Mullen argue for reparations based on "three phases of injustice: slavery, American apartheid (Jim Crow), and the combined effects of present-day discrimination and the ongoing deprecation of Black lives."
We can illustrate these phases with a simple timeline: slave labor camps ruled the South for 250 years. Following that, and outside the brief glow of genuine multiracial democracy during Reconstruction, the freedom that followed was almost worse than nothing. The Confederacy was officially beaten, but by 1877 Southern slave aristocrats were back in power as if the war had never happened.
Newly freed Black people weren't only abandoned by the federal government. They weren't even left to figure things out on their own, which would have been a sad improvement on what actually happened. Instead, they were terrorized into submission through 100 years of Black Codes and Jim Crow tyranny. Historian Douglas Blackmon has famously called the system of sharecropping and convict leasing that reigned during those years "slavery by another name." It was only after the civil rights movement muscled the Civil Rights Act of 1964 and the Voting Rights Act of 1965 through Congress that the United States could even half-seriously be called a real democracy.
It's a simple and powerful idea: something terrible has happened and we should do everything in our power to fix it.

tweet this
But as the authors argue, even that may be too generous. Mountains of research show that discrimination and exploitation of poor, working-, and middle-class Black people continue to touch every aspect of American life, soaking into policing, housing, health care, and corporate offices everywhere.
Put simply: it's still open season on Black people and their pockets. As Nathan Robinson points out, these inequities in wealth, health, housing, and education have "lasted continuously from the time of slavery to the present day," showing that elite white Americans have basically "exchanged Black lives for a pile of gold." Detroit, with its Black majority, is one of the many places where the "three phases of injustice" all crash into each other. "Taken collectively," Darity and Mullen write, "they are impossible to ignore."