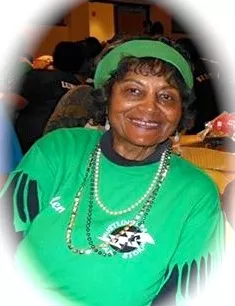 It'd be an unusual circumstance if you ever caught the News Hits crew hanging out at a Grand Prix race. So our understanding of the 2014 Detroit Belle Isle Grand Prix came through press reports from the likes of Detroit News columnist John Niyo, who echoed race organizer Roger Penske that it was a "big win" for Detroit.
"It was, indeed," Niyo wrote. "The grandstands were filled, the premium chalets sold out — more than two dozen of them — and the vast majority of the 100,000-plus fans who found their way to Belle Isle for this three-day event went home happy, if a little sunburned."
If you ask Helen Gentry of Detroit, that's 100,000-plus sunburned fans enjoying a private event happening on a public park, one that takes three months to set up and tear down.
"I'm not against this sport," Gentry tells the Hits. "It just shouldn't be on public property, it should be moved off" to a private facility like, for instance, the Michigan International Speedway in Jackson County.
Gentry, 85, is a lifelong Detroiter, a retired Detroit Public Schools teacher, and has lived across the street from the MacArthur Bridge for years. After retiring in 1984, she took seasonal work at the Belle Isle Zoo, Belle Isle Aquarium, and the Belle Isle Marina. She knows the island as well as anyone.
And she'd like to halt any future Grand Prix race from being held on the island.
In March, Gentry filed a lawsuit against the Penske Automotive Group, contending it can "no longer operate its Grand Prix Automobile Race on Belle Isle State Park."
Gentry alleges that, because Michigan now operates the island under a lease imposed by Detroit Emergency Manager Kevyn Orr, it must adhere to guidelines set by Michigan Department of Natural Resources for state parks. According to her complaint, race organizers violate DNR rules by destroying trees, erecting fences, and obstructing roads for the Grand Prix.
Officials from the DNR attempted to quell Gentry's concerns, saying Michigan allows "special permits" to be issued for events on state parks, such as the annual Quake on the Lake hydroplane race in Oakland County. So when Orr signed an order in February making the island Michigan's 102nd state park, the special permit the city previously issued for the race essentially carried over. (The city will lease the park to Michigan for 30 years with two optional 15-year extensions.)
Gentry, who's representing herself in the case, says there's more to the situation than a special permit. Belle Isle was created as a public space, a place "for the general public to use for recreation, picnicking, for their relaxation," she says, and the Grand Prix race infringes on that basic concept.
It raises the continuing question of what Belle Isle's role should be. Gentry's point is this: Are 100,000 fans on the island for one weekend worth the burden the Grand Prix brings to the island one-fourth of the year? That's something John Gallagher of the Detroit Free Press considered in a column in April titled "Reimagining Detroit: Belle Isle should be a development-free zone." (Gallagher's piece, we should note, followed the state of Michigan's astoundingly short-sighted announcement it would close Belle Isle to the public this fall to host an automotive technology convention. Apparently the island's transition to state oversight has been a challenging task for Gov. Rick Snyder's administration, who ultimately backed off the plan.)
The Grand Prix, Gallagher notes, "created a 10-acre slab of concrete near the island's casino that serves as a staging area for the auto races." That's something Detroit officials have defended, saying it provides much needed parking for events on the island, Gallagher writes.
He adds: "But most of the year, it lies there awesomely empty, defacing the island."
That's another aspect Gentry decries in her lawsuit.
"These special events cannot preempt or usurp the use of the park … for which it was created," Gentry says.
Penske's legal team offered lengthy rebuttals in court to Gentry, saying her request for a preliminary injunction is "misplaced and entirely unfounded." Requests for further comment from the Hits were declined.
"I don't have the authority to do so from my client at this time," says Brian Moore of Dykema Gossett PLLC.
Gentry's request for a preliminary injunction to stop future Detroit Grand Prix races will be heard before Wayne County Circuit Judge Daphne Means Curtis at 9 a.m. Friday, June 13.