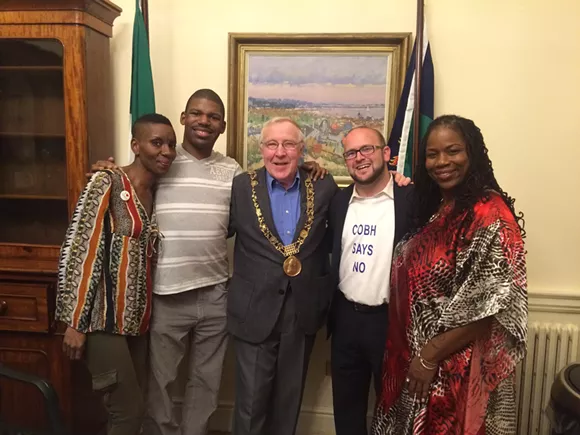 Last year, a global spotlight shined upon Detroit's financial woes with the utmost attention paid to the city's massive municipal bankruptcy. Perhaps an equal amount of focus was paid to the Detroit Water and Sewerage Department's (DWSD) ramped up campaign
to shut-off water service to delinquent customers
.
The water shut-offs drew an enormous response worldwide, as local activists groups responded with weekly protests, calls for change to the city's payment plan, and civil disobedience. One of those groups, the Detroit Water Brigade, formed amid DWSD's plans to launch the more aggressive shut-off campaign, and has for months provided water to residents who faced service cut-offs, while advocating for an income-based water affordability payment plan.
And although DWSD, now under the control of Detroit Mayor Mike Duggan, has transitioned to the governance of a regional authority and plans to continue shut-offs through the coming winter, other cities and nations facing similar water issues have taken notice of the Detroit Water Brigade's efforts.
Recently, the group flew across the Atlantic to Ireland to celebrate International Human Rights Day in Dublin — and met with activists resisting the Irish government's efforts to create a new public/private company called Irish Water to charge for water usage. Irish Water began charging a tax for water late last year.
It's a plan that,
as Al Jazeera America recently noted
, replaces Ireland's current water system, "which is paid for through general taxation,"
one of only two countries to do so
. Starting in 2014, Irish Water began installing water meters on residents' homes, sparking protests across the nation.
In response to the Irish government's efforts, a campaign called the Irish Right2Water, which includes a coalition of union groups and political parties on the right and left, has launched a number of protests and resisted the government's plans to commodify the country's water system."The countrywide protests aim to prevent what is seen as double taxation on water for an already cash-strapped populace," Al Jazeera America reports.
Last month, Right2Water hosted the Detroit Water Brigade because of the group's "experience in handling, and opposing, the city of Detroit's water shut-offs program," says Justin Wedes, co-founder of the brigade.
They "were inspired by the resistance they saw this past summer in Detroit to the shutoffs and, on a deeper level, they see what's happening in Detroit as the sort of Ghost of Christmas Future on what can happen in Ireland if [the country] goes through with these plans," Wedes tells
MT
.
He adds: "We really came there as a warning to say, don't let them take you down this path that ultimately leads to the privatization and commoditization of water."
The Irish government has said the water fee increases in the country are needed because the infrastructure of the country's water system is crumbling, Wedes says, one of many parallels to Detroit's ongoing situation.
But the decision to start down a path that, activists contend, will ultimately lead to the privatization of the country's water system has become the "hot button political issue in Ireland today," Wedes says.
"The government in Ireland is trying to use this as a justification for ramming through a pretty serious restructuring of the water system, consolidating control of it," he says, adding, "This issue is ... the sort of gateway to a broader anti-austerity sentiment across Ireland" that has been brewing since the financial crisis of 2008.
For example, now opponents of the water system restructuring in Ireland have also called for a snap election, one that is organized much earlier than typically scheduled.
As the Christian Science Monitor reports
, while that's unlikely, it has caused the government to backpedal on the Irish water tax, "reducing the planned charges by almost 50 percent."
And by all accounts, it has drawn significant attention of Ireland's residents. Wedes says during his visit, members of the Detroit Water Brigade spoke during a Right2Water rally attended by 100,000 people — roughly 2 percent of Ireland's total population of 7 million residents. For some context, if a similar turnout for water protests in the United States occurred, that would draw 6.32 million people.
Wedes says Detroit residents can learn from the efforts of Irish activists opposed to the country's proposed water system restructuring.
Currently, Wedes says, Ireland recognizes "water as a human right" under its current system. They don't shut-off water service for people who can't afford payments, for example. So residents have responded to what they see as an attack on that system.
"They're standing up and doing something about it," Wedes says. "Every Detroit who's worried about their prospect of losing their water … look at Ireland, look at what they're doing. The whole political system is shaking because of the people's dissent on this issue and it's really having an impact."
Back in Detroit, Wedes looks ahead to 2015 for the Detroit Water Brigade. He says the group plans to continue a demand to end Detroit's water shut-offs, keep providing emergency water for families that face shut-offs, and call for a jobs program in the city. "There's no reason why thousands and thousands of Detroiters can't be put to work fixing this city," Wedes says.
He adds: "I think that is an inspiration for those of us in Detroit who want to see a fair resolution to this ongoing crisis."