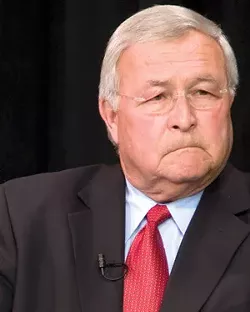 Oakland County executive L. Brooks Patterson is scared.
That's a decidedly off-brand emotion for the infamously haughty Patterson, who has governed affluent Oakland County with an open disdain for Detroit. Now, however, it appears the tables have turned, as Detroit redevelopment is showing no end in sight.
In a July letter to directors of the Oakland Chamber of Commerce
first reported
by
The Detroit Free Press
, Patterson calls for a meeting to challenge a group of 23 CEOs — who he calls "egotistical" "self-appointed saviors" who are trying to help Detroit at the expense of Oakland County. The letter calls out DTE Energy CEO Gerry Anderson, who convened a group of corporate leaders including Dan Gilbert and Christopher Ilitch to work on regional problems.
"You don't have to read between the lines, it is clear what is happening: These self-appointed saviors for southeast Michigan are in the process of forming an 'economic partnership' to direct business investments to the City of Detroit," Patterson wrote. "They will have no hesitation about coming into your community and snatching business leads in the righteous cause of 'rebuilding Detroit.'"
In a report by
Bridge Magazine
last month, published before Patterson's letter was written, Oakland County spokesman Bill Mullen denied that county was losing jobs to Detroit, but did refer to the group of downtown business leaders as a "cartel."
"The premise that jobs are fleeing the suburbs to downtown just isn't true," he said. "Has the (Quicken Loans founder Dan) Gilbert cartel squeezed some suburban companies to come downtown? Absolutely. Have some companies gone downtown on their own because they want to help revive the city? Of course. But those are only jobs from the suburbs with no net-gain for the region, which defies the definition of regionalism."
It seems like only yesterday when Patterson had a very different outlook on Detroit. "Anytime I talk about Detroit, it will not be positive. Therefore, I'm called a Detroit basher," he said in a 2014
New Yorker
profile
. In the same story, Patterson openly wished ruin upon Detroit. "I made a prediction a long time ago, and it's come to pass. I said, 'What we're gonna do is turn Detroit into an Indian reservation, where we herd all the Indians into the city, build a fence around it, and then throw in the blankets and corn.'"
But that was then, and now it seems Oakland County finds itself on the wrong side of the fence.
Patterson's meeting is scheduled for today. You can read the letter below: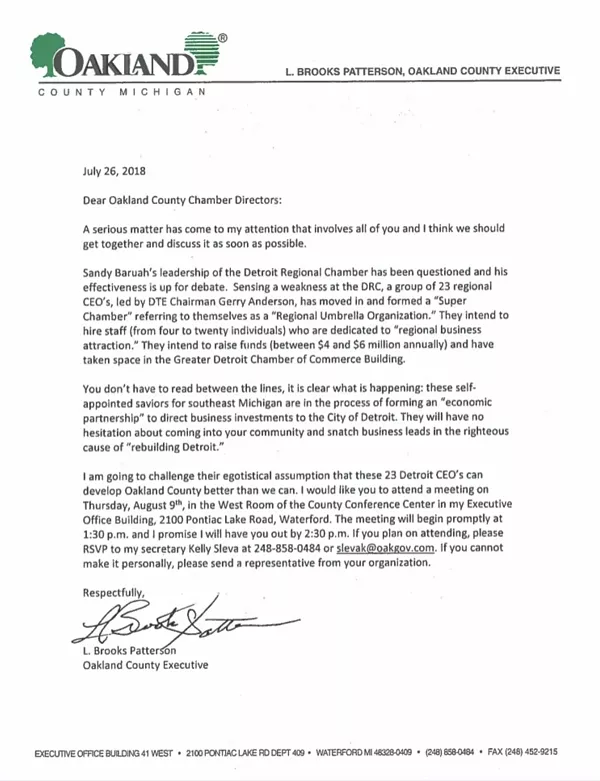 Stay on top of Detroit news and views. Sign up for our weekly issue newsletter delivered each Wednesday.