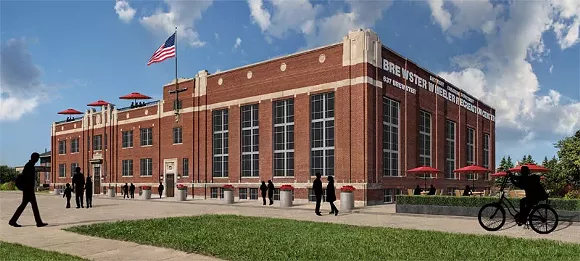 A team of developers and Detroit city officials announced a $50 million redevelopment of the historic Brewster Wheeler Rec Center located east of Detroit's Brush Park neighborhood. The preliminary proposal calls for a new restaurant , 150 new housing units, and new offices.
Detroit Mayor Mike Duggan was joined Tuesday by City Councilwoman Mary Sheffield and the developers behind the project to unveil details.
"Every opportunity we have, we are going to preserve buildings like the Brewster Wheeler Recreation Center that have a deep personal history in our city and do it in a way that provides real benefits to Detroit residents," Duggan said in a statement. "When this redevelopment is completed, we will have a facility that honors the legacy of Joe Louis, Leon Wheeler and so many others, and re-establishes its connection to the community."
The announcement comes about eight months after Duggan stated his commitment to find a developer to redevelop the iconic structure, famously known as the location where boxer Joe Louis trained. Developers said the project twill celebrate the rich history of the rec center. The planned restaurant would be built on top of a basketball floor located inside.
"This is a win-win for all parties involved. I am proud to have this investment and development in heart of District 5," said Sheffield, in a statement. "I know this site will continue to be an anchor in the community."
Developers involved in the project include K.C. Crain, of Crain Communications, who would helm the new restaurant; developer John Rhea and Livonia-based Shostak Brothers, which would lead the residential development; and Detroit-based Jenkins construction, which was selected as the contractor by the developers.
City officials say the project will create more than 200 new permanent jobs. The developers have agreed to commit 20 percent of the new residential units to be offered at affordable rates, 30 percent of construction jobs to Detroit-based contractors, and hire 51 percent of Detroit residents for construction jobs. A goal has been set to fill 35 percent of Detroiters with available full-time jobs, the city says. An estimated 40 percent of jobs at the restaurant would be offered to Detroiters, with a goal to increase that to 70 percent within four years.
In addition, space would be provided as the new headquarters for Slow Roll, a nonprofit that hosts weekly bike rides for thousands of cyclists, as well as the Detroit Chess Club.
The plan requires City Council approval, at which that point developers would have 12 months to begin construction, according to the city.