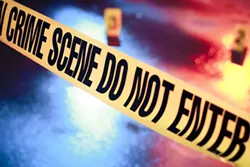 Several buildings along Michigan Avenue in southwest Detroit were evacuated Thursday following the discovery of what appeared to be several missile tips. Yes, missile tips.
The former Department of Public Works building was being cleared and prepped for demolition when work crews came across the objects and called 911. Police quickly arrived along with a bomb squad unit and evacuated the structure, as well as several adjacent buildings as a precaution. It's unclear how long the buildings will remain evacuated.
Sources are saying the explosives were old missile tips, but Detroit Police Sgt. Michael Woody could not say for sure what the objects are.
"We haven't confirmed that," Woody told
CBS Detroit
. "I don't know exactly what the bomb squad officers are looking at."
Woody said the objects could have been old military ordnance.
"Often times we find some keepsake mementos around the city from different war periods, hand grenades and old rifles or ammunition, and for the most part these things become very unstable over time," said Woody. "And so when you do come across them, we always advise that you step back, call the police and let our bomb techs come out and handle it."
The investigation is ongoing.