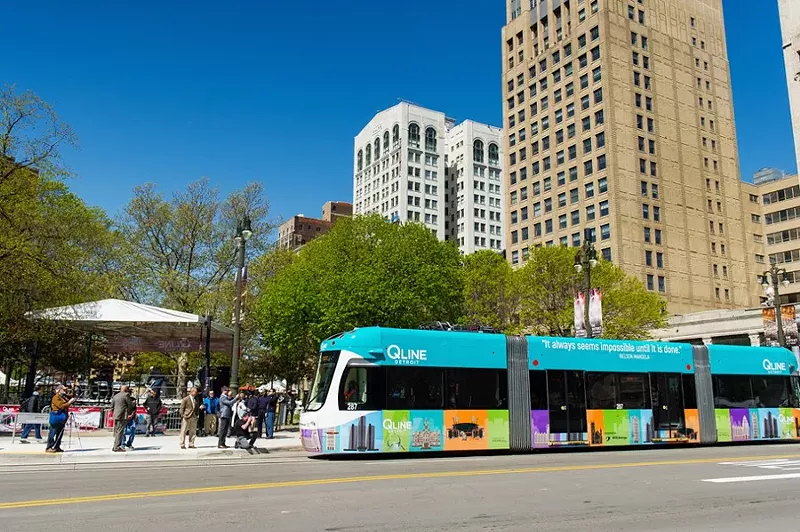 When the QLine gets in an accident, people tend to
hear about it
.
Last month there was ample media attention and chatter devoted to a collision that involved a trolley car, a DDoT bus, and a sedan; the QLine's
first wreck
made headlines; and in between, there was at least one run-of-the mill
"Vehicle cuts in front of QLine causing accident"
report.
But while the trolley's track record — and reputation — may suffer as motorists and the general public acquaint themselves with the new kid in town, a mainstay of Detroit public transit has actually been crashing far more often, and with much less ado. Yes, we're talking about the DDoT bus.
According to information obtained through a Freedom of Information Act request, by Sept. 21, the QLine had been involved in five accidents (not including the aforementioned November incident) — an average of a little more than a crash a per month since its May 12 opening. But over that same stretch of time, buses traveling along Woodward between New Center and Jefferson Avenue were involved in 13 crashes — more than double that of the Q.
Of course, the Woodward 53 bus line makes more trips per day than its electricity-charged counterpart — about 104 loops along Woodward to the Q's 70 — so we used a bit of addition and division to figure the crash rates of each over the same area and period of time. What we found was that DDoT buses crashed, on average, almost twice as much as QLine rail cars. DDoT's crash rate was a little under .1 percent, while the QLine's was .06 percent.
It was actually a relatively crash-heavy summer for DDoT's 53 bus as it traveled between New Center and downtown. In 2015, the bus line reported only eight crashes in that area between May and September; in 2016, 10 incidents were reported. A DDoT spokesperson did not say whether drivers were found to be at fault in any of the incidents. QLine representative Dan Lijana was quick to point out that train operators weren't cited in any collisions involving the rail system.
Though the QLine comes out looking better than Detroit's bus system in our mini-analysis, spokesman Lijana has indicated officials aren't satisfied with the transit line's crash rate and that they've been working to improve the system.
Last month, Lijana told
Metro Time
s that efforts were underway to adjust traffic signals to help avoid the potential for collisions. Some stoplights, for example, give the QLine priority over other motorists.
"We've been in discussion with the city of Detroit and the state of Michigan on some methods that both speed up the headway and can improve safety that allow the QLine more of a right of way of passage," said Lijana. "Those discussions are continuing to go on as we get a little bit more experience out on the road, carrying passengers."