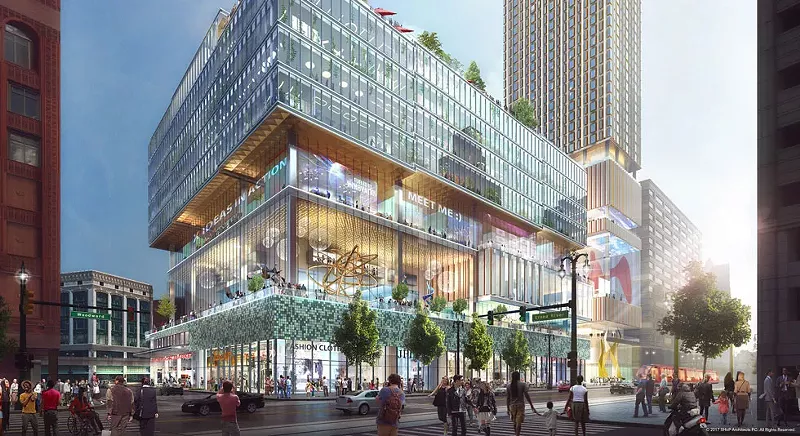 Slated for groundbreaking this year, Dan Gilbert's proposed 800-foot, $909-million tower for the site of the former J. L. Hudson Department Store will be the tallest building in Detroit since the Renaissance Center.
However, according to a "skyscraper curse," its construction could be a sign that the next recession is just around then corner.
The theory, put forth in 1999 by British economist Andrew Lawrence, states that the construction of tallest buildings is "a signal of an overheating economy that is nearing its peak, with a downturn fast approaching,"
according to a Detroit Free Press
story published this weekend.
The
Free Press
reports:
"Is there truth to the skyscraper curse? I would say yes," said Lucas Engelhardt, an associate professor at Kent State University who co-authored a journal article last year about the theory. "Especially if you see a cluster of these buildings being planned, that's a pretty good sign there's something coming."

And also:
Under some interpretations of the skyscraper curse, proposals for tallest buildings are harbingers for recessions because they can demonstrate behaviors that tend to signal the high point of an economic expansion, such as heated speculation, easy lending and eagerness to take on debt. By the time such projects get under way or have finished, the economy may be contracting.

"It's a pretty good indicator that you're nearing the peak," Engelhardt said.
Around the U.S., New York City's Empire State Building heralded the Great Depression, and Chicago's Sears Tower coincided with the 1973-75 recession. In Detroit, plans for sister structures for New Center's Fisher building were scrapped during the Great Depression, as was a sister structure to downtown's Book Tower.