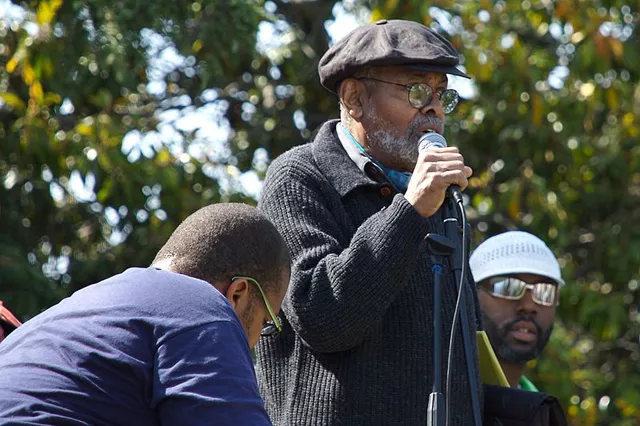 On Friday evening, I dropped by the opening of Barbara Green Mann's art exhibit at the Hannan House on Woodward at Hancock in Detroit.
Barbara is an old Cass Corridor compatriot from the 1970s who now lives in Toronto, and it was good to see her and her lovely artwork. While there I told a couple that I was leaving to see Baraka at the Wright Museum of African American History. They misheard me and thought I was going there for something to do with Barack Obama. I had to clear up that I was going to see writer and political activist Amiri Baraka.
As it turned out, I was at the museum for a program about Obama. Baraka had some sharp and witty words about the recent election for the 200 or so folks gathered to hear him. His first statement was a tribute to President Obama's re-election victory over Mitt Romney, saying that the president showed us "How to kick a Republican's ass."
There was some gloating in the statement, but Baraka had a serious point. He went on to explain that Obama had pulled together a "united front" coalition of African-Americans, Latinos, single women, young people, homosexuals and progressive whites to win the election. This is how you do it, he repeated throughout the evening: with a united front. It was a point that Dr. Martin Luther King Jr. had impressed on him in a visit to Baraka's home a week before King was killed.
This perspective came during a week when Romney, the graceless loser (who apparently couldn't believe this coalition of takers beat him) reared his head from the seclusion he'd been in since the election to speak to the rich donors who'd bet millions on Romney's campaign. Romney disparaged the same "united front" in saying: "The president's campaign focused on giving targeted groups a big gift, so he made a big effort on small things."
Romney said this during a conference call that was not intended to go public, like the famous 47 percent video from a spring fundraiser that went public in September. That video showed Romney disparaging 47 percent of the public as "victims" who believe "they are entitled to health care, to food, to housing, you name it."
When the video came out in September, Romney at first stood behind his statements before disavowing them. That he's still disparaging Obama's coalition behind closed doors all but confirms the insincerity of his campaign trail pleadings that he believed in serving the interests of all Americans. It also reinforces the worst image of Romney, as a sneering plutocrat who has contempt for common people.
This is the time for Romney to show grace, humility and maybe some humor too. Instead, he's coming across like a sore loser, one who'd rather make excuses than give his opponent any real credit. If the rest of the Republican Party members believe this then they are in for a long, hard journey in days to come.
The old Republican coalition that came together in the 1970s — whose prominent constituents include Southern whites, rural residents, conservative Christians opposed to abortion and gay rights — just isn't enough to put the party over the top in presidential elections.
Indeed, they seemed to admit it themselves with the voter ID laws they pushed in swing states that seemed like an attempt to keep African-Americans and Latinos from voting.
Baraka, astute observer that he is, called for political activists to continue pulling together a "united front" to get things done. He even suggested that some organizations with a mainly black focus need to join in coalitions with other progressive groups in order to continue winning on issues important to progressive interests. Baraka's appearance was an example of what he preached. The event was the result of sponsorship between the Wright Museum and the MOCAD gallery.
Obama's coalition of traditional outsiders won the election, but I think there was another element that made a difference here. It's a lesson I learned in the 2004 election between President George W. Bush and Sen. John Kerry. At the time I was working for the UAW as editor of Solidarity magazine. In the months leading up to the election I had noticed that communications from the local unions to their members contained a lot of vitriol against Bush but not much about why to vote for Kerry. I taught a class at a Local Union Press Association conference around that time, and I told folks that they needed to give people reasons to vote for Kerry — not just spew hate against Bush.
After the conference I noted that editors continued their anti-Bush campaign. The same thing was pretty much happening in the rest of the liberal media. We hated Bush, but there wasn't much love for Kerry. Bush won.
It seemed like we revisited that dynamic in this year's election. There was a lot of hate against Obama on the right, but not a lot of love for Romney. That leads me to think that negative campaigns are not as effective as those focused on positive values. You need to give people hope. Romney refused to give details of his plans, in addition to changing his position on issues such as health care from those he held as governor of Massachusetts. I think he felt he could get away with it and counted on the we-hate-Obama gang to carry him to victory. Apparently Americans weren't buying what he was selling.
Cities matter: Another dynamic of this past election is that it showed that cities matter. Romney running mate Paul Ryan said as much when he blamed "urban areas" on his team's electoral loss. "Well, he got turnout," Ryan said. "The president should get credit for achieving record-breaking turnout numbers from urban areas for the most part, and that did win the election for him." Well he got that right. An article in The New Republic magazine pointed out cities and the near-ring of suburbs around them voted for Obama. "America is only growing more urban, with cities that had been losing population since the 1960s finally starting to swell again," the article asserted. This phenomenon is reflected in the Democratic gains in formerly reliably Republican Oakland County, in older suburbs such as Ferndale, Oak Park and Southfield where demographics have changed in recent decades.
Another reflection of the political clout of cities comes from the marijuana-friendly votes in Detroit, Grand Rapids, Flint, Kalamazoo and Ypsilanti. The line from anti-pot crusader Michigan Attorney General Bill Schuette and his friends has been that voters were bamboozled in 2008's vote for the Michigan Medical Marijuana Act. They claim that voters really wanted very tightly controlled access for people who are very seriously ill. But the success of initiatives in five Michigan cities (most in the 65 percent range) show that most voters do not believe they had the wool pulled over their eyes in 2008. Folks in Lansing noticed. News reports on the agenda for the lame duck session of the Michigan Legislature (between now and the end of the year) show that several bills that were deemed unfriendly to medical marijuana will probably not come up for discussion. If those bills do come up it won't be until 2013.
Larry Gabriel is a writer, musician and former editor of Metro Times. Send comments to [email protected]