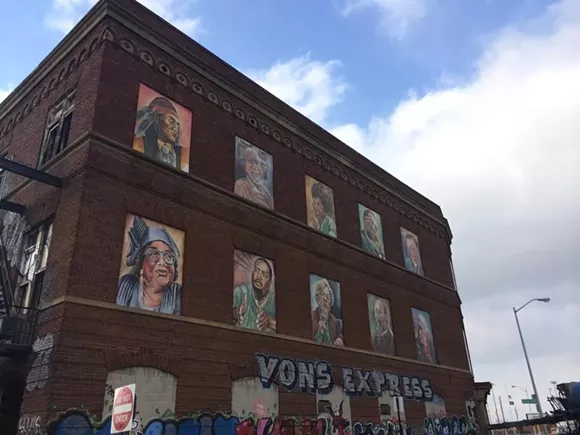 [UPDATE Friday, 11:51 p.m.:] Learn more about the Detroiters featured in the project in our slideshow.
From Rosa Parks to Chief Pontiac, and Yusef Shakur to "Mother Waddles," paintings honoring Detroit's heroes — many of them less-known — have been installed in windows of an abandoned warehouse this past Saturday. The project was created by Detroit artist Nicole Macdonald.
As we noted when we
interviewed Macdonald
about her project earlier this year, the paintings were inspired by the 1980 book
A People's History of the United States
by progressive historian and political scientist Howard Zinn. Macdonald wondered if she could tell a similar alternative view of history focused on just Detroit. "The idea is to tell history in a different way, not from the winners' perspective, but maybe from people who experienced the events on the ground," she said. "[I wanted to show] everyday kind of people, people who fought on behalf of their fellow citizens."
Check out the murals at 5729 W. Grand River at I-94.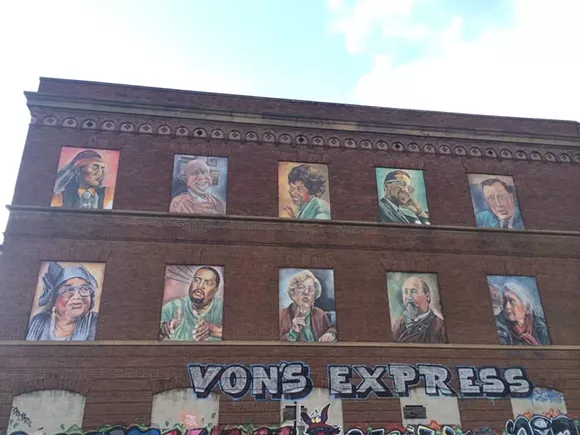 Read the bios for the featured Detroiters below, or check out our
slideshow
:
Chief Pontiac (Obwqndiyag)
b. 1720 (Great Lakes Region) d. 1769 (Cahokia, Illinois), Ojibway Chief
An Ottawa war chief who became noted for his role in Pontiac's War (1763–1766), an American Indian struggle against British military occupation of the Great Lakes region and named for him.
Rev. James Meyer
b. 1934 (Detroit, Michigan)
As chaplain at Children's Hospital of Michigan, the Catholic priest spent 40 years ministering to sick and dying children — mainly those with cystic fibrosis or in intensive care. He also operates Chalfonte House in Elk Rapids, where children attend retreats to receive spiritual, psychological, recreational and educational support.
Erma Henderson
b. 1917 (Pensacola, Florida) d. 2009 (Detroit, Michigan)
Arguably the most prominent African American woman politician in Detroit of the 20th century, she would become Detroit's first African American Councilwoman and a vocal advocate for the rights of African Americans and women who faced discrimination.
Malcolm X
b. 1925 (Omaha, Nebraska) d. 1965 (New York City, New York)
Born Malcolm Little and also known as El-Hajj Malik El-Shabazz was an Muslim minister and a human rights activist, a courageous advocate for the rights of blacks, a man who indicted white America in the harshest terms for its crimes against black Americans.
Walter Reuther
b. 1907 (Wheeling, West Virginia) d. 1970 (Pellston, Michigan)
A labor union leader, Reuther made the United Automobile Workers (UAW) a major force in the auto industry and in the larger Democratic Party in the mid-20th century. Reuther was a socialist in the early 1930s and became a leading liberal and supporter of the New Deal coalition.
John Conyers, Jr.
b. 1929 (Highland Park, MI)
Conyers is the longest serving Congressperson in the U.S., elected to the House of Representatives in 1965. He received his B.A. and J.D. from Wayne State University. Conyers was one of the 13 founding members of the Congressional Black Caucus formed in 1969 to strengthen African-American lawmakers' ability to pass legislature addressing minority concerns, and is now considered Dean of the group. He was present in Selma, Alabama in 1963 for the civil rights movement voter registration drive known as Freedom Day. After the assassination of Dr. Martin Luther King, Jr. in 1968, Conyers introduced the first bill in Congress to make King's birthday a national holiday.
Helen Thomas
b. 1920 (Winchester, Kentucky) d. 2013 (Washington, D.C.)
During her 57-year career as White House press correspondent and bureau manager, Helen Thomas covered the administrations of 11 U.S. presidents — from the final years of the Eisenhower administration to the second year of the Obama administration.
Yusef Lateef
b. 1920 (Chattanooga, Tennessee) d. 2013 (Shutesbury, Massachusetts)
A jazz multi-instrumentalist, composer and educator, Lateef's main instruments were the tenor saxophone and the flute, though he also played oboe and bassoon, and many non-Western instruments. He is known for having been an innovator in blending jazz with Eastern music, and is credited with influencing John Coltrane and other free-jazz musicians.
Charleszetta Waddles, aka "Mother Waddles"
b. 1912 (St. Louis, Missouri) d. 2001 (Detroit, Michigan)
For nearly four decades, Reverend Charleszetta Waddles, known as "Mother Waddles," devoted her life to providing resources and provisions, hope and human dignity to downtrodden and disadvantaged people in Detroit.
Yusef B. Shakur
b. 1973 (Detroit, Michigan)
Born Joseph Ruffin, grass-roots community activist and author Yusef Shakur is widely praised for his work to help disadvantaged and at-risk individuals in the Detroit community where he grew up and others like it. His work emphasizes that it is never too late to make a new start in life.
Maryann Mahaffey
b. 1925 (Burlington, Iowa) d. 2006 (Detroit, Michigan)
Mahaffey was elected to the Detroit City Council in 1974, serving until 2005. She was president of council for 14 of those years. During her time in public service, she was known for championing the rights of everyday citizens and fighting to improve the lives of her constituents.
Hazen Pingree
b. 1840 (Denmark, Maine) d. 1901 (London, England)
A four-term Republican mayor of Detroit (1889-1897) and the 24th Governor of Michigan (1897-1901), Pingree was a social reformer who battled corporations and was an early leader of the Progressive Movement.
Grace Lee Boggs
b. 1915 (Providence, Rhode Island)
A Chinese-American daughter of a restaurant owner, Grace Lee attended Barnard College on a scholarship where she was influenced by the writings of Kant and Hegel. She received her PhD in Philosophy in 1940 from Bryn Mawr, after writing her dissertation on the work of American philosopher George Herbert Mead. Facing significant barriers in the academic world as a woman of color in the 1940s, she took a job at low wages at the University of Chicago Philosophy Library. She became active on the issue of tenants' rights and, as a result, joined the far-left Workers Party that began the trajectory for the rest of her life: a focus on struggles in the African-American community.
Rosa Parks
b. 1913 (Tuskegee, Alabama) d. 2005 (Detroit, Michigan)
A civil rights activist, Rosa parks is dubbed "the mother of the freedom movement".
Michael Aston ("Dreadlock Mike")
b. 1958 (Detroit, Michigan) d. 2013 (Detroit, Michigan)
Born a ward of the state, and abused as a young child, Aston struggled for survival his whole life. A man with boundless energy and unfledging bravery, Aston could be seen outside on the streets, during the roughest weather. Charismatic in looks and demeanor, he stood out on the streets, and most people who spent time in this city came to know him, from near or far.
Tecumseh
b. 1768 (Chillicothe, Ohio) d. 1813 (Chatham-Kent, Ontario)
Tecumseh was a Native American leader of the Shawnee, prominent in the southeast region of Michigan, and a large tribal confederacy known as Tecumseh's Confederacy which opposed the United States during Tecumseh's War and the War of 1812.
Four of the featured Detroiters are still living: Rev. James Meyer, Conyers, Yusef Shakur, and Grace Lee Boggs.