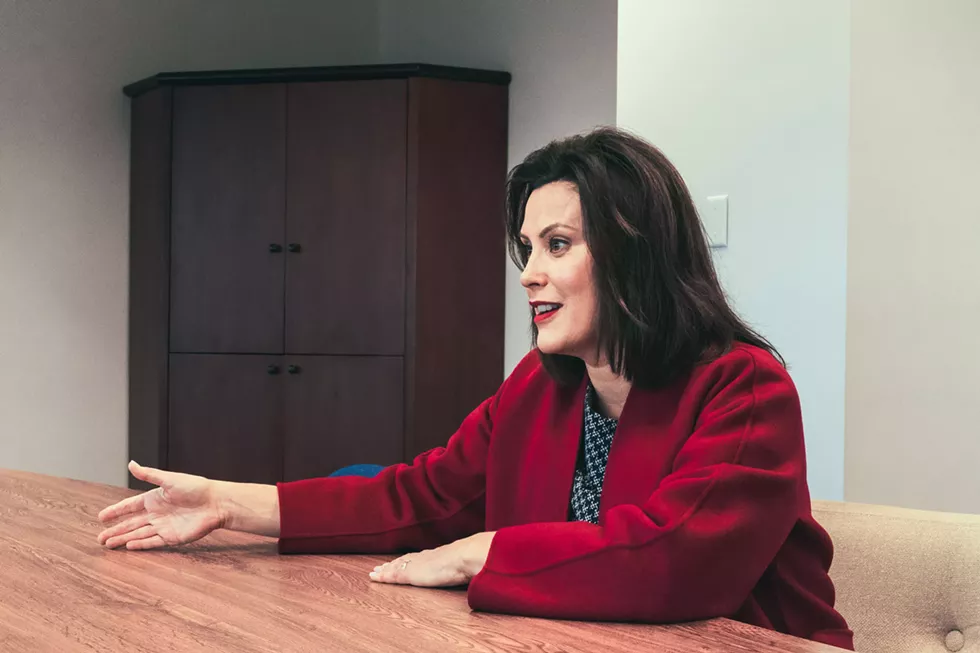 A little more than two weeks before the election, the campaign offices for Democratic gubernatorial nominee Gretchen Whitmer in Detroit's North End are nearly empty. After a bit of back-and-forth negotiating, Metro Times lands 20 minutes with the candidate during a particularly busy day that has her mostly on the road. Just before our scheduled interview, she sparred with her Republican rival Bill Schuette at a luncheon hosted by the Chaldean Chamber of Commerce in Farmington Hills. Later, she will head to Ann Arbor to appear alongside Bernie Sanders to talk to students on the University of Michigan campus. At this point, Whitmer has been campaigning for nearly two years. While we wait for her to arrive, we are greeted by a fan-made poster taped to the wall, scrawled with a Game of Thrones parody: "Whitmer is coming."
When Whitmer finally arrives to the office, she doesn't even take off her coat for our interview. "I'm going to keep my foot on the gas until the last vote is counted," she says.
Whitmer is part of a record number of women running for political offices across the country this year, particularly among Democrats — a political moment galvanized by Hillary Clinton's failed presidential campaign, the national Women's March rallies, and the rise of the #MeToo movement against sexual harassment and assault. Michigan's 2018 Democratic Party contenders are a stunning example of the trend: Alongside Whitmer, November's ballot will feature an unprecedented all-female ticket with Dana Nessel running for attorney general, Jocelyn Benson running for secretary of state, and Debbie Stabenow running for senator.
But if anyone deserves to be the face of the movement, it's Whitmer. Years before #MeToo was a hashtag, the then-state Senator made headlines for a dramatic floor speech at the end of 2013 arguing against a "rape insurance" measure that would require women to purchase a separate insurance rider to cover abortions, even in instances of rape or incest, by revealing for the first time she had been assaulted as a freshman at Michigan State University.
Reading from a prepared statement, Whitmer railed against "the Republican male majority" weighing in on women's health issues that they "either don't understand or frankly don't care about." But after almost seven minutes of reading from the prepared statement, Whitmer paused and put her pages down. That's when she went off script.
"I'm about to tell you something I've not shared with many people in my life. But over 20 years ago I was a victim of rape," she said. "And thank god it didn't result in a pregnancy. Because I can't imagine going through what I went through and then having to consider what to do about an unwanted pregnancy from an attacker."
"I'm not the only woman in our state that has faced that horrible circumstance. I am not enjoying talking about it," she said, her voice quaking with emotion. "It's something I've hidden for a long time, but I think you need to see the face of the women that you are impacting by this vote today. I think you need to think of the girls we are raising and what kind of state we want to be, where you would put your approval on something this extreme."
Despite Whitmer's bravery, the bills were passed by the Republican majorities in both chambers. "It didn't change a single vote," Whitmer says when asked about that day. "I remember the next day waking up feeling like as depressed as I've ever felt — and I had a lot of losses in the legislature."
She says when she got in her car she called her father on her drive home to East Lansing to tell him about the rape so he wouldn't learn about it from the news. That night, she says she also discussed it with her two young daughters.
But it wasn't all for nothing. When Whitmer returned to the Capitol, she says her inboxes were flooded with messages of support.
"If you add up the Facebook messages, emails, and phone calls, thousands of people had reached out, and people shared their story who had a very similar one to mine," she says. "And it was like, this was why I did it. I added my voice to something — a conversation, a cultural change that's long overdue."
Of course, it's a conversation that's still happening. Whitmer says it was heartbreaking to watch Christine Blasey Ford publicly reveal that she was the victim of an alleged attempted rape during the highly publicized confirmation hearings for President Donald Trump's Supreme Court justice pick Brett Kavanaugh; once again, despite an emotional testimony that dominated the news cycle, it also didn't change a single Republican vote.
'That's why I work so hard, in the hopes that my kids don't ever have to say, "Me too."'

tweet this
"It's still obviously going through a process," Whitmer says. "That's why I work so hard, in the hopes that my kids don't ever have to say, 'Me too.'"
Whitmer is careful not to reduce her candidacy to that one facet of her. "One of the weirdest questions I've gotten on the campaign trail is, 'Are you going to run as a woman?' I'm like, 'Do I have an option?' Like, what does this mean?" she says. "I get the spirit: 'Am I only going to talk about women's health?' The answer is, we are all a culmination of our experiences, and anyone who's a survivor knows it's something you carry with you all the time. There are days you don't think about it. And when you do think about it, it's not a source of pain, but it is a part of what you do and why you do it."
Whitmer has already shown this to be true. Earlier this year, she asked her campaign manager Keenan Pontoni to resign after allegations surfaced detailing "inappropriate behavior" with women in the workplace years ago. Whitmer declines to elaborate on the precise nature of the allegations, but says they allegedly happened years ago, before he joined her campaign. Still, "That was not something I ever would tolerate," she says. "I just knew very clearly that there was no way I wanted to be associated with that."
Beyond that, Whitmer says she has sought to make Detroit a priority for her campaign by opening two offices in the city. It was also part of the decision that led to choosing Garlin Gilchrist II as her running mate, a black millennial who served in Mayor Mike Duggan's administration. (Though the campaign faced a minor scandal when it was revealed that a blighted property Gilchrist acquired through a 50 percent discount for city employees had fallen into disrepair and had not been issued any blight tickets, which critics pointed to as a sign of possible Duggan cronyism. Gilchrist swiftly cleaned up the property and vowed to finish the project.)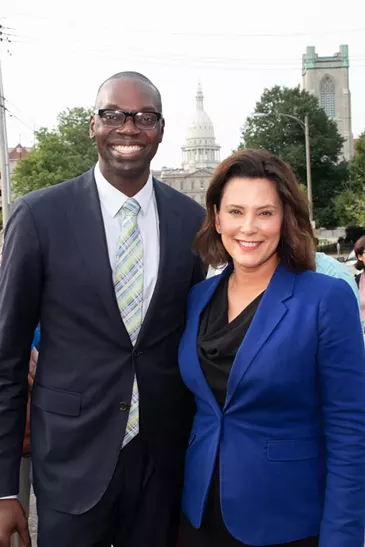 "Detroit's really important to the success of our state. You know, you can't have a successful Michigan if the biggest city isn't a success as well," she says. "Detroit's feeling a unique sense of urgency on some fronts, but I would say a lot of the issues are the same if you're in rural Michigan, too — the worry about connecting people to high wage skills, our education system, the water, the fundamental infrastructure problems. Obviously, Detroiters pay the worst when it comes to car insurance, but car insurance is expensive for Michiganders across the state. I hear about it in all communities."
Whitmer believes the pathway to success for Michigan is investing in its people and infrastructure — from improving education by offering universal pre-kindergarten for 4-year-olds, expanding health care, raising the minimum wage to $15 an hour, and yes, to "fix the damn roads," as her popular campaign slogan says.
Of her opponent, Whitmer says, "I think he's running a campaign that looks very much like probably the first one he ran in 1984, and hasn't changed at all. It's the same old talking points and assuming that people still believe this whole theory that you cut taxes enough and it's going to impact all of our lives positively. We've seen that doesn't work."
She points to tech giant Amazon's decision not to locate its much-ballyhooed second headquarters in Michigan — despite generous proposed tax incentives — as proof of the failure of trickle-down economics. "When Amazon says they don't want to keep Michigan on the top 20 for HQ2, and they cite talent and transit as two obvious reasons why, that's because we haven't invested in ourselves," she says. "That's because our education system's fallen behind. It's because we don't have public transit. We've got roads that are crumbling, and people can't afford to buy car insurance. These are the fundamentals that state government is supposed to do. And once state government doesn't do it, we all pay, and the business community is starting to see that too."
"When government doesn't do the fundamentals well, every one of us pays for it, and I think it couldn't be a more stark difference between Bill Schuette and me on this one," she says.
Find more 2018 Election Guide coverage here.
Stay on top of Detroit news and views. Sign up for our weekly issue newsletter delivered each Wednesday.