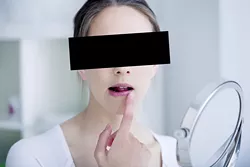 Updated Dec. 3:
The woman has dropped the lawsuit,
according to WDIV
. Maybe she took our advice and read the "Perks of Herpes?"
Originally posted on Dec. 1:
A woman is suing a celebrity from California for allegedly giving her genital herpes in Royal Oak last summer, the
Detroit Free Press
reports
.
The lawsuit doesn't name the woman or the celeb (or even the celebrity's profession). It only states that the celebrity is from California and had a residence in Royal Oak in July.
"This complaint is brought anonymously due to the social stigma attached to the damages as well as the celebrity of the defendant," the lawsuit states. The plaintiff is seeking at least $75,000 in damages for being scarred physically, emotionally, and psychologically by the defendant, who "knew or should have known" that he was infected with Herpes Simplex Virus 2.
Well, here's all we'll say about that:
1) Ben Affleck is rumored to have
lived in a Royal Oak loft
while filming
Superman v Batman
last summer. Hmmm.
2) If the unnamed woman read
Metro Times
' sex advice columnist Dan Savage, she would know that herpes isn't
that big
of a deal.
"Before AIDS came along and put herpes in perspective, people regarded herpes as the worst thing that could possibly happen to you,"
Savage wrote
in his hometown paper,
The Stranger
. "Nowadays folks are likelier to regard herpes (type 1 causes small blisters on your mouth; type 2 gives you small sores on your genitals) as an endurable pain, not a lifelong curse. Millions of people who 'have' herpes show no symptoms and suffer no regular outbreaks. There's no cure, but there are treatments that can suppress outbreaks."
Savage has also covered the topic of herpes on
episode 195
of his Savage Love podcast with Dr. Anna Kaminski from Planned Parenthood. "It's really important for people to understand how common it is, how little problem it causes, and how much strife goes into the discussion about it," Kaminski says. (The herpes discussion starts around 12:00.)
3) Lastly, perhaps the woman should read this essay,
"The Perks of Herpes."
(Also
via Savage
.)