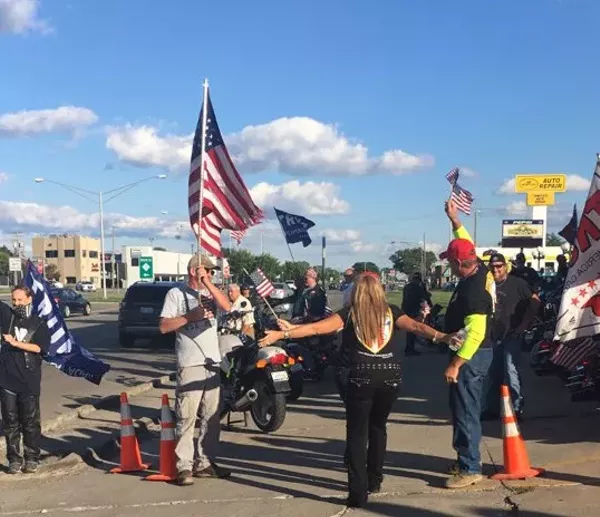 On Monday, the Michigan Republicans for Trump gathered at Duggan's Irish Pub in Royal Oak for a support rally that turned violent, resulting in the arrest of one woman.
The rally started as nothing out of the ordinary for the pro-POTUS crowd–giant American flags, "Make American Great Again" chants over megaphones, and the occasional hail salute.
The pro-Trump and anti-Trump protesters, both with about 20 people in attendance, were separated by a driveway "so they could exercise their first amendment rights," according to Chief Craig O'Donohue of the Royal Oak Police Department.
But later in the evening, tensions between Trump supporters and counter protesters came to a head.
Around 7 p.m., two hours after the start of the protest, Adriene Avripas was heading home to Clinton Township and decided to stop at the rally to counter protest.


She says the majority of pro-Trump protesters were a part of the Michigan Militia and a Bikers Against Radical Islam, a group known for hosting rides and a pig roast through the densely Arab city of Dearborn.

"I saw three men and a woman pushing a girl I didn't know so I ran with the megaphone loudly saying, 'Stop assaulting women!' so the police would come," says Avripas.

According to Donohue, an anti-Trump protester, identified by Avripas as Colette Wedding, had crossed the dividing driveway and two pro-Trump protesters began dancing and bumping into her.
Wedding swung and a scuffle broke out.
Facebook user Bruce Fealk uploaded this video of the scuffle and resulting police interference.



Wedding was arrested for assault and battery, a misdemeanor in Michigan. She was released on bond almost immediately after her arrest.
Updated Wednesday, July 26:
Protesters involved have contacted us to point out that Trump supporters also crossed the driveway boundary, and provided a photo to prove it.
They also say Trump supporters tried to wrestle a sign out of the hands of a protester, forcibly grabbed the megaphone out of Avripas' hands, and repeatedly shoved Wedding, which prompted her to defend herself. In the video above, you can see a Trump supporter take Avripas' megaphone.