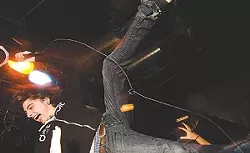 To paraphrase something an old former carny-turned-rock manager once came up with as a marketing gimmick: 1.5 million We Came As Romans fans can't be wrong, can they? Well, maybe not fans, per se, but that's how many, plus change, "visitors" had listened to the relatively young band's "Dreams" track on MySpace when the group — whose five members all hail from the metro Detroit area — was brought to Metro Times' attention by, interestingly enough, MT editor W. Kim Heron's 16-year-old son.
So, based on that enthusiastic tip, MT photog Doug Coombe and this writer headed off to Mt. Clemens one cold and frequently rainy Friday evening to catch We Came As Romans' only local show before the end of this year — they'd already been on tour for nearly a month — at the Hayloft, a club the band's guitarist and primary songwriter Joshua Moore describes as "kind of our hometown venue."
And it appears to obviously be exactly that tonight, even relatively early by rock club standards, thanks to a large audience that belies the long-held belief that there is no modern metal scene in the Detroit area. The place is crowded, including a lot of young women, which was once a rarity among fans of this style of music. And even though there are tons of tattoos and piercings on display — including multi-piercings on the lip of guitarist Moore — there's a cool vibe in the room: lots of hugs, lots of just down-home friendliness. "We used to play shows here all the time, for about three years now," Moore says right before the band's set. "They're a lot better these days, though. Instead of playing for family and friends — like, 'Oh, my dad's here, and there's [vocalist] Dave [Stephens]' dad.' Now, we have actual fans who want to see us play." He still seems slightly bemused by that idea.
Yep. A potential 1.5 million fans, in fact, across the Internet. OK, anyone who knows a thing or two about MySpace also knows not every one of those listens may have ultimately resulted in a new "fan." But the number is still pretty phenomenal. Overall, it's estimated that We Came As Romans had 5-plus million plays at press time for all the material they've posted on the social networking site over a relatively short period of time. A lot of bands — even really good ones — are lucky to get a few hundred listens these days. You see, the myth, once perpetuated by Steve Jobs and other hotshots, was there was going to be more good music to discover than ever before, thanks to the Web, social networking, etc. The truth is, however, it's actually much harder to find good music these days because 70 percent to even 80 percent of it is utter crap.
Yet here's a local band that's beginning to make good on an international level, and the group has managed to do it while basically remaining under the local radar. You've probably never heard We Came As Romans mentioned when anyone is discussing "the Detroit music scene," online or off. Part of it, of course, is that they're certainly not a band of "groovy" hipsters. But they are a band that's done it almost totally via the Internet (and all the various powers the Web provides), along with nonstop touring.
Time was, a band sold, say, 1.5 million singles and had developed as large a fan base as We Came As Romans now has, the major labels would be sniffing around, if not knocking on their door. Of course, those were also the days when there was a concrete music industry, with a lot of major labels and stuff like that. But in this new music market, with its barrier of limited entry (as one of the group's managers terms it), the Internet has succeeded in taking them to the "next level." Their new album, To Plant a Seed — which dropped on Nov. 3 (and which was No. 10 on iTunes' rock chart at one point on the day of release, demonstrating a lot of extraordinary momentum for a band at this level) — is on the indie Equal Vision, the same label that launched Coheed and Cambria, a band that would go on to record for a major label and are, well, absolutely huge today, and very huge in Detroit, where the band has played countless shows over the last two years, most recently opening for the Ronnie James Dio-fronted version of Black Sabbath at a major venue.
The campaign the band launched for its Dreams EP would have once been termed "grass-roots," even "underground," in pre-Internet times. Part of their lack of mainstream recognition, even locally, of course, has to do with the very nature of the group's kind of music, which has always been a cultish and even sub-cultist genre ... although as Doug and I discussed after the show: For a lot of those kids at the Hayloft, they don't think of this as metal; they don't think of this as thrash or hardcore — even though it is sort of a blend of all three styles. No, they probably simply think of this as what constitutes rock music in 2009, if they think about it at all. And even if one isn't exactly a big fan of the style, the execution and the passion with which it's delivered are still something to behold.
The band finishes tuning its instruments and adjusting the P.A.; the stage lights dim right around the posted early 8 p.m. starting time (there's reportedly a video for the new album being filmed tonight but we're not sure we see any cameras in the club) ... and the band immediately hits the stage running, the cacophonous music blasting, heavily rhythmic, from the very get-go. There's impressive synchronized head-banging onstage, water bottles spraying, stage diving. Sure, you've possibly seen it all before — but not always with this much real energy, passion, spirit and, yes — dare we say it? — good vibes. And the packed crowd in front of the stage is generating a lot heat as well.
One of the more interesting aspects of We Came As Romans is that the band features two vocalists — the aforementioned David Stephens (who'll politely correct you if you refer to him as a "singer") and Kyle Pavone, who doubles on keyboard duties. The latter is sometimes described as "the singer," even the "sweet" vocalist in a few press clips, while Stephens is more the screamer, blending a hip-hop sensibility with that now very well-known and infamous hardcore growling style. Truth be told, though, they sometimes both sound like they're screaming onstage to these ears, which doesn't mean it's any less intriguing. (It should be noted that the "sweeter" aspects of Pavone's singing are evident on the recordings.) It's all occasionally even delivered with smiles on their faces. That doesn't always make total sense at first glance. In fact, it may even strike novice listeners as a contradiction. After all, those Slayer-derived vocals used to remind some of us of the voice of Mercedes McCambridge as the Devil in The Exorcist ... and those "evil" vibes may seem to actually fit a band whose name could make one think of the whole pillaging, looting and raping bit some might associate with the idea of ancient Romans coming to your town. The Monkees or Grand Funk they aren't.
So it's rather surprising what Moore tells Coombe and me, after he's pressed for an answer on the name's meaning, during an interview with the guitarist, vocalist Stephens, and very amiable guitarist Lou Cotton (much like "singer," there is no "lead" guitarist in We Came As Romans, either) in the band's cluttered van shortly before the set. (The band is rounded out by the powerhouse rhythmic team of bassist Andy Glass and drummer Eric Choi.)
After repeatedly suggesting, even insisting, that each member of the band has his own personal interpretation and definition of the moniker (Moore seems to be very generous in that department, and perhaps a bit reluctant to take on the role of band spokesperson; even when other band members say he's responsible for coming up with the music, he still explains it as a group effort, much like "a paper in school where you come up with something and then your friends add things and help edit it"), he offers an explanation that ultimately probably explains some of the good vibes in the room.
"For me, personally, it's, ..." he begins, before hesitating. "Just for clarification, our band is not a Christian band at all. I personally am a Christian, though, and in the Bible, I believe it was Paul who said, 'When in Rome, do as Romans do.' If you're ever going to reach out to someone, you need to be just like them to understand how they live, how they are. So for me, the name We Came As Romans is like having this message about loving and respecting everyone and then just hanging out and having a good time, really. It's all about love and peace." Man, who are these kids? The freaking Beatles? "And that's just like who we really are as people and that's what we want to try to spread." The three members do laugh at the pillaging, looting and raping suggestion, maintaining there is nothing negative whatsoever about their band.
"Any Christianity that's tied to this band on any level, though, is all personal," he continues. "Totally on a personal level. We don't involve any kind of religion with our band at all. Any sort of religion [dogma] is always going to end up in an argument. But the message of loving people and to be loved — no one is going to argue with that. So we always try to keep any religion out of it and just keep it, like, simple."
Most of the members have been playing since they were 13 or 14 years old. Two of them just recently turned 19; Stephens is the oldest at 21. They've played in bands before — even if it was just playing trombone in the school band as Moore did; there is brass on the new album, by the way, but he doesn't contribute any horn; "It would be difficult with these piercings anyway!" he laughs. But nothing was all that serious until two years ago. That's when they hooked up with then Cincinnati-based manager Matthew Stewart, and then subsequently released their Dreams EP late last year.
"When we first started working with Matt, that's when we started to try to make a really big push to use the Internet and MySpace and whatnot," says Moore. "It was just this really great tool to help people find out who we are and to see if our music is something they may want to get into. Since then, we've really just tried to use [the Web] as many different ways as we can think of to get to fans. The Internet is completely relevant to everything that goes on in today's society."
"And it's free," says the always exuberant Stephens. "So you might as well use it to promote your band!"
"It was a pretty cool stroke of luck when we gave the Dreams EP to download for free on PureVolume.com and we ended up getting on the front page of that website," offers up guitarist Cotton as one such example of the powers of the Net. "We ended up getting a lot of exposure from that."
Manager Stewart was eventually invited to join a firm, Outloop Management, based in Arlington, Va. — which means the band now has two managers working for and promoting them, the other being the more seasoned Mike Mowery, a former tour manager for numerous underground bands who'd been working with Stewart on We Came As Romans even before his recruitment to Virginia. In the words of Moore, Mowery's arrival was when things started getting "real crazy," including the addition of a national booking agent and then the Equal Vision Records deal. Mowery has been doing important things, such as running a strong and unique pre-order campaign for the new CD and branding the band in a multitude of ways, always mindful of what a younger generation is gravitating to in modern times.
"The barrier of entry [to the music business] has decreased, but the other side of it is everyone can make music and get it out there these days," says the manager by phone from his Arlington office. "I get numerous e-mails every day from bands trying to make it and I'm not even one of the major players. So you can imagine how many bands there are out there. And a bunch of 17-year-old high school kids can record something after school and it'll be up on the Web that night. As a result, it's become such a watered-down medium. And that really means that to catch people's attention, you have to have more than just good music today."
But first, of course, you do have to have the music and the chops. The Dreams EP also did well upon its arrival on iTunes, where the band briefly offered it as a free download. "I think it was just under 100,000 [downloads]," says Moore. "We only had it up for download for about three weeks, maybe a month. Then in January, we started selling it. At the time, I think it was like 90,000 individual song downloads and then I think maybe 25,000 downloads as a full EP. But at that point, that was huge for us. We were still a smaller band. We hadn't signed to a label or anything. We were still booking our own tours and had only just gotten management."
"I think that all really helped us to stand out," adds Stephens. "We got that EP in a lot of people's cars, in a lot of iPods. And then those people spread it around to their friends — sorta like, 'Yeah, it's free so go ahead and take it.' And it just spread all over from there, you know? I think that was the best thing we could have done. I mean, it kinda sucked spending so much money on recording and everything and then not really making a penny from it. But in the long run, it's what got us to where we are, I'd say."
"And the best thing about it," explains Moore, "was that after we gave it out for free download, kids would get it on their computer and then it would go up on like every torrent site. It would be up on Lime Wire ... well, it's actually up on any program that you can download music from right now."
As for those 1.5 million plays on MySpace, though, they're really not all that surprised. "'Dreams' is our most popular song," says the songwriter. "I'd think it would have at least that many plays. It's the song we close with every night. And it's the song that really completes kind of the message of what our band is all about."
The dudes have given up college to pursue this and, of course, prospects are always iffy in this business, especially in the new frontiers of what remains of the music biz. So there's naturally been some slight parental disapproval, especially earlier on.
"At first, it was kind of hard when a couple of the members were still in high school and stuff," says Moore. "Their parents would just be like, 'What are you doing?' You know?"
"I mean, Josh had a full scholarship and stuff," adds Stephens, talking about the ever-modest Moore. "And I was already in college before we got into this full time. My parents are both educators, so the thought of putting college on hold to do this wasn't something they were real happy with at first. They weren't sure about this leap of faith we all had to take. But, I mean, we're kind of landing on the other side and so now they're stoked. I mean, they definitely were supportive along the way. They were. They were just kind of always like, 'Are you sure?'"
"It definitely has its ups and downs," says Moore of constantly touring the nation in a crowded van — although the guys are now so close, like so many other bands, that they end up regularly hanging out with each other even when they're not on tour. "Sometimes, when you're up, someone else in the band is on their down. That can be tough. But I think every member would agree that it's really worth it. Especially at our age, to be able to travel the country like this. I don't think a lot of people can say that."
"We want to see them headline shows, which they're starting to do, and move into that next realm of 500- to 1,000-capacity clubs," says manager Mowery of the band's future. "The ideal for a band like this is to get them on the Vans Warped tour, and I think we have a good shot at that next year."
But ask them where they want to be a year from now and the members of this band — who claim they've never even "talked about" a major label deal until a journalist brought it up to them today — answer unanimously: "Touring!"
God bless 'em.
Thanks to editorial intern Brady Bell for transcription assistance.
Bill Holdship is music editor of
Metro Times
. Send comments to
mailto:

[email protected]