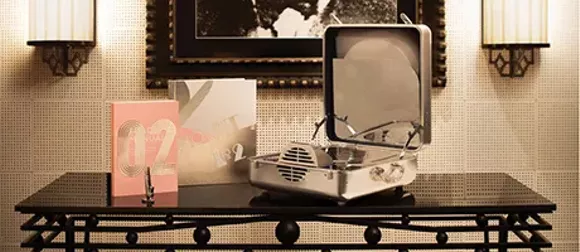 Once again, Third Man struck Grammy gold yesterday, this time for their work in packaging the elaborate set
THE RISE & FALL OF PARAMOUNT RECORDS, VOLUME TWO (1928-32).
The award ("Best Boxed or Special Limited Edition Package")went to set producers Susan Archie (a multiple Grammy-winning designer who I myself have had the great pleasure to collaborate with), Dean Blackwood (head of Revenant Records, who co-released the set, and who's kind of a behind scenes-genius), and Jack White (his
eleventh
Grammy win, overall). Others who worked tirelessly on the set include Martin Doudoroff, David Glasser, Anna Jean Frick, Scott Blackwood, Katie Deedy Robison, Jerry Zolten, Jeff Economy, and Alex van der Tuuk.
What follows is the initial pitch for the set.
The first volume in this collection was called "spectacular" (New York Times), "unprecedented" (Rolling Stone), "breathtaking" (Boing Boing), and "a cabinet of wonder, indeed" (Pitchfork).

Third Man and Revenant proudly bring you The Rise & Fall of Paramount, Volume Two - hailed by Wired as "the ultimate box set of iconic American music," by Pitchfork as the "Best New Reissue" and applauded by Spin, Stereogum, Billboard, The Boston Globe, The New York Times, and the Wall Street Journal.

Volume One (1917-27) chronicled Paramount's improbable rise from also-ran to jazz-blues juggernaut, launching the recording careers of giants like King Oliver, Jelly Roll Morton, Louis Armstrong, Blind Lemon Jefferson, Alberta Hunter, Blind Blake, Ethel Waters, Ma Rainey, Papa Charlie Jackson, Big Bill Broonzy, and Fats Waller. Order Volume One here.

But just as it seemed Paramount might be losing steam, it began a second act that threatened to dwarf its first. This astonishing second act is the subject of The Rise & Fall of Paramount, Volume Two (1928-32), the final chapter in our commemoration of America's greatest record label.

In its final 5 year push from 1928-32, Paramount embarked on a furious run for the ages, birthing the entire genre of Mississippi Delta blues recordings and issuing some of the most coveted records in the history of wax - a staggering playlist including Skip James, Charley Patton, Son House, Tommy Johnson, Willie Brown, King Solomon Hill, Tampa Red, Lottie Kimbrough, Rube Lacy, Meade Lux Lewis, Buddy Boy Hawkins, Jaydee Short, George "Bullet" Williams, Cow Cow Davenport, Clifford Gibson, Ishman Bracey, Louise Johnson, Geeshie Wiley & Elvie Thomas, The Mississippi Sheiks. and hundreds of other artists.

Paramount simply killed. But more than that, it changed how this country thought of itself. It was the first enterprise of any kind to capture what America really sounded like in the 1920s and '30s - on its street corners, at its fish fries and country suppers, in its nightclubs and dance halls and showtents. In the process, it was profit-minded Paramount - not a preservationist body like the Library of Congress - that inadvertently created the most significant repository of this young nation's greatest art form.

Six LPs, 800 digital tracks, two definitive large-format books. All housed in a polished aluminum case evoking the era's high art deco stylings and America's own Machine Age take on modernist design.

A joint release by Third Man and Revenant, co-produced by leading Paramount scholar Alex van der Tuuk, with all Paramount masters issued under license agreement with GHB Jazz Foundation.