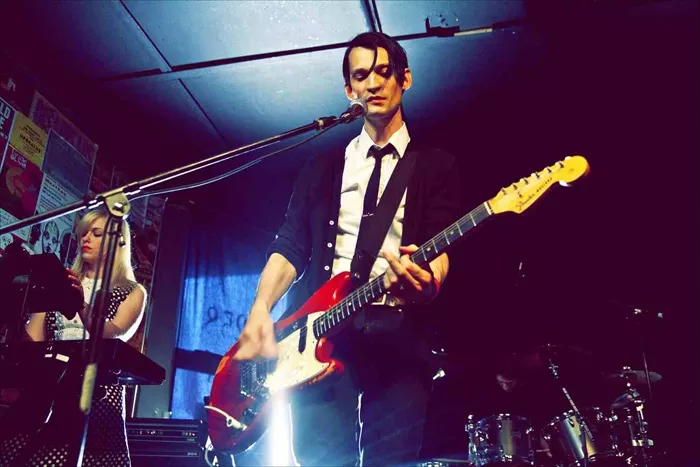 Ryan O'Rourke swore he'd never be in another band. And yet the singer-guitarist from defunct Detroit-area outfit FUR (which blended industrial, new-wave and post-punk with pop) is about to play his first show with his new outfit, Siamese.
As FUR began to fray in summer 2013, O'Rourke had already started writing a set of songs he could perform solo at clubs, raves and dance parties. Working with an old friend, though, O'Rourke was eventually goaded into playing collaboratively again.
O'Rourke has admitted fandom for Nine Inch Nails and Joy Division; that's obvious when you hear some of his music. But he's also name-checked the Carpenters and Lady Gaga. He loves thick textures, toying with distortion and surreal-sounding samples, but his ear's always bent toward a pop melody. Just as in FUR, keyboardist Johanna Champagne joins her husband again to help bring these songs to life. They make quite a team.
Recently, Bassist-singer Liz Wittman (Lettercamp) and drummer Angie Kaiser (I Love Lightning Bugs) joined, along with guitarist Steve Thoel . Nearly nine months since FUR's last show, that old anxiety of live performance percolates again for O'Rourke and Champagne.
Metro Times: "Siamese" is suggestive of a twin and the single's called "When You End, I Begin." FUR's last record was called Image on the Reverse. Does all of that refer to a creative flipside?
Ryan O'Rourke: That FUR record took two years to make. It was mixed, remixed, mastered, remastered … remastered again. It was an agonizing process and after a year of it, I checked out. I felt obligated to see the process through, but I knew the band was going to end immediately after we released it. So, I started recording on my own. There's a lot about Siamese that's similar to FUR, but still very different. I couldn't have gotten away with a lot of this stuff in that band.
MT: You've been in bands with your significant other for more than five years now. How did that come about, and how did you meet?
O'Rourke: I've known Johanna for a third of my life, now. We first met getting together to work on music together in my parents' basement.
Johanna Champagne: We both hung around the same 24-hour diner drinking coffee, smoking cloves well into the morning hours. We were introduced and found we shared similar tastes in music. I started writing music as a kid; I took piano lessons. And he asked me to play piano on a song he was working on. I guess the rest is history.
MT: What's it like for you to work creatively together as husband-wife?
Champagne: We work well together, we have similar influences, and I think we trust each other's judgments.
O'Rourke: There's no one I'd rather be in a band with. When it comes to playing live, Jo is serious about getting her parts right and she delivers every time we play. There wasn't any artistic tension with "End/Begin," though, because I worked on the record alone.
Champagne: Ryan wrote this whole album on his own. It was after figuring out how to perform it live where I came into the picture.
MT: Talk about that process, Ryan. How would you describe the record?
O'Rourke: Well, I like textures, samples, drum loops and awkwardly placed pauses in songs. I also like glitchy electronic music, things like Squarepusher, Jimmy Edgar and Aphex Twin, so those come out. Another thing different is, I played all the instruments and didn't have to answer to anyone. If I wanted to throw a sample of screaming children into a song, program a drum-beat at 240 beats per minute, or add synth parts that sounded like a Madonna song, no one was going to talk me off a ledge.
MT: That's freeing. But at what point, or how, do you start seeing these songs as something you wanted to form a band for?
O'Rourke: When I started [Siamese], I swore I'd never play in another band. I had no interest in playing in bars or even touching a guitar. But then Scott Masson, who I recorded much of "End/Begin" with, talked me into adding guitars to some songs. Then I started missing it …
MT: You've put out a cover of Iggy Pop's "Mass Production," an interesting sounding re-imagining with some glam-pop synths and soft new-wave strings. Which influences did you draw on while recording?
O'Rourke: I listen to a wide variety, and I'll steal openly from any of them: Lady Gaga, Lorde, Lana Del Rey, Nine Inch Nails.
MT: And these songs you've made now come to a stage. Can you talk about your new live collaborators?
O'Rourke: It's only been seven weeks, we're still growing into each other. The way it came together wasn't deliberate but couldn't have turned out any better. We started working with two close friends but realized they weren't going to be happy playing in Siamese. No hard feelings, it's just a lot to ask of someone, learning parts they didn't write. I can't say I'd do it myself if tables were turned. Out of absolute panic, I emailed every musician in Detroit. I knew from the first snare-hit that Angie [Kaiser] was a great drummer, and I've been wanting to work on music with Liz [Wittman] since she released Raccoon Panda, but I was scared to ask, let alone talk to her. She agreed; I was surprised and honored.
Champagne: I love working with all these people. There's great chemistry in the room; no tension and no egos to deal with.
MT: So, your "first show" with another new band. What are you hoping for this year?
O'Rourke: I'm nervous about it because we haven't played together very long. Plus, we're playing with two bands who set a high bar [Alexis and 800beloved]. Hoping to release the record sometime this summer and finish another record with Scott Masson.
Siamese plays with 800beloved and Alexis at 9 p.m. on Friday, March 14, at the Loving Touch, 22634 Woodward Ave, Ferndale; 248-546-3696; no cover.