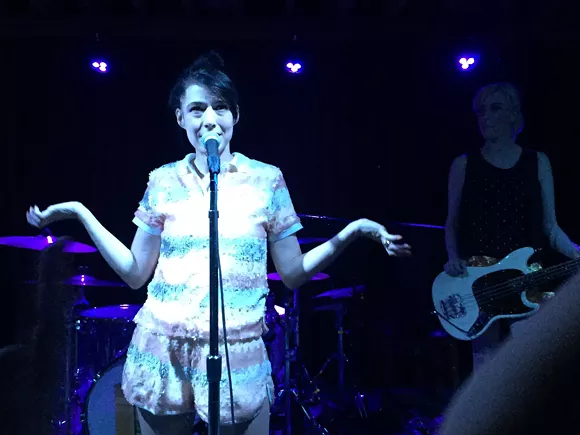 If you didn't know anything about The Julie Ruin before their show at Marble Bar last Friday, you could discern a good sense of what was in store from surveying the crowd. There, among the patches, tattoos and exposed bra straps, the neon socks, combat boots and shaved heads, there was the feeling of "anything goes," and a palpable sense of the outsider, queer and DIY legacy that the band's members, especially frontwoman and Riot Grrl icon Kathleen Hanna, represent.
But first came Stef, a Detroit-native who took the stage in a manner so unassuming it was unclear whether she was a roadie or performer until she strummed the chords of her first song. Wearing thin-rimmed glasses and a second-hand looking shirt with lightening bolts on it, hair pulled up in a scrunchy, Stef warmed up the crowd with distortion-laden guitar ballads, her earnest lyrics delivered with hints of Karen O's more reflective moments.
Throughout the one-woman performance, she was focused and a little shy, a serious expression on her face aside from the few times she addressed the audience, during which she was lit up with a smile. "I feel like I'm supposed to say something here…" she confessed shyly at one point, then smiled and shrugged for a moment before remembering to tell the crowd about her tapes and CDs for sale.
This contrasted greatly, of course, with the entrance of The Julie Ruin, who took the stage looking self-possessed and charmingly mismatched. Hanna wore the blue jacket that appears in the video "I'm Done" and says as much on the back. Guitarist Sara Landeau wore a short sleeve green coverall, pink lipstick and shimmering gold sneakers. Kathi Wilcox black tank top and sparkly gold skirt. Drummer Carmine Covelli was perhaps the most sensible in a button-up shirt while keyboardist Kenny Mellman was barefoot in popsicle boxer shorts and a shirt that said "Mr. So and So," another new song they would later perform.
Hanna, for whom there is no doubt is the centerpiece of the band, was greeted with adoring cheers and a T-Shirt from a fan in the front row. She read the tribute written on the front of the shirt, thanked the fan, and cracked a sly joke. The greeting ceremony complete, Hanna gave a few gallant hops, and they were off.
They got things rolling with "I Decide", a midtempo declaration of independence, from their 2016 release
Hit Reset
. Hanna was dancing as soon as the music started, alternating between high energy, spunky hip swings and a few goofy, zombie-like movements. At the end of the song, Hanna noticed that Marble Bar's stage isn't raised and offered to raise her hands and do puppetry for the people in the back.
Then came "I'm Done," a song that, if it could, would put internet trolls in a rocket and blast them to the Andromeda Galaxy. Hanna's voice was big and unyeilding, calling to mind the part in the documentary
The Punk Singer
where she explains that when she sings she thinks of her voice like a bullet. As the song finished, Hanna took of the blue jacket she was wearing, the one from the video that says "I'm done" on the back, revealing what looked like a loose-fitting tennis uniform covered in peach, pink and white sequins.
"I've been working really hard at this," she told the crowd, holding up the cowbell and smiling. They launched into "Be Nice," and Hanna performed full on, multi-personality theatrics and beat the cowbell like she was giving a spanking while everyone else kept time.
The mostly stoic Landeau, often hunched over her guitar delivering exuberant surf guitar sounds, and calm, cool, svelte Wilcox provided a counterbalance to Hanna, who was dancing however she damn well pleased, and Mellman, who was goofy and effusive at his keyboard,
It was also Hanna and Mellman whose banter drove much of the show. "My husband wrote that song for me," she said at one point, referencing hubby Ad-Rock. "Just kidding, she said, smiling. "I read an article once that said my husband made all my beats for me."
"Doesn't he?" Mellman answered. "Girls don't make beats."
Hanna reacted in fake fury, the crowd responding equally indignant.
For every joke made, though, there were also moments of seriousness, where Hanna shared her philosophies on feminism (essentially that being a feminist doesn't mean being a friend to all women, how some wome women are toxic, just like men) as well as her own personal history.
"This song is for anyone whose dad was an asshole," Hanna said, introducing the title track from
Hit Rese
t. "And then, you end up involved with people like your dad. This song is about hitting reset, and not being best friends with people like my dad, or fucking people like my dad."
The song, one of the album's strongest, was even more powerful live, with Landeau and Wilcox joining Hanna in the chorus "I don't think you're sorry at all!" and Wilcox's bass racing their voices to the accusation.
The band also played "Apt. #5," a track from
Julie Ruin
, Hanna's 1997 solo project recorded in her bedroom. Here Mellman espoused his disbelief that he was working with Hanna. "That original Julie Ruin album was amazing… Dreams really do come true." Hanna, who given their rapport, could have easily teased Mellman, instead walked across the stage and hugged him.
After a cover of Courtney Barnett's "Pedestrian At Best," their song "South Coast Plaza," and a few other numbers, the band disappeared from Marble Bar's small stage.
It was Mellman's friendly silhouette that reappeared first, announcing that he just hates when bands take forever to return for their encore.
They closed with "Oh Come On," a pop-punk track from their 2013 release
Run Fast
.
"This song is about the pressure we all put on ourselves. But fuck it. We're just people," Hanna said before the song started.
"Fuck that!" someone from the crowd yelled.
"Preach!" yelled another.
"I would, but I'd be a terrible preacher" she answered.
And with that, they left the stage, Mellman's bellowing last line of the song still ringing in their ears, and multiple generations' sense of girl power reaffirmed until next time.