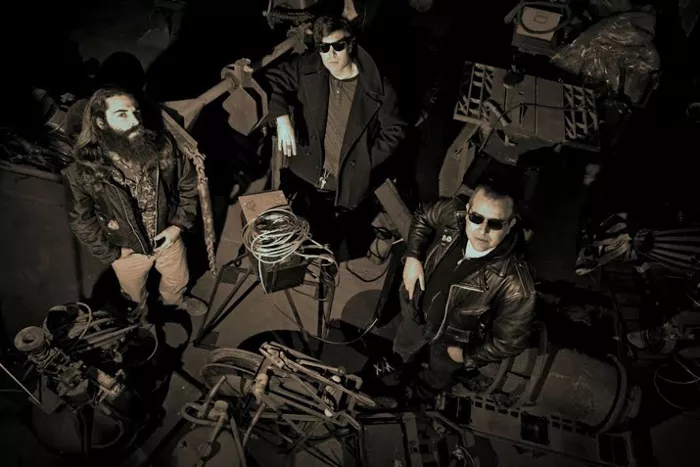 There's no warming up to Wolf Eyes; one merely acclimates to their weirdness.
The local trio's music could be described as weird, provocative and certainly noisy. Some refuse to describe it as music at all. Founded in Ann Arbor more than 15 years ago, the group's current creative "complex" is an abandoned factory space in Detroit repurposed for recording, christened the "Michigan Underground Group." Nate Young (who founded the band with comparable avant-gardist Aaron Dilloway), joined with John Olson in 2000 and haven't looked back, relentlessly whipping the aesthetic of post-industrial noise-rock as far down the road as it could possibly go — to the point where their style has utterly defied categorization.
As just one of 50 bands slated for the inaugural Berserker Music Festival this weekend, Wolf Eyes epitomizes the large lineup's shared trend of loud, weird styles. Some might arrange acts like Terrible Twos, Old Gods, Golden Torso, Ringworm or Macabre into tidier genre boxes, like metal or punk. But that'd be a gross simplification (especially considering the electro-rock and indie styles of locals like Voyag3r and Thunderbirds Are Now).
Berserker features 50 bands on three stages, spread over four days. Metro Times gauged just how weird Berserker might be, based on a conversation with Wolf Eyes. We met their newest member, guitarist Crazy Jim Baljo, and discussed their latest album, No Answer: Lower Floors.
Metro Times: Should all music strive to be this intense or weird or … intensely weird?
John Olson: You can't set out to "be weird." You gotta be yourself. And, if it's "weird," style it! All day!
MT: What initially attracted you to heavy and heavily experimental music?
Olson: I saw a lady actually taking notes at an early Wolf Eyes show and thought: "Man, I gotta get up on this, pronto!"
MT: I first saw you in 2004 when you opened for Sonic Youth, and I didn't know who you were yet. You baffled, angered, scared and disoriented me. I presume you'd be glad to hear this?
Olson: That was the intention! That was a great, grueling tour and our last jam, hometown-style, so you gotta burn all insane cylinders. We had a lot of heads baffled over that tour, including a death threat in Seattle … all the results of being too comfortable with the animal side of your primitive "expression."
Crazy Jim Baljo: As a seasoned audience member of Wolf Eyes, I knew what to expect. Don't worry, player, that gig rattled my nugget too!
MT: So I was baffled and scared, but I was then intrigued and started following you. Your work is summarily described as provocative; others say "confrontational."
Olson: While we had (and still have) weapons on stage, it's all in the wilds of exuberance and being very excitable animals. Too excitable, not confrontational at all — only in the abstraction of the jams. Leave confronting to those who have something to prove; we're just ourselves.
Baljo: Being the young gun that I am, Wolf Eyes was close to the first intensely weird music I've ever heard. I thought, "Man, these guys can make the furnace and the refrigerator drone at the same time that the TV static fuzzes and let the dog eat rats, with their 'instruments' turned up all the way." It was the most intense punk-rock I've ever witnessed.
MT: What was it like then, Jim, to join a project like this?
Baljo: Dig this here: I've been friends with the guys for a long time. It seemed fitting, being that I like fucked-up music and the chaos it creates. It's a shit-load of fun. However, it was really big shoes to fill, and I quickly caught on to thinking less and shredding more.
Olson: Jim's my three favorite ingredients: He's insane, he's a thrasher, and he's a rager. Sprinkle and boil it with a strong mixture of stone-cold wildness from the wilderness, and he keeps the old guard on its toes, for better or for worse.
MT: What's it like to be a band that is, by definition, indefinable? Have you developed or evolved in the traditional Beatles-y sense, over your hundred-some-odd releases?
Olson: If you put in the time, you are gonna progress or regress; we're fine with both. You just gotta be cognizant of sliding and climbing both ways and embrace it. In painting, the older (more experienced) you are, the less you can do with more.
MT: What's it like creating inside a space like the "Michigan Underground Group?" I understand there were lots of transient, temporary residents and audiences for your rehearsals, so you could witness reactions in real time.
Olson: That was an exercise in getting the outsiders together in a cider-room to concentrate hard on the "outside" around us all.
Baljo: We heat the place with wood, so harvesting dead trees and splitting the wood before you jam and flesh out ideas was fun. With friends' projects like Tarpit, Living Wound and Ape Technology giving input there, that was badass. Their ears are trained to the abrasion and moods of the sound.
MT: Your website touts this as sort of a rebirth? And the record definitely stands out for you, paring back the dissonance and creating something clearer, dare I say meditative? My cat seems to enjoy it, here, as I'm playing it in my home office.
Olson: Clearer is spot-on. Uncluttered and open. No more fucking around. Just the start of this new, long thousand-yard ice grill stare into the void and clinging right back at it. Let the notes do the work for you.
MT: When Shawn Knight (of local metal-punk outfit Child Bite and Berzerker curator) approached you about this festival he was putting together, what'd you think? How are you feeling heading into it?
Olson: I'm stoked on the local insanity. Gotta tilt the earth off its axis with direct, live feedback. Loud, screaming amps. Heads explode.
Baljo: I thought, 'Yes! BERZERKER THIS!'
Wolf Eyes performs at the Berzerker at 7 p.m. on Friday, Feb. 7, at the Loving Touch and WAB, 22634 Woodward Ave, Ferndale; 248-546-3696; Single day $15 (with limited 4-day passes: $20); thelovingtouchferndale.com.