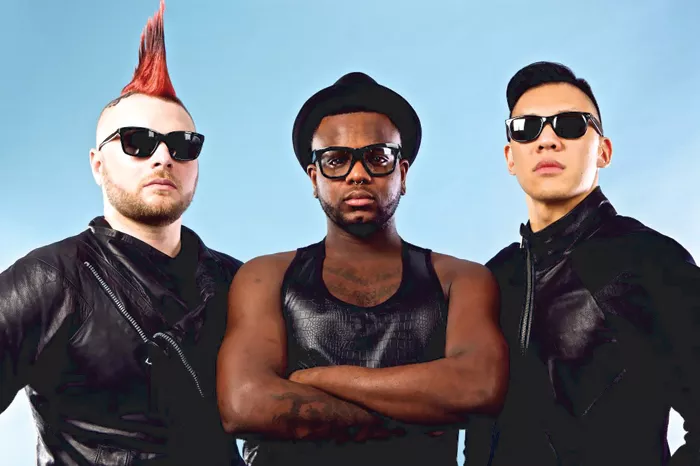 Porn and Chicken: It's a rather attention-grabbing moniker, wouldn't you say? But what exactly is Porn and Chicken? They're not truly a DJ group, but more like a traveling band of partying minstrels, hoping to extol the joys of raucous, licentious, immoral, and downright messy bangers on teens and twentysomethings the world over. They refer to themselves as a crew, and their chosen genre is EDM, which is perfectly complemented by an aesthetic of cartoon boobs and dicks. It's nothing less than lowbrow, but with a name like Porn and Chicken, what do you expect?
What started in 2011 as a weekly Monday night gig in Chicago's Wicker Park quickly turned into a traveling show. The trio, which includes Dom Brown, Orville Kline, and Fei Tang, performed at this year's Spring Awakening Music Festival, and on the main stage no less.
We chatted with Brown and asked him all the important questions like what sort of chicken and what sort of porn, exactly, are we talking about here, and what to expect from their stop in Pontiac.
MT: Where are you guys right now?
Dom Brown: We are straight chillin' in Chicago, our home, right now. Just locked down a brand-new studio space.
MT: Awesome. So, let's get right to the hard-hitting questions: Where's the most insane place you've performed/partied?
DB: We have been all over the world at this point, but Chicago always holds it down. If we had to pick a runner-up, probably NYC. Webster Hall is always a fucking blast-y blast for us.
MT: How do Detroit parties stack up against Chicago parties?
DB: Chicago has people that don't or can't endure the marathon, whereas Detroit motherfuckers will party till next week. Every time we leave the D, it takes a few days for us to snap out of it. It's cold in the D [laughs].
MT: What can we expect from this upcoming installment of Porn and Chicken at Elektricity?
DB: New music, more antics, crazy shit that you don't want your parents knowing about, per usual. Elektricity really lets us go balls to the walls in doing so.
MT: You performed at Spring Awakening this year — what was that like?
DB: I mean, three words: Main. Fucking. Stage. It's so dope to rock out with all of your fans. Not just some, but all of them, including an army of new ones. We have so many fans that are 16, 17, 18 years old, and they never get to see us do our thing, so Spring Awakening was for them. We went all out and were seriously rewarded, for sure. So much love for all our loyal peeps!
MT: Why the name Porn and Chicken?
DB: When we started it was "Beer. Chicken. Porn." because of the specials that we ran. Over time it became "Porn and Chicken" as we began to develop the party, the artist, and our brand.
MT: When we were discussing the interview, someone asked "What kind of chicken?" So, what kind of chicken?
DB: Fried crispy. No exceptions.
MT: And what kind of porn?
DB: Favorite is '80s vintage. No condoms, no lube, just spit and bush. Fuck yeah! [Laughs]
MT: OK. So it seems to us like EDM fans are just fucking nuts. What's your thesis statement on that?
DB: [Laughs] Says the person getting an interview from the group called Porn and Chicken. Yes. We are all fucking nuts, but that's way better than being normal.
MT: What attracts you to EDM versus other types of electronic music?
DB: We love all electronic dance music. There are so many genres to live in under that umbrella now. When we play our solo gigs outside of Porn and Chicken, we dabble in house, tech house, deep house, and all that other fun stuff in between. So if we had to say what attracts us to EDM, my response would be PLUR [Peace Love Unity Respect].
MT: What other types of music do you listen to?
DB: Rock, metal, hip-hop, Pink Floyd, really all types. Narrow-minded individuals are boring and are limited to what they can ultimately and creatively provide.
MT: What's the biggest misconception about Porn and Chicken?
DB: Uh, that we are just a bunch of perverts running around trying to get laid. Wait, what was the question? [laughs].
Porn and Chicken performs at Elektricity on Friday, Aug. 1. Doors open at 9:30 p.m.; 15 S. Saginaw St., Pontiac; 248-599-2212; elektricitymusic.com; Tickets are $10.