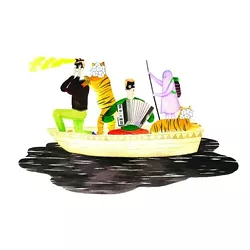 Unless you're Frank Zappa or Captain Beefheart, it's very difficult to take jazz and rock, often such awkward bedfellows, and meld them into something comfortable and wonderful. In all too many cases, what we get is a rock record with some brass shoehorned in there, or a jazz record with electric guitar. Think a Brooklyn indie band of guys wearing Miles Davis shirts and throwing odd time signatures around while stroking their goatees.
Philly's Man Man has managed to avoid that sort of debacle by understanding that the song, the result of the endeavor, is more important that the act of forcing genres together. The band has embraced all that is great about jazz, rock, pop, world music and more, and delicately pieced together an album that flows beautifully. Opening tune "Oni Swan" is pure jazz — a short instrumental gem that introduces the next song, future college radio fave "Pink Wonton," perfectly. Before you know it, you're hearing glockenspiel and it seems completely natural.
That's Man Man — fearless in the desire to delve into the new, but intelligent enough to know when to employ new devices.