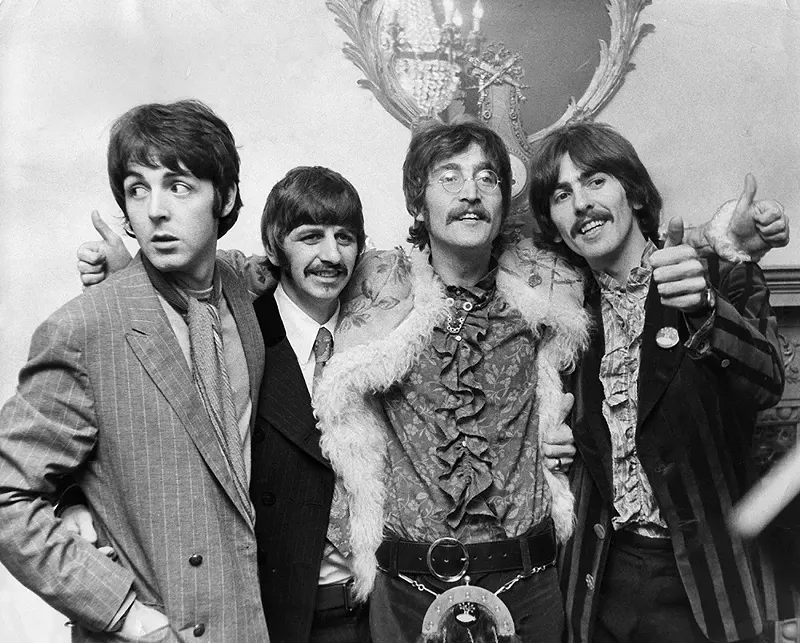 On the surprising new Rolling Stones album Hackney Diamonds, Mick Jagger shouts out bitter lyrics to "Bite My Head Off" before calling out encouragement to one of his sidemen in the studio.
"C'mon, Paul!" Jagger snaps. "Let's hear some bass!"
His bass man isn't just some session guy. It is Paul McCartney, once of the Beatles. While Paul plays his musical instrument, Jagger sings thoughts McCartney probably wouldn't write in one of his "silly love songs."
"If I was a dog, you'd kick me down," Jagger sings. "I'm hearing the bark and I'm feeling the bite . . . I ain't on a leash . . . I ain't on a chain. You think I'm your bitch. I'm fucking with your brain."
Fortunately, McCartney doesn't need to open his mouth on "Bite." Instead, his fingers blast out a fuzzed-up, distorted riff that echoes the pounding rhythm of Jagger's vocal.
It's a pulsating part of a darn good album of unexpectedly refreshing work from artists around the age of 80 who were born in England during World War II while London got bombed by Nazi Germany.
Coincidentally, Hackney Diamonds arrives at the same time McCartney and the Beatles have released what they say will be their last recorded song, "Now and Then."
Both discs flash back to the era of the original "British Invasion" of the 1960s, an influence still echoing through generations of popular music. More on the Beatles' cut later. First, a quick review of the new Stones set of 12 songs, their first original material in 18 years.
Some of it is quite good, ranging from smash-mouth rocking, to country-western yearning, to disco-dancing tempo along with a gospel-soul extravaganza. It ends with an ominous little blues tune that takes the Stones and their audience right back to their roots.
Plus, there are guest contributions from not only McCartney but also from Lady Gaga, Stevie Wonder, and Elton John. For the most part, they elevate the sonic polish while maintaining and enhancing the unmistakable essence of the Stones.
For instance: Over the years, Jagger and Keith Richards have written and recorded many countryfied attempts, probably a dozen of them. But few are equal to the new "Dreamy Skies," a song that does not cite its title in its lyrics.
Alongside light acoustic strumming and little wails of harmonica, this is the delicate lament of a world-weary jet-setter who seeks rural peace and quiet.

"Well, I got to take a break from it all/ Cause the wind and the wilderness calls…/ I'll be chopping up wood, I'll be splitting the halves/ An old AM radio is all that I got/ It just plays Hank Williams and some bad honky-tonk…/ And I won't hear the sirens, or the maddening crowd/ Just the bark of a fox, and the hoot of an owl…/ And I just need some peace from the storm…/ And I got to break away from it all."
They've never recorded a song quite like this. It is a minor gem of contemplation and Jagger's voice has rarely sounded better. It is also impressive on "Live by the Sword," a special number which includes recorded rhythms by Charlie Watts, their drummer until he died in 2021.
Also on this song is Bill Wyman, their longtime bass player who retired from the Stones late in the 20th Century. They brought him back for this, and that allows them to label this the last combined recording of the "Original Stones" — (except, of course, without Brian Jones, who died in 1969).
Everyone sounds good on this one — including Elton John, hardly an original Stone, but one of the best pianists of his generation. John adds a joyous keyboard bounce as Jagger again spits out lyrics that suggest anger and violence.
"If you live like a whore, you better be hardcore… / If you get shot, you better call 911/ And then you better hang out until the ambulance comes/ If you live by the sword, you're gonna die by the sword…"
"Sword" sounds like an arena rocker, an ass-kicker candidate for a live show, should they dare to tour again. Same goes for "Angry."
And what are we to make of "Mess It Up," yet another Jagger testimonial to disco? If you aren't careful, you might find yourself standing up and dancing to "Mess," even against your will. Consider yourself warned.
A personal favorite is "Whole Wide World," with the Stones — especially with Jagger's exaggerated British accent — sounding like the Clash might have sounded had they endured.
"Well, the dreary streets of London, they have never promised much," Jagger sings. "A dead-end job to nowhere, and all your dreams are crushed."
(Then again, there's always the prospect of crime and punishment.)
"Behind the bars of prison, you're never getting out," he sings. "They want to break your balls in those slimy walls, and the guards are lardy louts."
The disc ends with two very different songs. The first is the lengthy anthem "Sweet Sounds of Heaven," the second is the short flashback "Rolling Stone Blues."
Some critics consider "Sweet Sounds" the best cut on the album and one of their top songs in recent decades. It's good, but it is overdone. It begins promisingly with Jagger's echoing voice and Wonder's wonderful piano.
"Bless the father, bless the son…/ Let no woman or child go hungry tonight/ Please protect us from the pain and the hurt…/ I want to be drenched in the rain of your heavenly love."
At this point, it still sounds like a church spiritual, and a pretty good one, too, even when Lady Gaga joins to sing counterpoint to Jagger. But soon, as a duet, they crank up the intensity.
"No, I'm not, not going to hell in some dusty motel/ And I'm not, not going down in the dirt."
Now come the horns and more volume and a shouting contest between Jagger and Gaga. The song lasts more than seven minutes and tries to make its crescendo as portentous as the ending of "Hey Jude." But this just doesn't work very well. Inside this seven-minute song is an excellent four-minute song.
Much better is "Rolling Stone Blues," the album finale, a two-minute-plus cover of the Muddy Waters song title that inspired Brian Jones to name the band. Its appearance here might be a broad hint from the Stones as they now stand. On this particular song, it's only Jagger and Richards.
Mick sings and plays harmonica; Keith strums the strings of an acoustic. They are again like the teenagers who met at that train station more than 60 years ago with albums under their arms and bonded over their love of the blues.
"Well, my mother told my father, just before I was born/ She said 'I got a boy-child coming, he's gonna be, he's gonna be a rolling stone/ Gonna be a rolling stone…"
You can't help but think Jagger and Richards are breaking it to us gently: We've come full circle; we've done it all; it's time to go. Let's hope not. Please, at least one more tour!
Also touring these days is McCartney, who brought to fruition the "Now and Then" project, based on a cassette recording Lennon made of a song fragment shortly before he was murdered in 1980 by a crazed young fan with a gun.
They call this song a real Beatles' single because all four are on it. Ringo Starr both sings and plays the drums. McCartney does the George Harrison guitar part based on recordings Harrison left behind when he died in 2001. And Paul does it well, in the Harrison style.
The song is pleasant enough, with Lennon's voice reedy and needy, his minimal lyrics fragile and vulnerable, as we remember him from his comeback album Double Fantasy that was current on the night he died.
"I know it's true/ It's all because of you/ And if I make it through/ It's all because of you."
No, "Now and Then" is not as weighty as "In My Life" or "Eleanor Rigby" or "Yesterday." But it is passable and Beatle-esque enough. And maybe the most interesting part of this song is the video that came out with it and can be seen on the internet.
Some critics have panned this video as silly and synthetic; I'll discover my clear-eyed opinion if I can ever view it without nostalgic tears blurring my vision.
The video blends shots of McCartney and Starr singing together at standup microphones in the studio recently; and a scene of Harrison playing guitar in the studio, looking tired and ill but happy, shortly before his death; and there's Lennon smiling on the sidewalk of what looks like New York; and the Beatles at Shea Stadium, running across the field to the stage; and Lennon, on stage, looking over his shoulder in 1966 and seeing Starr playing drums in 2023; and their different lengths of hair and beards over the years as they pose for pictures while passing through Rubber Soul and Revolver and Sgt. Pepper and Magical Mystery Tour and Abbey Road, and so on, looking older; and all those strings and horns and things in the studio, backing this new track, "Now and Then," which ends with scenes of Beatlemania in a theater, the Fab Four playing and the girls screaming and the black-and-white cameras filming it all for the movie A Hard Day's Night.
They were good, these Beatles. Perhaps better even than the Rolling Stones. In future centuries, people will still listen to recordings of both groups and study them for clues to who we were back then. For now, we will accept what they have left and say thank you.
Subscribe to Metro Times newsletters.

Follow us: Google News | NewsBreak | Reddit | Instagram | Facebook | Twitter