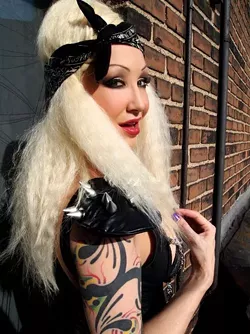 In 2012, a documentary movie called Tight was released and almost immediately forgotten. The brainchild of former porn star Bree Olson, the idea was to take four fellow porn stars and throw them into a rehearsal space with some instruments, tell them to mold themselves into a band called Tight, and put them out on tour, meanwhile filming every bit of chaos, debauchery and nonsense that inevitably occurred. Naturally, much of the film was staged. It's certainly more of a mockumentary than genuine documentary. However, as one would expect with this colorful cast, some of the action is real and, even now, two years after the film was shot, the girls pretty much hate each other.
That's where the Detroit connection comes in. Tight's original singer, Australian adult actress Monica Mayhem, went back Down Under, got married and then became pregnant. It would be tough for a woman with a child to go out and promote this particular film, so the producers needed a new girl to front their pseudo band. Through the wonders of the Internet, they found Kelley Jean.
Jean's name and face will be familiar to many around town; she hosts a show alongside VJ Strokenfold on DetroitDungeon.com, and she owns the Motor City Dolls business (adult dancing services — bachelor parties a specialty). She fits the bill because she starred in a bunch of porn flicks with names like The Sexretary, Foot Love and, best of all, Eskimo Kisses. Apparently there's a market for girls rubbing noses. Who knew?
Jean says that her hardcore movie career is behind her, though she still manages her Motor City Dolls as well as a party bus. Her music career got a jolt when she recorded an album of Europop consisting of sleazy anthems called Technosexual, with accompanying videos for the songs "Ride It" and "You Better Get it Up." Don't expect to hear them on the radio anytime soon.
"I did musical theater my whole life and when I got into the adult stuff, I forgot that I had done that," she says. "I focused everything into being an adult model, and I just completely forgot that I was a singer. Then one day I was asked by Amsterdam beats guy Martijn DePriester (aka Electric Fun Factory) and Flint producer JP to do some female vocals on a track called 'I Want to Feel You in Me.' I recorded some very simple vocals and they sent me back the track a week later. It's very European, techno-sounding. And I'm like, 'Holy crap! I've got a track.' He kept sending me stuff, and I'd get to write the lyrics and melodies. Very simple, not a very fulfilling experience that you'd have in a real studio. But we ended up with a whole CD out of it and we released it."
Jean says that, after dancing and stripping, the route into the adult film industry was natural and obvious. "It started off slow and then it just kept building up, and I had opportunities to really become big in that industry," she says. "But I didn't want that because I did have a young son at the time. So I did adult films for a little over two years. I started off with the real mellow stuff, did a lot of work with just girls and worked my way into doing some stuff with guys. And then I met my boyfriend; we've been together for 10 years. I met him on the set of an adult film, and then it was just he and I doing adult, boy-girl stuff. Then my son started to get into his teenage years and I was like, 'Now's the time to be on the down-low about this kind of stuff,' because I really didn't need him being teased or messed with at school."
So she stopped with the hardcore work. Make snap judgments if you like; you're perfectly entitled to your own moral code, and from the picture and opening half of this story you'll likely already have formed an opinion on Kelley Jean. Just don't make the mistake of thinking she's stupid. This is a business-savvy, astute and aware thirtysomething woman, a self-proclaimed wild girl but a caring mother.
"I always kept everything separate from being a parent," she says. "I never involved him in anything R-rated. People would assume that I'm the type that let my kid watch R-rated movies and play video games all night. I was the opposite raising him, the complete opposite. So I tried to keep it from him as long as I could, but he was cool about it when he found out. He was mature enough to handle it. I'm not planning on getting back into the adult industry. But I'm much more comfortable talking about it, now that he's going to be 18 next month and he knows all about it."
Before the Tight gig came along, Jean was chosen by the tiger-blooded Charlie Sheen to be one of his "angels," a dubious honor — but an honor all the same — that saw her sing the national anthem before his Fox Theatre show in 2011. And then came Tight. The band's music isn't awful — '90s-style hard rock with a dab of leftover '80s sleaze. Jean felt that she could enter the fray and improve what had already been done by Monica Mayhem.
"A lot of crazy scenes happened [in the movie]," she says. "Layla Labelle [guitar] comes out of the bathroom with some guy, she's all drunk and she's got jizz all over her face. It was more of a drunken, crazy fest. I was disappointed that they didn't meet me beforehand because it was very, very obvious through the entire movie that Monica Mayhem was not the leader that they should have had. She wasn't that much fun to watch on film, she didn't take it seriously as a musician. I would have been the train wreck that they were looking for. I would have taken the music a lot more seriously and it would have sounded better. They didn't film the wrap-up party, but I was told that they all fist-fought each other. They beat the shit out of each other and swore that they would never see each other again or be together. I signed a contract and I am their official new singer, but I have no idea where it's going to go. They're all over the United States and Canada."
Still, Jean and Labelle were able to go on the Howard Stern show together as Tight, naked no less, and win the shock-jock's "XXX-Factor" talent competition. "We were lucky to get Layla to go to The Howard Stern Show with me, because all of these girls are scared to meet up," Jean says. "When I met Layla, the one who got smacked by each girl at least once in the film, I didn't mind her at all. I could probably get along just fine with all these girls. I deal with crazy girls all the time — I run a bachelor party service. It would be great if we could get this band together, but it's almost like they gave up on promoting it."
Jean will be promoting Tight herself at the Triple Xpo this weekend. She's also working on new solo material, and has a single, "You Miss This Kiss," ready to drop. She'll be performing that song and more at the event, a celebration of all things "adult" in Detroit.
"There's a lot of people around here who would do sex parties," Jean says. "They're just swingers who like to fuck. I know the adult industry; I'm the perfect candidate to put on a big party like this out here. I've got strippers, porn stars, the medical marijuana field, we've got smoke shops, tattoos, we've got musicians. It's kind of like a melting pot for all things adult. If you're an adult, you're going to have a good time. Noir Leather is going to be there Saturday night to do one of their crazy fetish shows with the Detroit House of Pain. We're going to have a rapper called Detroit Sekret. She's hot and she's got these hot backup singers. She's just dirty, like Lil' Kim. We have a lot of hip-hop performers. VJ Strokenfold and I will be performing together. He'll be DJ-ing and doing visuals on a big screen, so we're putting together a special show. I'll be doing a burlesque show. We do 'Hey Big Spender' and stuff like that. I don't go topless; I wear pasties. I don't know why — I probably should just show my boobs."
Decisions, decisions.
Kelley Jean performs at the Triple Xpo alongside all manner of adult performers and musicians on Oct. 11-12, at Bouzouki Gentleman's Club, 432 E. Lafayette St., Detroit; 313-964-5744.
Brett Callwood is a staff writer for Metro Times. Send comments to [email protected]