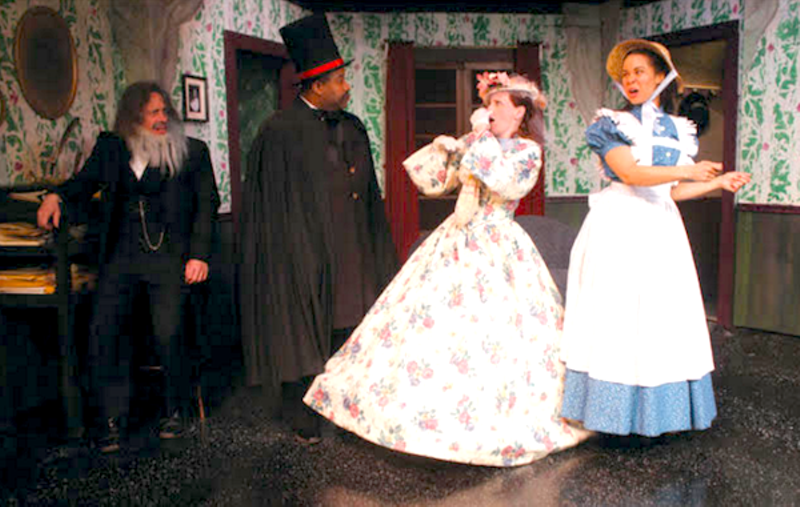 The Detroit Repertory Theatre, or "the Rep" as it's often known, is tucked away on a depopulated stretch of Woodrow Wilson Street on the city's west side. For more than a half-century, "the Rep" has staged several plays a year, including plenty of national premieres of topically important work. The theater was a pioneer of race-blind casting, and productions often trade in important social issues — although lighthearted comedy also has its place. All productions have a prestige factor, with quality sets, pitch-perfect lighting design, and a tight technical ensemble, to say nothing of the gorgeous lounge and bar, which is probably the longest in Detroit.
The theater's latest production is a play called
Capital
, based on a true event in 1858 in London. Karl Marx's teenage daughter, Jenny, says her social life is over if she doesn't have the latest fashion — a silk bonnet. Meanwhile, her father is a political writer whose life is dedicated to teaching the principles of a communal economy and that material possessions are the preoccupation of the bourgeoisie.
And, by the way, they're totally broke.
When a scandalous letter containing sordid details about an affair between two famous people falls into their laps, Jenny sees an opportunity to make a buck while Karl sees a test of morality. The audience, hopefully, get its share of laughs from thea farce.
The theater is at 13103 Woodrow Wilson, Detroit; 313-868-1347; detroitreptheatre.com; call 313-868-1347 for tickets. Shows are at 8:30 p.m. Thursdays and Fridays, 3 and 8:30 p.m. Saturdays, 2 and 7:30 p.m. Sundays through May 14; admission is $20 at the door, less in advance.