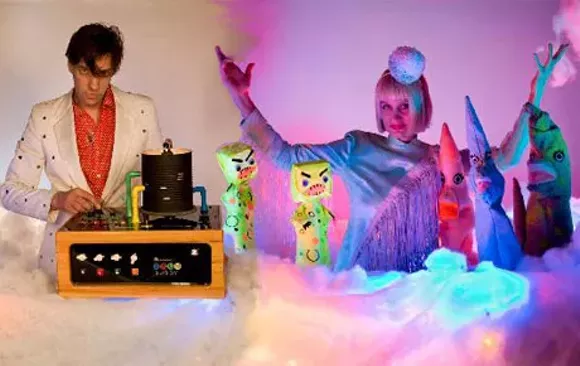 This Sunday, Oct. 16, Quintron and Miss Pussycat will bring their impossible to describe, elaborate, highly theatrical, booty-shaking, always super entertaining show
to the UFO Factory
. Viki Viktoria and Sick Trees open up for the duo. There is a lot going on this weekend, so cap it all off with sweaty weird fun.
Quintron has been making genre-defying noise and "Swamp-Tech" dance music in New Orleans for over fifteen years. The majority of his ten full-length albums have the psychedelic soul of New Orleans garage R&B filtered through a tough distorted Hammond B-3 and a cache of self-made electronic instruments. He has also released strange soundscapes based on inner-city field recordings of frogs and neighborhood ambiance. Quintron regards his most significant creation to be his patented instrument called the DRUM BUDDY, a light activated analog synthesizer that creates murky, low-fidelity, rhythmic patterns. (Notable DRUM BUDDY clients include performers Nels Cline of Wilco, Laurie Anderson, and Mr. Dibbs.)
Miss Pussycat, otherwise known as Panacea Theriac, is a New Orleans based puppeteer. Born in Antlers, Oklahoma, she began learning puppetry at the Christian Puppet Youth Ministry at the First Baptist Church of Antlers. She began her professional career in New Orleans and assisted in founding the influential night club "Pussycat Caverns." For the past fifteen years she has traveled internationally conducting puppet shows in rock clubs and at international festivals. She is the President of Rhinestone Records and produces vinyl LPs of her puppet's many bands. Her three full-length puppet movies, North Pole Nutrias (2002), Electric Swamp (2005), and most recently Trixie and The Treetrunks (commissioned by Vice magazine in 2007), have featured the voices of numerous New Orleans musical, political, and literary celebrities, including Sheriff Harry Lee, seafood entrepreneur Al Scramuzza, Antoinette K-Doe, and Andrei Codrescu.
The Quintron and Miss Pussycat live show is one of barely controlled electronic chaos, "Swamp-Tech" dance beats, small explosions, clothes, and entertaining puppet stories. You can experience them live at their own secret club, the Spellcaster Lodge in New Orleans or on one of their many tours around the world. This act somehow has equal relevance in sleazy nightclubs, pizza restaurants, and university lecture halls.