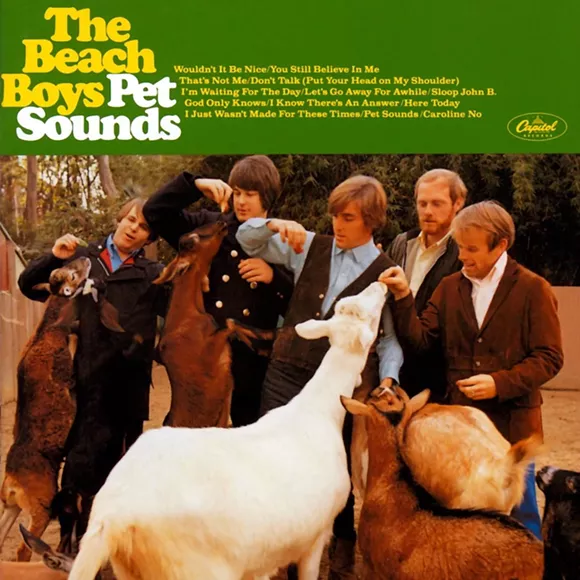 Long-regarded as one of the most imaginative albums in pop music history,
the Beach Boys' Pet Sounds album
is 50 years old this year. To celebrate, the Beach Boys' creative center Brian Wilson is doing a special tour in celebration of this fact, and it's coming here, to the Fox, on Sept. 30. Thankfully, Mike Love will be nowhere near this event, but Al Jardine and Blondie Chaplin will perform. These are slated to be the last-ever live performances by Wilson and co. of this historic material.
Tickets go on sale this Friday, January 29 at 10 a.m. The show is priced at $29.95, $49.95, $85 and $125, and they'll be available at
OlympiaEntertainment.com
and
LiveNation.com
.
Here is a press release to get you properly motivated:
BRIAN WILSON ANNOUNCES 2016 PET SOUNDS CELEBRATING THE 50th ANNIVERSARY AT THE FOX THEATRE SEPTEMBER 30

Music legend Brian Wilson has announced a 2016 world tour to celebrate and perform the iconic album Pet Sounds for a final time, in honor of its 50th anniversary. Originally released on May 16, 1966, Pet Sounds is universally hailed as one of the greatest albums of all time. With more than 70 dates being confirmed, and several previously announced dates selling out in record time, Wilson and his band will be joined by former bandmates Al Jardine and Blondie Chaplin when they kick off the tour this Spring and perform at the Fox Theatre Friday, September 30 at 8 p.m. Fans can expect a live performance of Pet Sounds in its entirety, as well as top hits and fan favorites spanning his 54-year career with The Beach Boys and as a solo artist.

In 1965, with the Beach Boys out on tour, Wilson began session work on some of the most deeply personal recordings of his career. Inspired by The Beatles Rubber Soul, he challenged himself to create an immaculate musical masterpiece. A vast departure from the bands' then commercial sound, the resulting "concept album" Pet Sounds achieved great critical success helping usher in a new musical landscape and hit the Top 10 in the US while topping the charts in the UK.

"It's really been a trip to sit here and think about releasing Pet Sounds 50 years ago," says Wilson. "I love performing this album with my band and look forward to playing it for fans all across the world."

Brian Wilson is one of popular music's most deeply revered figures, a legendary writer, producer, arranger and performer of some of the most cherished music in pop music history. For more than half a century, fans have marveled at the sheer beauty of the music that springs forth from his imagination into glorious song. Wilson brings this ingenious vision to his own compositions, as well as to those for which he has collaborated, weaving a lush, vibrant tapestry of intricately nuanced vocal harmonies and instrumental arrangements for himself, his bandmates and others.

Wilson began his career as a teenaged founding member of The Beach Boys, who signed with Capitol Records in July 1962 and released their first album, Surfin' Safari, that same year. The band's initial surf-rock focus was soon broadened to include other themes. Wilson's innovative vocal and instrumental arrangements for major hits including "I Get Around," "California Girls," "Wouldn't It Be Nice," "God Only Knows," and the No. 1 smash "Good Vibrations" made The Beach Boys America's preeminent band of the 1960s.

Wilson has also achieved great solo success with 11 of his own albums released to date, including his acclaimed 2004 completion of an album he first began recording in the '60s, Brian Wilson Presents… SMiLE. The album earned Wilson his first GRAMMY® for a recording, which was followed by his second GRAMMY® win for producing The Beach Boys' acclaimed 2011 release, The SMiLE Sessions. With his own band, Wilson has performed major, sold-out tours in recent years, and with The Beach Boys, he celebrated the iconic band's 50th anniversary in 2012 with a major international tour and acclaimed studio album, That's Why God Made The Radio.

In 2015, Wilson released his latest solo album No Pier Pressure (Capitol) and was the subject of the critically acclaimed, award-winning biopic Love & Mercy (Roadside Attractions/Lionsgate). Directed by Bill Pohlad, starring John Cusack, Paul Dano, Elizabeth Banks and Paul Giamatti, Love & Mercy presents an unconventional portrait of the music legend. Set against the era-defining catalog of the music, the film intimately examines the personal voyage and ultimate salvation of the icon whose success came at extraordinary personal cost. The culmination of these projects produced Wilson's first Golden Globe nomination for Best Original Song (Motion Picture) for his song "One Kind Of Love" featured in the film.

Brian Wilson is a Kennedy Center Honors recipient, a Songwriters Hall of Fame inductee, and a U.K. Music Hall of Fame inductee. As a member of The Beach Boys, Wilson was inducted into the Rock and Roll Hall of Fame in 1988 and honored with The Recording Academy's Lifetime Achievement Award in 2001.