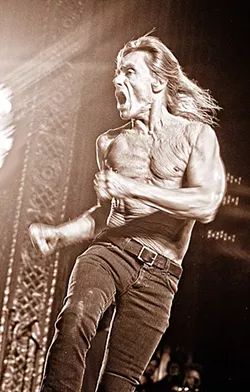 Despite Iggy Pop's claims in his recent MT interview that this show was just "a gig", it was always going to be more than that and, in all honesty, Iggy knew it.
That's why he ignored convention and had a band from Ann Arbor teen center the Neutral Zone, amusingly called the Space-Age Toasters, open up the event with a short set of Stooges songs and that's why he had Henry Rollins emcee the evening's proceedings. No "regular" opening band would have been appropriate under the circumstances. The people were here in Ron Asheton's home town to honor the great man by enjoying his music. The teen band didn't let him down either, visibly enjoying every second and getting a standing ovation for their troubles. Surely they'll be the coolest kids in class tomorrow, though Rollins was quick to point out that they're on a road "upwards or to jail from here — scarred for life".
Rollins did a great job too, summarizing Ron's impact on the Stooges and rock 'n' roll music in general with respect, enthusiasm, humor and a lot of emotion. Obviously nervous at first, the former Black Flag man warmed to his task as he went on and, by the time he arrived at the tale of introducing the Stooges' music to a Sri Lankan teen, he was in full stride. There were a few teary eyes in the house when Scott Asheton, unaccustomed to public speaking, said a few words of thanks, notably to Iggy for making his brothers' and his own dreams come true. "Have a good time and get naked," he said, before having second thoughts and adding, "actually, the church lady might be here so that might not be a good idea."
When the Stooges eventually appeared on stage it was without Iggy, and Rollins sang "I Got A Right" with James Williamson, Mike Watt and Scott Asheton. As Iggy said in that same interview last week, Rollins has been affectionately trying to blow him off stage for years and, though he was pumped up and did a great job, he really only managed to motivate Ig to the point that, when our man arrived on stage (with sax player Steve Mackay) for "Raw Power", he was spinning like a Tasmanian devil.
The Stooges set that followed is something that won't leave the memory in a hurry for those lucky enough to have been there. "Search And Destroy", "Your Pretty Face Is Going To Hell", "Shake Appeal", "Loose", "Fun House", "TV Eye", "1969", "Real Cool Time", "I Wanna Be Your Dog", a rarely aired "Open Up and Bleed" and a closing "No Fun" (and more) all fly by at lightning speed, with Radio Birdman guitarist Deniz Tek and a fucking orchestra joining the band from time to time.
Iggy and Ron weren't the closest friends, but Iggy obviously held his band mate in the highest regard. When he and Williamson sat at the stage's edge to play an acoustic song called "Ron's Tune", it was perhaps the most poignant moment of the evening, because it was visibly difficult for the singer. Williamson's slide playing on that song, by the way, was absolutely beautiful.
This evening was all about celebrating Ron Asheton and the incredible music that he gifted us with. One suspects that Iggy's claims of "just a gig" were fueled by the pressure of honoring his band mate in front of the guitarist's friends and family. But thanks to Iggy and his Stooges (notably Williamson, whose playing was flawless all night), Rollins, Tek, the orchestra, the teen band, Kathy Asheton and the organizers, plus one enthusiastic crowd, this is a show for the history books.