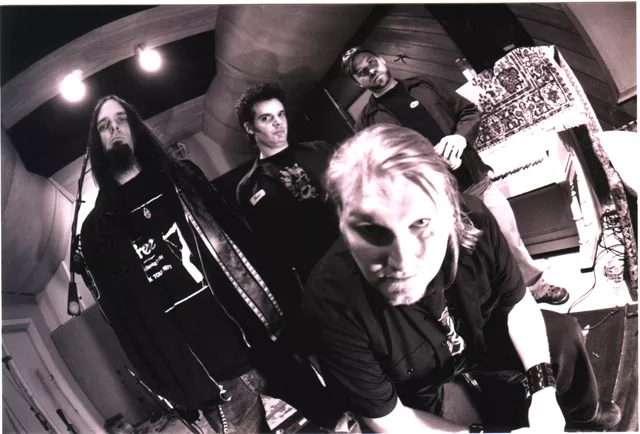 The doorbell rings on the other end of the line. Scott Hamilton — head of the nearly 20-year-old Royal Oak-based heavyweight, heavy rock label Small Stone — excuses himself from the conversation. 
"That was a neighbor bringing back a cooler," he reports. "I loaned it out loaded with Pumpkin Ale. It came back empty. Naturally," he laughs.
It's fitting that Hamilton — 45, husband, father of three, rec hockey player, etc. — is laughing off another empty cooler. With years of industry experience under his belt — from days toiling at Live Nation to years spent organizing and nurturing his label — there's not much that catches Hamilton off-guard. Thus seasoned, a suburban dad from Detroit might as well be leading the charge for balls-to-the-wall rock 'n' roll in the year 2012. With 137 releases of generally tinnitus-inducing heavy rock under its belt, Small Stone is the loving embodiment of Hamilton's de facto motto.
"If there's bullshit involved, it's just not worth doing." 
Bands like Nickelback, Coldplay and Foo Fighters dominate the arenas, while select overachievers like Queens of the Stone Age and Wolfmother have the theater-size venues. It's important to remember there's still a "third way" for independent, hard-touring, hard-rocking bands that'll never see ticket sales north of 1,000 to make a living — or at least an ear-ringing, bone-rattling impression. That's where Small Stone comes in.
Small Stone has become successful  — financially, artistically and as a brand — through a combination of old-fashioned DIY work ethic and intelligent integrated marketing, by making smart choices and turning dumb luck into good business — and beer and decibels. This weekend the Magic Stick will be taken over by the Small Stone Records Showcase — a rolling rumble of a label revue that has filled 500-person venues in Chicago, Boston, Philly and other cities that are strongholds in the Small Stone network. All the bands on the bill have a reason to converge: It's a record release party for Small Stone stalwarts Five Horse Johnson, a reunion of sorts for the band Halfway to Gone, a tune-up before recording here in town for Sasquatch, and a homecoming of sorts for Hamilton's own band, Luder.
"If you make a big event for low dough, it's the old-school St. Andrew's mentality. Suddenly it becomes an affordable night out. You've gone in, you've parked, you've drank and it's still less than you'd pay going in the door for a Fillmore show."
"A lot of people online have been yelling at me for years about not doing anything here. So I caved to peer pressure and said OK. But I said, 'If you don't show up, I'll just go back to doing 'em in Boston or Chicago and Austin and L.A.'"
It started much smaller. Small Stone's origins were in the hazy, idealistic wave of indie optimism that was the mid-'90s. First with a compilation called Detroit Rust City (which featured a very eclectic mix of Detroit's finest circa-then, including Big Chief, Soul Clique, Perplexa, Wig, Hamilton's own band Slot and, well, Kid Rock).
"I was trying to start a Detroit version of Touch & Go or Sub Pop," Hamilton says. "And it didn't stick. I couldn't take it out of the city. So, the first few years, I lost my ass and learned everything not to do in the business. As soon as I expanded beyond Detroit, it became successful."
"I started meeting people in my travels that were into the kind of music I was into, so I followed that," says Hamilton.
The Small Stone brand — as it exists today — took shape on the compilation CDs Right in the Nuts: A Tribute to Aerosmith and the cover comp Sucking in the '70s. Big, ballsy, fuzzy rock played by (often big ol') dudes without fear of turning up to 11.
Now he has a formula that works: A set budget ("that I can't disclose because then I have to kill you") and an infrastructure of independent distributors that can help Small Stone bands take advantage of opportunities (i.e. label heavies Lo-Pan going on a high profile tour with the popular High on Fire).
"It was really easy for me to slowly build a brand and meet the quality bands in each city who were great players," Hamilton says. "That was the math."
"The other thing too is that all the bands are friendly with each other," he says.
"When it's all friendly, there's no bullshit. It's not like there's millions of dollars in it." 
"The bands on the label could literally tour the country, just calling other bands on the label, at the sweetest venues every night," he says.
"No booking agent wants to book 35-year-old dudes, they want to book a 22-year-old kid. 'Cause it's easier to sell that to a 22-year-old. I don't care about the look, as long as it sounds sweet and they can play sweet."
A key factor in Small Stone's success in the last decade has been placing its bands' jams in TV shows, video games and movies. The label's turnkey readiness to supply music that scratches just the right itch is where Small Stone's hard-won depth of roster, Hamilton's marketing savvy and a dash of good luck met head-on.
In the early 2000s, Small Stone had a successful showcase at SXSW (it holds one annually at SXSW and at New York's CMJ Festival). One of the visiting music supervisors left a card, told Hamilton to call him and split.
"I said, 'OK,' and thought nothing of it,'" recalls Hamilton. 
"Turns out he was the music supervisor for [MTV's] 'Jackass' and 'Viva La Bam.' As soon as we got on that their peers started calling us. So one card led to 10 and now there's like 100 different music supervisors every week I'm in contact with. Now they're hearing new releases before the bands do. They look to the brand because they know what they're going to get and they're dealing with a label with no bullshit."
That brand, Hamilton says, is simply, "Hard rock rooted somewhere in 1970-1991." In music nerd terms, as much Helmet and Quicks as Deep Purple and Grand Funk. And Hamilton is deadly serious about having the highest-fidelity jams.
"The rule is, I want John Bonham drums with Black Sabbath guitar." 
"When I'm pitching stuff to movies, they're always like, 'Hey! We're looking for a replacement for Skynyrd or Zeppelin or Aerosmith. Something affordable. And I'm like, 'Well, I have that,'" Hamilton says. "I literally spend 80 percent of my week pitching to music supervisors and people who do that stuff. Without it there'd be no label."
"A big placement can finance a tour," he says. 
"It has the same wallop that radio did. Literally, the TV shows and the movies have become that. Because what's the point of corporate radio anymore?"
"I now watch TV to see what music is being used, and I'll call and pitch the music supervisor the next day. TV's my research tool," chuckles Hamilton.
As much as multimedia exposure has become Small Stone's bread and butter, Hamilton and Small Stone's MO remains networking (hanging out, recording, talking, jamming) face-to-face. Case in point: Five Horse Johnson recorded vocals for their The Taking of Blackheart album with Detroit producer Bill Kozy, who happens to be front-of-house manager for a little band called Cheap Trick. Hamilton and Five Horse rolled into Kozy's studio one night.
Someone had the idea that it'd be cool to get Cheap Trick's Robin Zander to sing backup. 
"Kozy goes, 'Hell, I'll get him to sing on a song,'" recalls Hamilton. 
"Yeah, right, whatever. So the call went out and next thing you know, [Zander] had recorded his vocal in a hotel room — on the Aerosmith tour — and it's a Rod Stewart cover!"
So as Hamilton and Small Stone tip toward the 20-year mark, the label that operates quietly out of the near-north burbs is making some big noise. This year, Hamilton will continue to showcase bands around the country as he's doing this weekend in Detroit. He'll cherry pick his fave Small Stone records and release them on sweet-ass remastered vinyl.
"In the last two years, I've signed 20 new bands," says Hamilton. "And a lot of them are skinny kids from Sweden or Europe. My wife was like, 'What happened?!'"
"I'm taking charge. I want to be the No. 1 dog in the game — without being Kid Rock." 
Chris Handyside is a freelance writer. Send comments to [email protected].