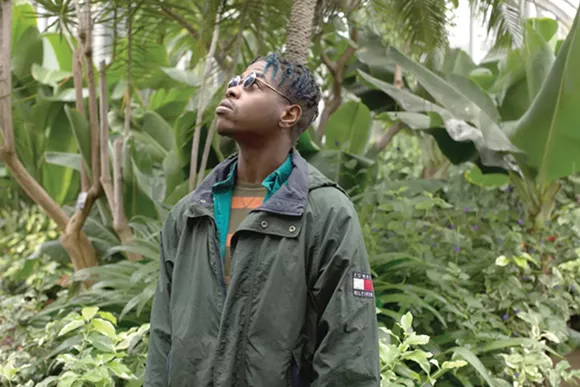 In the past few years,
Sheefy McFly
has taken a hiatus from his monthly prolific hip-hop showcase "The Air Up There" to focus on his first love (the visual arts — we trust you've seen his show at UFO Factory?) as well as learn about Detroit techno.
Within that time frame, he has been a part of the Red Bull House of Art's
Murals in the Market project
, and has released his
debut 12" as Edward Elecktro
via Mahogani Music.
Today, Sheefy McFly is working on a hip-hop album called
Murals
, which he describes as an "audio masterpiece." These two singles debuted here are just a glimpse of what the rest of the album will sound like.
The "Raw Shit's" super melodic beat is produced by beat maker extraordinaire Hir-O and features a guest appearance by Chavis Chandler. Sheefy's bars range from police brutality to getting paid, "Eric Gardner, Alton Sterling/ Philando got murked in front of his girlfriend. Pigs hunting my people like they're cattle, riding our backs, horses and cattle."
"Baby Lungs" is kind of a cool spacey track (also produced by Hir-O) and features a really cool hook by Jame Linck. This cut is basically Sheefy spitting swagged-out bars, "I don't walk into after midnight/I'm a boss I stay away from the limelight. At the party standing in the shadows/ dodging my haters and them groupie ho's."
Sheefy will be releasing
Murals
in the Spring.