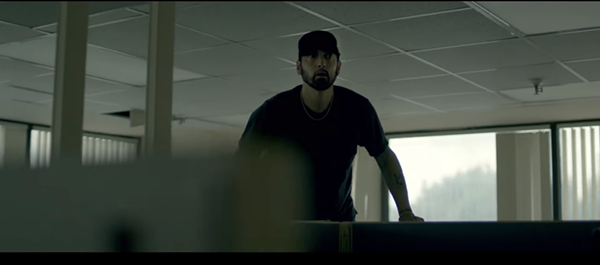 Without excessive promotion in the form of wheat-pasted buildings,
sike-out pharmaceutical advertisements
, or
spaghetti pop-up's
, Eminem's tenth record
Kamikaze
is set to break records
according to CNN
, stating that it is on pace to take the No. 1 spot on the Billboard 200 charts.
Less than a week from
Kamikaze's unannounced release
the 45-year-old rapper dropped a visual for "Fall" which is less meta than it is completely literal. The video opens with Em obsessing over the real-life flurry of negative reviews from both fans, stans, and critics. Frustrated, he throws his phone out of a car window which releases a black demon that feels a bit like the smoke monster from
Lost
though it is probably a reference to the upcoming Marvel film
Venom
as suggested by the album's closing track of the same name.
As
Billboard writer Charles Holmes
puts it,
Kamikaze
"tries to stop the rapper's artistic decline by blaming everyone except himself." This might explain why Em spends the remainder of the video running from his own shadow while crashing through a generic office building — the obvious home to many a mainstream music journalist.
"I might have to fuck
Pitchfork
with a corkscrew," Em threatens of the
online music publication.
During "Fall" he refers to
Revival
reviews as "Walk on Watergate," a nod to his 2017 collaboration with Beyonce
"Walk on Water"
going on to scream several times, "You wanted Shady? You got him!"
In keeping with his Shady ways, he's pissed some people off. Namely "Fall" collaborator Justin Vernon whose vocals are used in the chorus.
Last week, Vernon spoke out against the collaboration, saying that he is not a fan and had asked for a change in direction which fell on deaf ears.
Was not in the studio for the Eminem track... came from a session with BJ Burton and Mike Will. Not a fan of the message, it's tired. Asked them to change the track, wouldn't do it. Thanks for listening to BRM https://t.co/E0wmt732ty

— blobtower (@blobtower) August 31, 2018
Vernon went on to praise Eminem as a gifted rapper but that now is "not the time to criticize youth. It's time to listen. To act. It is certainly not the time for slurs." The Bon Iver frontman is referring to the homophobic slur used to describe rapper Tyler, the Creator.
By the video's end, Em leaps from the office building window and is shown possessed with black eyes and nonchalantly steps on a CD copy of
Revival
because, yeah, we get it —
Revival
sucked.
Check out the video below.

Stay on top of Detroit news and views. Sign up for our weekly issue newsletter delivered each Wednesday.