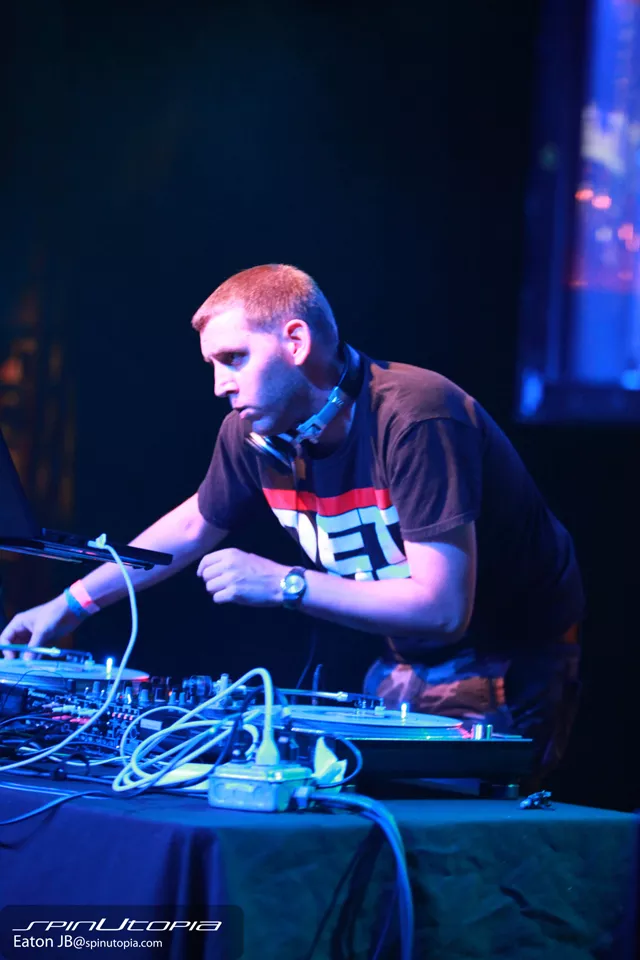 Electronic music's an odd world. If you're a newcomer, the genre barriers are near-impossible to decipher. It's all well and good if you got into the scene early but, if you're coming in fresh, where do you start? It's like buying a comic book — you go into a store and there are hundreds of titles on the shelves, all midway through a story.
Much like the early days of punk rock, there's a kind of purity with few gatekeepers; people discover it through blogs, word-of-mouth, or they actively search it out.
Yet that's how it is supposed to be. Electronic music isn't for everyone. But even if you've long detested it, if you think it's random, melody-free din made by non-musicians ... you're missing the whole idea and the art behind the good stuff. 
Like dubstep. You might have cursory understanding of it through mainstream interpretation; shit, beyond so many British indie bands, even Britney Spears has been incorporating elements of dubstep into her recent monstrosities — it's complete misinterpretation, of course. Korn, in a futile grab at relevancy, drop a "dubstep album" in December. 
But true dirty dubstep is a growing genre in Detroit and it ain't going away in a hurry. That's thanks in part to local DJ Matt Clarke.
Clarke has been involved in dubstep since '05, having been DJing for 17 years, since he was 17 years old. He describes the music as, "Typically, 140 beats per minute. It has a kick on the one and a snare on the nine. It's heavy, bass-influenced and that's pretty much the limitations to the genre. That's what defines it. It came out of UK garage, and drum & bass. Everything comes from UK house and techno. It's just one of the new offshoots of electronic music, focusing on that bass."
Dubstep rose from Croydon, the very part of South London where I lived for 10 years. It's an area with, on the surface, nothing to offer beyond the fact that it's close to central London and housing is a fraction of the price. It has little in the way of a musical history either (although Amy Winehouse went to school there and Kirsty MacColl was born there). 
Anyway, as well as DJing, dubstep around Detroit and beyond, Clarke mans the DetroitDubstep.com website, connecting likeminded people in the area. He also hosts and promotes events. He generates his living from dubstep, which is both a testament to the scene's popularity and his own chutzpah. 
"It's not the most luxurious life, but it's paying the bills for the time being," Clarke says. 
Clarke began DJing acid house in '95. When acid waned, he says, people just stopped making it for the most part. He didn't. He has watched the ebb and flow of electronic music for years.
"I've been through the ups and downs of the scene, through feast and famine. Right now, things are picking back up. People are into electronic music again."
With no disrespect, Clarke is as normal, as ordinary, a man in conversation as you could ever meet. I've not met a large amount of electronic music DJs in Detroit, so whether this dearth of ego, swagger and "star"-ness is exclusive to Clarke is unknown. It's hard to tell; live DJs don't reveal much when they're performing from behind decks while people dance. Often, they won't be seen at all. So this guy Clarke, a normal Detroit dude on the surface, can become a DJ giant here through his skills alone. 
The music's appeal is largely the low end, the bass, which, when banged up to epic levels, gets into the gut and into the bone marrow, creating an inner beat-pulse that works against the heart rate, and it becomes sexual, orgasmic; hence its popularity with girls. And that's a tradition born of dub, born of reggae whose roots ultimately lie in American soul music. 
So it's a ultra-modern kind of soul but in a very very visceral sense — it's no wonder college students and young workin' stiffs use it, as Clarke says, "to escape at the weekend and have fun." 
And forget other genre terms being bandied around, like fidget and ghetto-step. "Everyone coins a phrase of the new sub-genre and tries to run it out," Clarke says. "It's all considered dubstep for the most part. It's kind of like with metal, where they have all these different little branches of the same thing. It's little offshoots, but as a whole it's still metal. When I first got into dubstep, it was very melodic. I'd play it early in the night because it was ambient sounding. As time was progressed, it's gotten a lot more aggressive and a lot more dance floor. They opened up Pandora's box and went harder and harder and harder. So now, it's hard to look back. Some people still make the melodic sound, but a lot of kids in Detroit want to hear the harder sounds now."
Despite that the music is getting a huge amount of exposure, Clarke isn't exactly delighted that Britney Spears is using, or at least claiming to be using, dubstep of late. 
"I'm not for it, but people will latch onto whatever they consider to be hot, or whatever their musical director is telling them is hot for the moment," he says. "It's a really shitty version in my honest opinion; it's not 'real dubstep.' Like I said, because the genre is so undefined — just a kick and a snare, it's really easy for anybody to use that format. She's not doing it very well in my opinion, but it is what it is. Just like they have house remixes and trance remixes of Britney Spears, it is what it is."
With electronic styles coming and going in spurts, how long does Clarke expect the dubstep to last? "It's really weird with bass music in general," he says. "We fought the good fight with drum 'n' bass and a lot of people still do for a long time. It always seemed like it was gonna take off and it never did. It's really unique and refreshing that bass heavy music is taking off in the city because it's been a long time coming. I had the longest running drum 'n' bass night for two and a half years, and we'd get 50 to 100 people. Around the [electronic music] festival time we'd get more people, but that was the only time we'd have a packed house. It's great with dubstep to be able to bring in these UK headliners and not lose thousands of dollars in the process." 
He adds that promoting dubstep is "still a gamble but not as bad as it was with jungle [music]. You'd have to have your ATM card on you because you know you'd be running to the bank to pay off a DJ at the end of the night."
So dubstep in the Motor City is building a sizable following because of guys like Clarke and artists such as Serax, Calico, Laceration Selekta and Item9. 
"The guys on our website have been in it for years and tried different sounds," Clarke says. "They use turntables and don't use auto-sync buttons. They're artists with a turntable. A lot of people these days have a laptop so they're a DJ, even though the computer does all the work for them. I try to stick to the guys who have been through the ups and downs of electronic music."
Even if you detest electronic music, think it's random, melody-free din made by non-musicians ... you need to at least appreciate that there's plenty of art involved. 
Matt Clarke performs Saturday, Oct. 29, at the Freaky Deaky event at Bert's Warehouse, 2739 Russell St., Detroit; 313-393-3233; with Tiga, Claude Vonstroke, Boombox and others. $25.