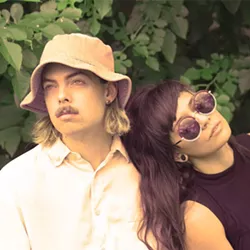 It's coming up on almost a year since Detroit's Valley Hush released their self-titled debut album that landed them on
Metro Times' 2017 bands to watch list
.
Now the duo is back with a new single just in time for the end of summer, and let me tell you, it is a delicious musical treat.
Called "Goodbye, Sweet Mango," Valley Hush evolve their electro-pop sound and sound a hell of a lot more confident this time around. It honestly sounds like a B-side to Tame Impala's 2016 release
Currents
and we are here for it. Sweet melodies from singer Lianna Vanicelli dance around tasty guitar licks and a tight production from Alex Kaye that gets us way too excited for more new music.
On the band's SoundCloud, they write that the song is about longing. They go on to say, "There are no words that can describe being so deeply connected to a place on the other side of the world from you. There are no words to describe the feeling of saying goodbye to people you love and admire, and not knowing when you will see them again."
You can listen to the song below.