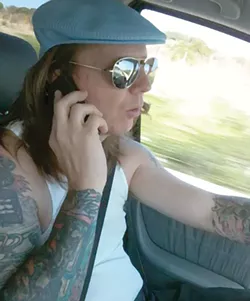 Speedball —the name, alone, conjures so many images: Hot-rod cars, hyper-riffing and illegal powder combinations; fast bikes and faster women; all-night parties and liver damage. It's the kind of name, much like Motorhead, that you have to think hard before taking on because you're making a commitment. You're representing something and nothing about it is healthy.
Chuck Burns knows this. His band plays music that fits the name perfectly. Think Helmet crossed with the Smithereens, or Foghat mixed with the aforementioned Motorhead. It's hard and fast rock 'n' roll, music for drinking and fucking to; not "making love," but nasty, dirty fucking. There's nothing nice about Speedball — this is filthy music made by filthy people, for filthy people. They're back and the fans get to wallow once again.
Burns formed the band, completed by guitarist Bill Kozy, bassist Jeff King and drummer Mike Alonso, in 1992, having previously played with Seduce, the Detroit hair metal band that looked poised to break big for a while after appearing in the documentary movie The Decline of Western Civilization Part II: The Metal Years in '88.
Burns played drums in Seduce, as he did with rock 'n' rollers the Skeemin' Nogoods (alongside Necros/Easy Action man Ron Sakowski and Hoarse/The Fags singer John Speck). Later, he sang and played guitar with stoner metal band the Universal Temple of Divine Power, and hard rockers the Shakey Jakes.
He put out a solo album last year, Gossip is the Devil's Radio. Throw in his stints with hardcore group Heresy, metal band the Meanies and, most recently, hardcore icons Negative Approach, and you start to build a picture of a man who just wants to keep working.
Speedball plays at Small's Bar on Friday, Dec. 20, a 14th anniversary party for the venue, alongside the Bumpin' Uglies and the Glenmont Popes. It's not really a reunion show, because the band never officially split up. They pull themselves together for occasional shows nowadays, due to the fact that all of the band members are so busy.
Alonso also plays with the Electric Six and that band is in Europe at press time. Kozy works behind the sound desk with Cheap Trick on tour, and King is opening a restaurant. "I'm busy working at Ford (I'm a factory rat) and I have a couple of projects going on," says Burns. "I honestly wish we had more time to devote to the band."
Burns' home is a cool place, very much an extension of the man's personality. In particular, his "tiki hut" room is decorated with lowbrow art, tiki statues, paper lanterns and Hawaiian-style hanging chairs. It's his personal slice of paradise in Redford.
Burns' day job is something that he obviously struggles with when it comes to his music. Still, he was able to go to Europe with Negative Approach this summer playing drums. He still likes to get behind the kit when the opportunity arises, even if he doesn't look at it as his primary instrument.
Ten years earlier, he had played drums on an Easy Action tour with many of the same musicians. "The NA tour was almost the same thing, like déjà vu," Burns says. "I already had a history with those guys. I got to see a big chunk of the world that I've never seen before. It was probably one of the most hectic tours I've ever been on."
Back on home soil, Burns is working on a couple of different projects. One sees him playing guitar with former Universal Temple colleague Eliot Moses, while another is a stoner rock jam with a couple of buddies. Meanwhile, there are no further plans for either Seduce or the Skeemin' Nogoods. As far as the latter goes, John Speck now resides in Austin, Texas, so that put the brakes on that.
Meanwhile, Seduce has no plans on ever playing again, which is a shame. "When all the members aren't into it, I don't want to go into any gory details, but it's pretty much kaput," Burns says.
All of which means that Burns has the freedom to focus on this upcoming Speedball show, plus anything else he wants to work on. However, with Alonso still in Europe with the Electric Six, Speedball rehearsals are going to be a luxury before the Small's show.
"Mike doesn't come home from Europe until [December] 15th and we're playing on the 20th," Burns says. "That'll tell you how much rehearsal we'll probably get in. It's funny – when we first get together we stumble a little bit, then we take a break and drink some beer, and then we get back to it and everything comes out OK. It's just a matter of pulling the hot-rod out of the garage and dusting it off, giving it a little tune-up."
Burns isn't discounting the possibility of a new Speedball album, as he's been working on new tunes. In fact, half of his recent solo album was intended for Speedball, it just never transpired. For Burns, getting to work on a new Speedball record would hinge on whether people outside of the band give a shit about them anymore.
"I know I do," he says. "We all dig it. It's just a matter of when everybody has the time to do it. I'd love to do another Speedball record. I've got a buddy that's going to re-release the Speedball stuff on vinyl. We're working on it right now. Maybe in 2014 we'll surprise everybody and come out with something new."
Regarding this weekend's set at Small's, Burns has no aspirations beyond getting through the show without falling off the stage, drunk. He's being humble, of course, but that fast and loose approach is what makes the band so exciting.
"I hope there are people standing at the front in case I do stumble off, so they can catch me," Burns says.
When the show's over, Burns is looking forward to some time off and then maybe getting back behind the drum kit.
"The NA tour re-sparked my love of playing drums," he says. "It's a gift because, if I can't find a gig playing guitar, I can play drums too. I can always find a tour if I want one. Going out on a long tour is a lot of fun, but it's hard work too. It's very mechanical. I love it, myself. I hate my job because I wish I could tour more, but a man has to do what a man's got to do. I've got to keep the bills paid."
Chuck Burns from Speedball — the responsible rock 'n' roller. Who'da thunk it?
Speedball plays with the Bumpin' Uglies and the Glenmont Popes at 8 p.m. on Friday, Dec. 20, at Small's; 10339 Conant St., Hamtramck; 313-873-1117; Cover is $8 in advance, $10 at the door.