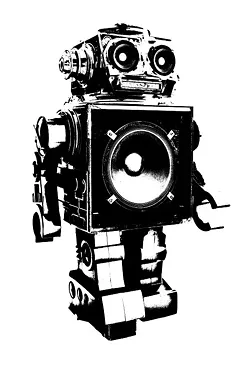 VENUE: COMO'S (UPSTAIRS)
12:50 a.m. > Phantasmagoria
The Internet calls this indie-electronica. But with bongos bumping up against synths and sequencers, it's like some kind of outer-space tribal dance party, launched from the planet of post-techno and off into the stratosphere of hip-hop mingling, laptop-looping dance-pop.
Midnight > The Salt & the Sea
Electro-folk man Pablo Sebastian now performing under the name the Salt & the Sea, this project maintains an open, revolving door for instrumentalists, writers and composers to collaborate.
10:40 p.m. > The Audionics
By their own admission, the Audionics are influenced by odd time signatures, unconventional tunings, meaningful lyrics and unique instrumentation, which makes for a moody mix from these avant-rockers.
10 p.m. > Anastasia Gold
Blogger, rocker, 'tude-ridden muso around town, Anastasia Gold is all of those things and more. Recent shows with Amy Gore and Julian Paaige have highlighted her as one to watch.
VENUE: FERNDALE PUBLIC LIBRARY
11 p.m. > Jesus Chainsaw Massacre
This incorrigibly confrontational trio is half-blog/half-band. They could be keen satirists, creatively playacting the vitriol of clichéd comment-boards through their own feedback-muddied mutations of bubblegum pop but they could also be your next worst enemy.
10 p.m. > The Bell Beat
Formerly known as Sh! The Octopus, these guys create the sort of pop that settles on your tongue like a snowflake before exploding like Pop Rocks.
9:20 p.m. > Satori Circus
Musical performance-art that dashingly trashes up the vaudevillian-aesthetic with gender-bending costumes (tu-tus and feather boas to begin with), surrealist makeup (a crooked, yet charming clownish splatter) and acrobatic antics that would do Buster Keaton proud.
VENUE: FOUND SOUND
10:40 p.m. > Matt Black and Young Heavy Souls
Black's collective is made up of Midwest musicians, filmmakers and artists working together to do something inspired. That means that we could get literally anything from the Blowout set.
9:50 p.m. > Nightbeast
This Ypsilanti group brings groovy, glitchy dance-rock punctured with a rough-ish post-punk-sneer via synthesizers and gnarly guitars. Rapid, rigid rhythms under a vocalist's wavy, wispy warbling, an "electro" type via that could possibly bridge Devo's ebullience with Joy Division's edginess.
9 p.m. > The Philter
Dark, dirty surf influenced by Joy Division as much as by Dick Dale. They refer to their music as "defined by lush swells of ambient sound and dark, melancholy lyrical content."
VENUE: GO COMEDY!
12:40 a.m. > Skeleton Birds
Ornate, apocalyptic indie rock from Ann Arbor band appearing at Blowout for the third year in a row. They have to be good.
11:30 p.m. > Ryan Dillaha
& the Miracle Men
One of Detroit's best kept secrets, Dillaha is a majestic songwriter who disguises epic tunes with subtle, gorgeous musicianship.
10:40 p.m. > Eleanora
A lush, female-fronted quintet that draws on folk, R&B and rock influences to create heartfelt yet raw orchestrations.
VENUE: THE LOVING TOUCH
1:10 a.m. > ERNO THE INFERNO
Like disco and classic house having a love affair with techno, this ETF also plays bass in punk band Noman, so his style and taste is nothing if not eclectic.
12:10 a.m. > Tunde Olaniran
Flint's Olaniran describes himself as a cultural warrior with a four-octave range and a penchant for dirty synths. He precariously balances dead center on the crossroads separating R&B, pop, dance and rap; every now and again he falls off, but never gets hurt.
11:10 p.m. > Flint Eastwood
Fitful and forceful pop-rock that all but pressures you into dancing (if not rhythmically flailing), Flint Eastwood has Ennio Morricone's mystique and cinematic swagger reimagined as vigorous rock music. Join the dance party now, 'cause the bandwagon won't stay idling.
10:20 p.m. > James Linck
As he told us during a recent interview, former House Phone front man Linck is less concerned with compromising with band mates and focusing on his own vision nowadays. The soul still rocks, but don't expect conventions to be adhered to.
9:40 p.m. > Passalacqua
This hip-hop duo's been credited with re-introducing much-needed theatrical vigor into the hip-hop scene's live shows. Confetti and cardboard masks, astronaut helmets and laser-light glasses — but with beats, rhymes and hearty charm to back it all up.
VENUE: NEW WAY BAR
11:50 p.m. > The Bobby Electric
Garage-y, hook-friendly indie alt-rock featuring Mathias from All the Wild Children. Expect noise and melody in equal measure.
10:50 p.m. > Flatfoot
These guys play rock 'n' roll that isn't scared of country, punk and folk. And why would they be? Those styles usually play nice.
10 p.m. > St. Zita
Take a break from the rock stuff and swoon to a Guzheng. Sublime see-saw melodies from a sweetly somber viola meander atop the chiming percussive plucks of an oblong-iron-board-looking Chinese zither laced with 20-some-odd tinny toned strings.
VENUE: ONE-EYED BETTY'S
12:50 a.m. > Bill Grogan's Goat
Celtic rock, but not Celtic punk. Forget the Dropkick Murphys, these guys take a progressive rock approach to such classics as "Danny Boy," as well as their originals. Still joy-filled and stomp-heavy though.
Midnight >
Lightning Bugs
An indie-post-punk, pop-punk group from the burbs. The Modest Mouse and Pixies influences are overt, but these guys have melded a space pop sound of their own.
11:10 p.m. > S.U.B.
New band featuring Brian, the doorman at the WAB. So expect to get asked for your ID and patted down during the set.
10:20 p.m. > JGraves
JGraves says that he has "developed a sound that is often referred to as urban folk, indie rock and funk." All of which means that he has an alt-edge to his singer-songwriter style.
VENUE: THE RUST BELT MARKET
1 a.m. > The Prime Ministers
Influenced by Duran Duran, the Cure and Cheap Trick, the Prime Ministers are not at all afraid of the word "pop," though they certainly add the power. Hooky-as-fuck melodies are the order of the day.
12:10 a.m. > The Cold Wave
Radiohead meets Pedro the Lion, and all of the band members sit down to have a philosophical discussion. Then they engage in a gang-bang. That's exactly what the Cold Wave sounds like.
11:20 p.m. > Big Mess
The sound of the mythic and haunted beauty of both Detroit and the woods of Michigan, Big Mess is fronted by Scott Allen, once of Thunderbirds are Now!
10:30 p.m. > The Counter Elites
Rapid-fire, politically charged, hook-heavy punk rock in the style of Black Flag and the Minutemen with a dash of Dead Kennedys and 7 Seconds.
9:50 p.m. > Carjack.
The beauty of Carjack. is that you really have no idea what to expect. OK, the electro-tunes will be both astounding and dumbfounding, but fuck knows what he'll play and the manner of the performance. It's more fun that way anyway.
VENUE: SAKANA SUSHI LOUNGE
1 a.m. > Julian Paaige
Detroit's very own punk rock poet laureate, Paaige looks both damaged and in control when he's on stage, and he has the raw charisma to enthrall.
12:10 a.m. > At Willoughby
These dudes describe their sound as, "poppy, acoustic, folky, country, melodic and usually clean," and it's the "usually clean" that has us fascinated. Usually? What are they the rest of the time?
11:20 p.m. > Greater Alexander
A local singer-songwriter who cites Carjack and Dale Earnhardt Jr. Jr. as influences, as well as Cat Stevens and Nick Drake. That's got to be interesting.
10:30 p.m. > Steve Mullan
Mullan plays a Wurlitzer. When was the last time you saw one of those? That's how we roll with the Blowout.
9:50 p.m. > Robin Parrent
"I come not to tickle your ears but to pour lead into them," says Parrent. He's a bit odd like that, and his arty rock is equally as off-the-wall.
VENUE: WOODWARD AVENUE BREWERS (THE WAB)
1 a.m. > The Rushmores
Led by a brooding crooner, the band sounds rooted in Americana, but has a few extra tricks up its sleeve, with a bit of jangle for those steady melodic plateaus.
12:10 a.m. > Old Empire
The men of Old Empire say they play "blue-eyed soul and bleary-eyed power-pop." That's a lot of attention being paid to the eyes, but these guys please the ears too.
11:20 p.m. > Duende
As much of a rough 'n' tumble psyche-blues trip as they are an uptown art-punk-ish paisley boogie, this band always puts on a good show. Stately and skuzzy altogether, this quartet prides itself on chameleonic rock capabilities.
10:30 p.m. > Cicarelli
These post-rockists are reaping more ambient and experimental grooves, with detached and cerebral pieces often stirring into riff-heavy jams, with spazzed drums and willowy slide-guitars adding particular punch.
Friday, May 3, 2013
VENUE: COMO'S (UPSTAIRS)
1 a.m. > The Hounds Below
Forget the Von Bondies — that band has gone. Long live the Hounds Below, with its huge indie rock anthems, with in-built atmosphere and moody vibe.
Midnight > Deastro
This trio is led by Randy Chabot, who started this group as a solo project several years ago, subsequently kicking off a local renaissance in computer-tweaked post-techno dance-pop. They're like Exhibit A for those curious about this town's underground electro-scene.
11:10 p.m. > Palaces
Behold the power of the pedal; trippy fuzz and surfy reverb adorn this minimalist guitar-drum duo's darkly psychedelic nocturnes.
10:20 p.m. > Superbomb
The songs are serious but the stage presence is light-hearted, which makes sense when you consider that their influences include Sonic Youth, Local H and My Bloody Valentine.
VENUE: FERNDALE PUBLIC LIBRARY
11 p.m. > Pupils
Murky grooves and startling scat-shouted vocals crash into bristling guitar freakouts and fervent drums accommodating some strange sandwiching of punk and funk; OK, a really freaky funk.
10:10 p.m. > Pewter Cub
Amazing alt-pop tunes + Regan Patricia Lorie's vocals = hooky perfection.
9:20 p.m. > Phantom Cats
So, Sonic Youth, Björk, the Pixies and the Smiths walk into a bar together for an eclectic dance party, but when they get to the jukebox they can't decide between playing Sergio Mendes or Pere Ubu.
VENUE: FOUND SOUND
11:10 p.m. > SheefyMcFly
McFly says that he is the only rapper that matters in Michigan. That's a bold claim in this town, sir. But then, this dude is nothing if not bold.
10:10 p.m. > John Nelson
& the New Girlfriends
Nelson is already a member of Destroy This Place, Copper Thieves and New Granada, but three bands aren't enough for this prolific noisemaker. This solo(ish) project is a little less rowdy, but no less fascinating.
9:30 p.m. > Michael Mars
& the God Particle
Mars' thang after Marco Polio & the New Vaccine, the God Particle is less a band and more a science experiment. Expect plenty of gadgets and toys on stage, and sounds you're not quite sure where they came from.
VENUE: GO COMEDY!
12:40 a.m. > My Pal Val
Bluesy, grungy alt band that refers to itself as "thunder dipped in honey." That about covers it — these guys are both sweet and sledgehammer-heavy.
11:30 p.m. > Carolyn Striho
Striho is often unfairly tagged a singer-songwriter but she's a lot more rock 'n' roll than that. The pocket-rocket chanteuse can kick ass with the best of them, and then sing a lullaby while we all recover.
10:30 p.m. > Chris Degnore & the Black Drops
Award-winning songwriter meets a bunch of like-minded souls and forms a kick-ass bluesy power-pop band. And why not?
VENUE: THE LOVING TOUCH
GRAND CIRCUS MEDIA SHOWCASE
12:40 a.m. > The Ragbirds
Eco-friendly folk-rock family band that is heavily influenced by world music. Their van might run on fryer fat, but their music is driven by love.
11:30 p.m. > The Crane Wives
Grand Rapids-based five-piece has a T-shirt that reads, "I was folked by the Crane Wives." That should tell you where these guys are coming from — smash down trad boundaries and have fun melding folk, rock and Americana.
10:10 p.m. > Joshua Davis Trio
Mixing folk, vintage rock 'n' roll and gritty soul, Davis is a true giver, aiming to create a musical spirit of community by sharing songs. Hopefully he'll bring some of that to Blowout.
9 p.m. > Misty Lyn
& the Big Beautiful
Ahhhh, Misty Lyn. Is there a prettier voice in Michigan? When she purrs out those Americana ditties, one can practically see the bluebirds landing on her shoulder. Simply glorious.
VENUE: NEW WAY BAR
1 a.m. > Cetan Clawson
Check in here for face-melting guitar solos. This blues-rock wunderkind has been regularly putting on clinics at shows with heavy-chugging fret-freakouts, aspiring toward Hendrixian heights. Come get experienced.
Midnight > The Infatuations
Eight band members with twice as many genres, often cycled through a single song: danceable funk from the early '70s, rhythm-centric arena rock from the late '70s, soulful R&B from the early '80s and solo-stacked blues-revivalism from the late '80s.
11:10 p.m. > The Wall Clocks
Timeless rock 'n' roll: It's got groove, it's got swagger, but it's got indelibly hooking riffs and kicking rhythms, softened and sweetened with clear pop sensibilities in those breezy, earworm melodies.
10:20 p.m. > The Paper Sound
Unfolding to four distinct corners of rock 'n' roll, toward experimental indie-pop auteurs to the heady, pedal-fuzzed space rockers, down to the new-wave groovers with hints of danceability, and over toward the literate, lyric-centric '90s alt-rock riffers.
VENUE: ONE-EYED BETTY'S
1 a.m. > The Ashleys
This trio's all over the place, both in genre and onstage. It can be hard-charging, chug-a-lug-type garage rock, but it can also be more eclectic, Afropop-dabbling psychedelic pop. The players themselves don't shy away from Pete Townsend-esque windmill theatrics.
12:10 a.m. > The High Strung
This quartet's got more swing and spring than a corked baseball bat, but it's much richer than any old clacking, brutish bar-rock, their jams are fun and freewheeling but juiced with masterful musicianship and charming onstage chemistry.
11:20 p.m. > The Ill Itches
No relation to the well-known owners of the Tigers and Red Wings, their music's more like how their name reads, agitated, speedy, spazzy punk-pop coming fresh out the oven from these young, long-haired, fresh-faced shredders.
10:30 p.m. > Citizen Smile
Warm, crispy melodies, sun-soaked guitar timbres, rousing and rolling rhythms, these endearing pop-keen kids are kicking up an effective road-trip-inspiring soundtrack. But don't go anywhere just yet, let 'em finish their set first.
9:50 p.m. > White Shag
This band fires up a scorching stoner-metal ruckus, its fist clenched, boots ready to kick you right in the chin from the stage, resurrecting MC5-refined, Motörhead-melded raucousness.
VENUE: THE RUST BELT MARKET
"HANGIN' WITH NAVDO" SHOWCASE
12:10 a.m. > Jessica Hernandez & the Deltas
The last 12 months have seen Hernandez go from DIY indie princess to the hot tip for the next big thing from the D. Her Latin-influenced rock is perfect for a festival.
11:30 p.m. > J. Walker
& the Crossguards
A raw, buzzy boogie inside the garage, blasting together blends of sunny soul balladry with an all-shook-up shouldering shimmy all too ready to kick-out-the-jams in that classic psychedelic-rock sense.
10:40 p.m. Electric Lion Soundwave Experiment
Mixing light and dark, heavy and light, noise and, ummm, quieter noise, these experimental Lions seem to be influenced by dance music as well as shoegazer rock.
10:10 p.m. > Manic Moves
Electro-pop two-piece that seems to enjoy confusing the listener with odd sounds, all the while getting into head-trips with infectious melody. Brilliant.
9:40 p.m. > Ex American
Self-described as experimental, this group's moody '80s-driven pop (influences include Lydia Lunch, Depeche Mode, Klaus Nomi) makes perfect sense to us.
9 p.m. > Almost Free
A high-energy crew, combining sophisticated songwriting with chemically enhanced, dance-rock backdrops.
VENUE: SAKANA SUSHI LOUNGE
1 a.m. > Amy Gore
Gore is performing with her Valentines at Rust Belt, but we get a solo performance at Sakana. Will we hear some Gore Gore Girls tunes? Maybe some Gorevette? Time will tell.
Midnight > Audra Kubat
Kubat seems to relish being as awkward as possible. She'll release a great record, then disappear for a few years. She's completely atypical for an acoustic artist, but then that's what makes her great.
11:10 p.m. > Alison Lewis
Though the members of her band String of Ponies might revolve at an impressive rate, Lewis' beautiful alt-country songs remain constant. One of the Inside Outlaws collective, Lewis should be better known than she is.
10:20 p.m. > Emily Rose
Delicate, poignant, honest, raw — all words that describe the acoustic music of Emily Rose. Fucking great — there's another two.
9:30 p.m. > Jessica Wildman
Not just a singer-songwriter, Wildman is also a photographer and visual artist. One would imagine she won't take too many pictures from the Sakana stage (although you never know). She claims to create "whimsical narrative acoustics that are both humorous and relatable." Fantastic.
VENUE: WOODWARD AVENUE BREWERS (THE WAB)
1 a.m. > Bars Of Gold
Get in the front row, because they're not a passive listening experience. They're loud, energized and anthemic, and their rhythms throw you for a loop; they're just all kinds of adjectives that would suggest total, glorious, psyched-up rock annihilation.
Midnight > Fencemen
Playing gritty, gripping blues-rock with a poetic classiness to it, this Lansing outfit's fierce riffage and trundling rhythms capture an uncanny richness. As raspy as the music is, if blue-collar could be arty, this might be it.
11 p.m. > George Morris
The on-again, off-again Satin Peaches aren't going to be keeping lead singer Morris busy in the long-term, so he's gone off and recorded a solo album. Hear those songs at Blowout.
10:10 p.m. > Revoir
Bittersweet and buoyant, glittery and gloomy, this Ferndale duo revives all the romanticism of an '80s dancefloor with echo-clattered sequenced drums, sighing synthesizers, melodic hooks you can dreamily sway to and rich, syrupy baritone vocals.
Saturday, May 4, 2013
VENUE: COMO'S (UPSTAIRS)
12:50 a.m. >
Steffie & the Dirty Virgins
Steffie Loveless, Detroit's favorite transsexual rocker, has been carting her trashy tunes around the city for some time, but she seems to have finally found a home with the Dirty Virgins. Go get 'em.
11:50 p.m. > Electric Fire Babies
If you doubted whether funky, "New Dance Show"-type percolations and sublime reggae-tinged psychedelia could fit properly into a rough and tumbling indie-rocker's garage, then come see it to believe it.
11 p.m. > Silent Lions
The Black Keys could be your jumping-off-point for this Toledo-based duo, but they get so much weirder, wirier and more riled-up. The bass is fuzzed-out, the analog synths are nicely agitated and the drums are devastating.
10 p.m. > The Luddites
The loudest acoustic band on earth, the Luddites are an 11-piece folk orchestra that, they say, "redefines the image of acoustic music."
VENUE: FERNDALE PUBLIC LIBRARY
11 p.m. > TBA
10:10 p.m. > Rogue Satellites
The Rogue Satellites were, at one point, the best pop-rock bad in Detroit, then they shifted direction. Now they're the best experimental alt-rock band in Detroit.
9:20 p.m. > Odd Hours
According to Odd Hours, the band "maintains a white-knuckled grip on the umbrella of trashy art rock while subversively pulling listeners from one end of the musical spectrum to the other." I want me some of those apples.
VENUE: FOUND SOUND
10:40 p.m. > Mick Bassett
Bassett used to front a band called the Marthas, and now he's out on him own. He describes his new solo songs as, "an incredible catharsis, as some of these have been weighing on me for some time, but really an opportunity to move faster into the future and explore places I haven't made it to yet."
10:10 p.m. > The Anonymous
Quirkier than your average hip-hop outfit and not just because they slip in allegorical references to Mario Bros. or irreverent commentaries arising from being denied an Egg McMuffin. Cerebral, spacey samples, busting beats and charming wit — get to know the yet-unknowns.
9:30 p.m. > The Raw Dealers
Not many bands dig all the way back to the 1920s and '30s to mine for sound, but these guys do, and the raw, acoustic blues that they've dug up is pure gold.
VENUE: GO COMEDY!
1:10 a.m. > Touch the Clouds
Four-piece with a big, big sound that's just a little more complex than your average four-four rock and roll. Anthemic choruses and just the right amount of ringing guitar.
12:20 a.m. > The Thornbills
Take traditional Ukranian folk and a bit of gyspy-plucked mystique and sharpen it with operatic musical upbringings and penchants for brooding, bittersweet indie-folk — the Thornbills build more of a magpie's mish-mashed musical nest, but it still works.
11:20 p.m. > American Mars
Possibly the pinnacle for exquisite, western-wrung, alt-country-rock, this talented quartet's so stately and masterful with composition, harmony and sense for tone that you'll likely be compelled to straighten your bolo-ties as you drink in the tasteful twangs.
10:50 p.m. > The Barrettes
Female a cappella group that achieves the distinguished feat of morphing Pat Ballard's "Mr. Sandman" into Metallica's "Enter Sandman." Brilliant. You may also hear sugary sweet rendition of Eminem's "Lose Yourself" and the White Stripes' "Hotel Yorba" among others.
10 p.m. > The Blueflowers
Gothic-ish, poetic alt-rock from David Lynch-influenced musos, featuring Kate Hinote's gorgeous voice. These guys have a penchant for both the ridiculous and the macabre.
VENUE: THE LOVING TOUCH
1:20 a.m. > Slufter
Busy electro-pop with a funky '70s vibe. Let's call it nu-disco. No, let's not.
12:30 a.m. > Lord Scrummage
It'd be club music if your club was a shabby art-space in the basement of an abandoned building, and it would almost be hip hop-heaped synth-pop if your idea of raps were irreverent and abstruse jibes and jokes about condiments and garbage girls.
11:40 p.m. > Alexis
Glamorously theatrical dance-pop that's able to charm those willing to let their guard down, going head-on-into ostentatious schmaltz and enthusiastic smears of cheesy '80s essence.
10:50 p.m. > Fur
Five-piece churns out gooey new wave ballads adorned with sleek, oscillating synth grooves. They've explored so many sounds before, it's surprising the way they own it, sounding like 1983 all over again.
9:50 p.m. > Dolfish
Dolfish is actually Cleveland boy Max Sollisch, a man who has just returned from a successful tour of the UK. The Brits appreciated his alt-folk, and so should you.
8:50 p.m. > Go, Tiger Go!
Four dudes filling the world with alt-indie music and having a great time doing it. The Beatles are a strong influence, but then so are the Strokes. Expect dark, cool melodies.
8 p.m. > Electric Graffiti
Fresh-faced female pop-rockers with youth and talent on their side. Catchy tunes blessed with sunshine melodies and some genuine, heartfelt emotion.
VENUE: NEW WAY BAR
12:40 a.m. > Blue Black Hours
"A dose of raw heavy psychedelic prog rock 'n' roll, shaded in mystique dark overtones with an aura of light surrounding," they say, and we're not arguing.
11:30 p.m. > Stikyfüt
Umlauts in band names often forewarn new listeners that they're in for some epic trips towards a Sabbathy, Blue Cheer'ed psyche-rock wonderland: brutal bass grooves, stratospheric guitars, and bluesy-ballad lead vocals.
10:30 p.m. > Shotgun Soul
This band's kinda all over the radio dial: There's "soul," yes, but also some pop-rock flair, and even a bit of reggae. Wavy grooves, head-banging beats and whipping hooks, garnished with just a hint of feedback and heavy pours of attitude.
9:40 p.m. > Sick Smile
What we have here is a band that combines funk, punk and reggae, and then sings songs about cupcakes. Fucking cupcakes. Luckily, they touch on other subject matter. Plus, to be fair, cupcakes are yummy.
VENUE: ONE-EYED BETTY'S
12:50 a.m. > Flashclash
You want a dance party? You want flashing lights, relentlessly driving beats, glitter-splashed theatricality and dizzying, tweaked techno-pop? Movement, melody and analog-synth-driven merrymaking.
11:40 p.m. > Sweet Ghost
Fledgling electronic outfit attempting surrealist forms by applying traditional pop-songwriting to stacked, resampled drums, fuzzed-out vocals and super trippy synth-effects, born from the preternaturally-pop-inclined Philip and Jon Zott, brothers to a Dale Earnhardt Jr Jr. co-founder, paired here with a Chicago multi-instrumentalist.
10:50 p.m. > Sugar Baron
A newer trio that seems intent on keenly crafting the perfect pop ballad over effectively sweet synthesizer swirls and ping-ponging beats, taking cues from Postal Service and Phoenix, if they're not careful they could break a 1,000 college girls' hearts.
10 p.m. > Undesirable People
Some rock music's too preoccupied with being cool or confrontational or brutal, others haven't forgotten the key components — energy, voluminous, hook-heavy, harmonized-shouted energy.
VENUE: The RUST BELT Market
(DAYTIME)
OPEN TO PUBLIC
(NO WRISTBAND NEEDED)
5:30 p.m. > Stone Clover Band
Celtic, punky rock band that arrives drunk and only gets less respectable from there. Dance, sing and let the party continue without further nonsense.
4:30 p.m. > Grateful Dads
The sad thing about the Grateful Dads is that there are actually a bunch of bands around the world with the same name. Groan. Our Grateful Dads play covers of "Let's Stick Together" and have a ton of fun.
3 p.m. > Aeris
Aeris has invented a new genre definition for what it does — popcore. Sorry boys, but that's not a thing. However, your combination of post-hardcore and metal is very cool.
VENUE: The RUST BELT Market (EVENING)
1 a.m. > The A-Gang
This punk rock gang claims to exist to make us angry so, y'know, GRRRR. Influences include the MC5, Minor Threat, Black Flag and the Clash, so you can be sure that they're angry.
Midnight >
Amy Gore & Her Valentines
Gore is a titan — a musical being capable of doing just about anything now. She's an awesome guitarist, she's put an amazing band together (again), and the power-pop tunes that her Valentines produce are perfect. Do. Not. Miss.
11 p.m. > Jeecy & the Jungle
The ultimate freakout fondue boiling together boogie-woogie blues, amped-up punk shreds, and weird proggy space rock. Cross their bridge from Bo Diddley to King Crimson to Bad Brains and back again.
10:20 p.m. >
Patrick Davy & the Ghosts
Davy is a storyteller in the old-fashioned sense, capable of taking his most complex emotions and life experiences and turning them into killer songs. A rare gift indeed.
9:30 p.m. >
The Briscoe County Vultures
As the name suggests, these cow-punks are originally from Briscoe County, Texas, and they now live in Detroit. Thanks for moving here, guys. Now get to work and entertain us.
VENUE: SAKANA SUSHI LOUNGE
PHREDDY WISCHUSEN PRESENTS:
COMEDY SHOWCASE
12:30 a.m. > DJ Skotarczyk
Not funny at all, but Skotarczyk will spin some indie goodies between the comedians. Of course, if she plays Coldplay, that will be funny.
10 p.m. > Phreddy Wischusen:
Phreddy is a burly guy with an agile mind. He brings scenester smarts and a detached wit to his breezy monologues, which try to circumnavigate the absurdities of the mundane of day to day life. • Brett Jones: Jones claims to have been an extra in Walker, Texas Ranger. We'll leave it at that. • Jamie Perrin: From Kalamazoo, the place in Michigan with the funniest name. She's off to a good start then. • Justin Case: Justin Case is the stage persona and unchecked id of brash young comic Scott Crossman, who uses his alter ego to playfully upend conventions at every turn, with the unwritten rules of comedy being the first target. His act is a curious, invigorating mix of cutting-edge snark and old-timey vaudeville shtick, with rapid-fire punch lines. • Laugh Riot Dolls: Heather Kozlakowski is the hardworking, sassy founder of the Laugh Riot Dolls, a rotating collective of very funny gals who provide a much-needed estrogen injection into the chromosome dominated bloodstream of area stand-up. The always-brassy Heather will be joined by stalwart "Riot Doll" cutups Esther Nevarez and Meredith Ernst. • Motown Laugh Kings: Togetherness isn't limited to the ladies, as this tight-knit crew of jokesters has been making waves performing as a value-added package deal at venues all around the region, with a skill at breaking through the downtown-burbs divide. Individually, Kings regulars Josh Adams, Darius Bennet, Ron Taylor and Jeff Horste are all young risings stars individually, together, they bring the laughs hardcore.
VENUE: WOODWARD AVENUE BREWERS (THE WAB)
12:40 a.m. > Beggars
If Led Zeppelin were a pop-punk band, well, they'd sound a lot different, that's for sure. The combo of big riffs, big vocals and skuzzy ditties would appeal to the Beggars though.
11:30 p.m. > Dutch Pink
Stevie Ray Vaughan's physical being might not be with us anymore, but his spirit is safely tucked away in the form of blues rockers Dutch Pink. These guys got really smart, though, and added a killer set of soul pipes to the vocal lineup. Now they're incredible.
10:30 p.m. > Oak Bones
Americana-folk duo formed by high school buddies who lost each other for 10 years and then found each other again. Imagine if Bob Dylan created the website Friends Reunited.