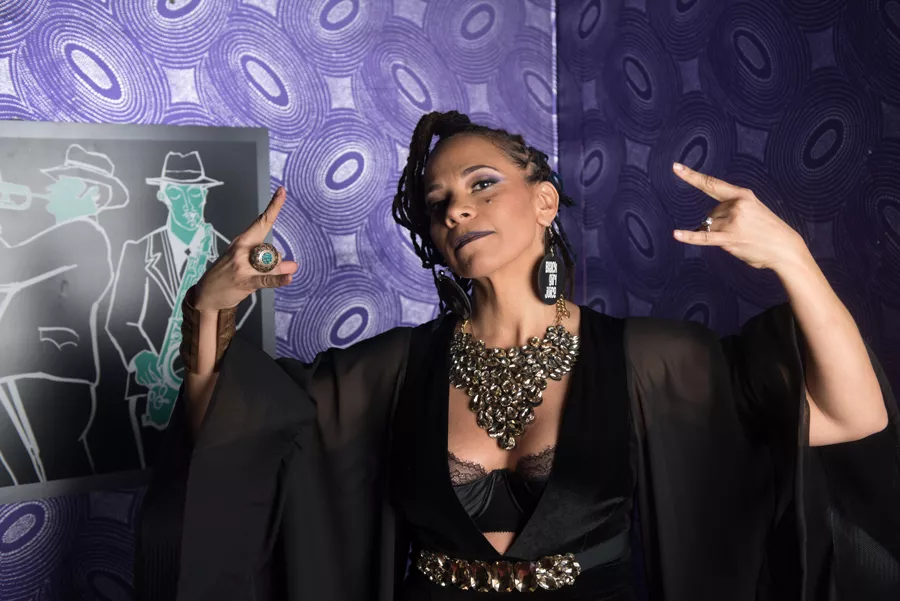 Pop culture and social media are expressing a renewed interest, and maybe even a slight obsession with, #BlackGirlMagic — that intangible, untouchable, undeniable vitality that Black women possess and nurture in others. But trends don't last, so what happens when girls grow into women? What happens when it's time to nurture this hallowed togetherness in a real, sustainable way? It will take more than Twitter threads and T-shirts emblazoned with the slogan to ensure Black women are not just a celebrated, near-mythical identity and instead considered a dynamic group of people worthy of continued support.
Luckily, the women of Black Women Rock are light years ahead.
"There was something about what was inside my body and the Black girls I roll with that made things happen," says poet and Black Women Rock founder and executive producer jessica Care moore.
Prone to slipping into memorized recitations of her poems mid-sentence, moore, 46, reveals that when she was a 19-year-old writing in Detroit, she coined a term for it — Black girl juice. There's still YouTube video evidence from 1996 of a younger, box-braided jessica reciting the poem at an Amateur Night at the Apollo Theatre in Harlem: "maple syrup in the morning/ brown sugar that's sweet and cinnamon twist and apple cider/ magic Black dust is inside her."
Black Women Rock, an annual celebration of Black women musicians in rock 'n' roll, is one thriving example of a tangible meeting place where attendees and entertainers can engage with supportive communities and creative expression in real life. The star-studded event is entering its 14th year of production at Detroit's Charles H. Wright Museum of African American History. What began as an evening of live performances has expanded into a roster of events throughout the city, designed to highlight, empower, and ultimately nurture these artists.
The festivities begin on Wednesday, March 14, with an Anti Love Song Art Exhibition curated by Sabrina Nelson at Asia Hamilton's Norwest Gallery, inspired by Betty Davis' 1973 track of the same name. On Saturday is the signature live concert performance with a mixed roster of local Detroit talent, out-of-state performers, and legendary headliners. In addition to moore, this year's lineup includes Mahogany Jones, Jackie Venson, SATE, Cece Peniston, Ideeyah, Sylvia Black, and Guitar Gabby of the Tulips Band, and will also include a salute to special guest Nona Hendryx. The Sunday Sisterfire includes a series of rejuvenating workshops and healing sessions to practice the work of maintaining this intensity when they depart and return to their everyday lives.


A few Sundays ago, the Detroit-based Black Women Rock performers and headliners awaited their turn in front of the camera during a group photo shoot ahead of a production meeting in preparation for the series of events scheduled for the coming weeks. Many of these women haven't seen each other since last year's show, so it feels like a class reunion among graduates of an Afrofuturist all-girls school.
It's hard to tell where the varied squeals, screams, and laughs are coming from as performers and collaborators file one after the other into Bert's Warehouse Entertainment in Eastern Market. There are checkered stilettos, high-top sneakers, over-the-knee boots, and combat boots. The room is full of notable and novice musicians, artists, and choreographers — among them are house producer and DJ Stacey "Hotwaxx" Hale, jazz pianist Alexis Lombre, and tubist Harley Daniels. And they all plan to come together in the name of rock.
Eventually, moore walks onto the stage for her closeup, outfitted with looks from Paulette Williams of Teasers Boutique. Over the next few hours, she'll wear various outfits of so many variations of black that it seems like she's invented new shades —black, super black, and real black. There's a simple top with drapey wings, then a belted leather number, and finally a sheer dress over a shimmering flourish of gold glittery leggings. Her lipstick is the same color as a blueberry Dum Dum sucker and the tips of her brown dreadlocks are dipped in the same sticky candy hue.
After the photoshoot, moore moves to a slightly quieter table in a room that is a few smooth cha-chas away from the fresh-dressed couples that frequent Bert's to ballroom dance as framed pictures of jazz greats look on. She orders a hearty vegetarian Sunday dinner of red beans and rice, greens, cornbread, Mac and cheese, and sweet potatoes from the kitchen. She reminisces of one night a few years ago when she and an entourage of Black Women Rock performers descended upon Bert's unannounced after hours and jumped on stage. The kitchen was closed, but the owner himself went to the back and fried fish for everyone.
"I haven't worked with any sisters in Detroit that weren't talented as hell," says moore. "We don't have, really, an entertainment industry that provides a space for them to learn how to do this. We've been learning how to run this show by doing it."
moore attributes her love for rock 'n' roll from her time attending a predominantly white Catholic school, St. Alphonsus in Dearborn, from first to eighth grade. She grew up listening to ACDC, Aerosmith, Patti Smith, Metallica, Led Zeppelin, and even Rick Springfield. But she didn't discover a rock star who looked like her until moving to New York City where her friend Ahmir Thompson, more commonly known as Roots drummer Questlove, told her, "You smile with Betty Davis teeth."
'I'm a Black woman doing rock 'n' roll. It's not many of us out there. It's not many of us out there, yet there are so many of us.'

tweet this
"I looked up this woman that could've easily been my fine auntie with the big afro," moore says. "I fell in love with her story. Her music, yes, but I fell in love with her non-story. Where is she? I couldn't find any live video footage of her."
If you Google Betty Davis, the high priestess of funk, you'll find pictures of her with a sky-high fro and mile-long legs. There's one image in particular where Davis is doing a high kick in a one-piece satin teddy and feathered heels. She looks free and fun and intensely focused.
SATE, a Toronto rock artist and featured performer, says the opportunity to pay homage to Davis was the main reason she agreed to the show. That, as well as being able to engage with a group of like-minded women who she can't seem to find anywhere else.
"I'm a Black woman doing rock 'n' roll," she says. "It's not many of us out there, yet there are so many of us. The fact that we're going into underground crevices having to look far and wide to find one another goes to show you what the landscape looks like."
All of the work that moore has done with Black Women Rock is geared toward remedying the relative invisibility or ignorance regarding Black women in the rock scene. While people may be able to list figures like Sister Rosetta Tharpe, Tina Turner, Grace Jones, or even Davis with relative ease, if you ask them about their favorite contemporary Black woman rock 'n' roller, chances are they'll draw a blank.
"I always thought about, with Black women artists, even now, what keeps us going and what makes us completely disappear, so this show is about us not disappearing," says moore.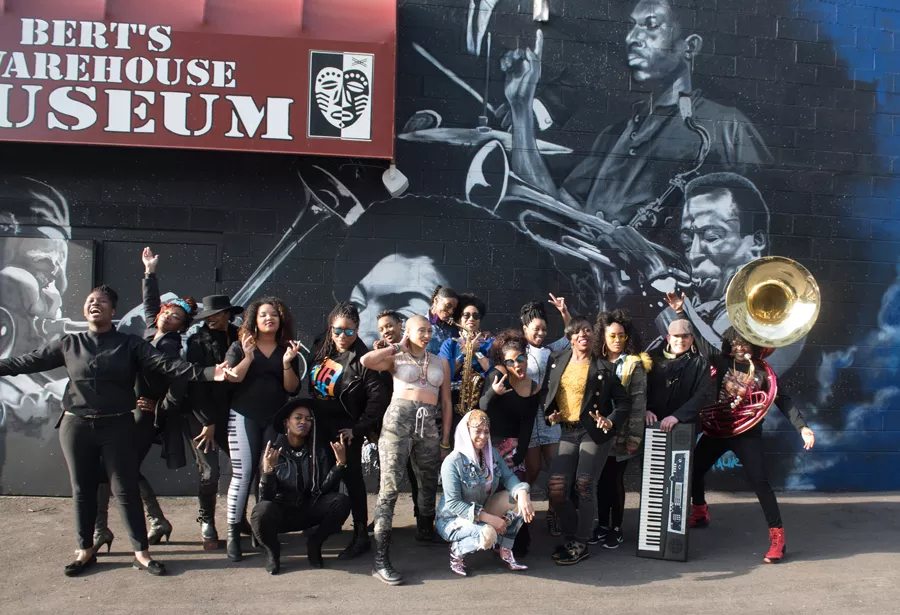 Many of the artists that you see on stage during Black Women Rock are multi-hyphenates — artists, activists, and educators who come together every once in a while and flex another creative muscle; you'd be hard-pressed to find a more diverse group in the city. Many Black women entertainers don't have the luxury of shedding their other identities to be superstars, so the event is just as much about performing as it is about preserving. This annual gathering is just one step in building a community and providing an ecosystem that renders sustainable creative careers as not only possible, but also inviting for Black women.
Although moore is loyal to her roster of hometown mainstays and newcomers, she admits that she still has trouble finding a lead bass guitarist for her band and often has to fly in visiting performers. These glaring gaps in the local music scene are a sign that certain relationships and opportunities aren't being provided to new musicians and moore hopes to bridge that gap.
"I would love a heavy metal rock 'n' roll-playing swangin' sister out of the D," moore says. "Where is she? I hope she's being created, I hope that we're helping her see herself."
Cecilia Sharpe has been down with Black Women Rock from the beginning and says that every year the women have a unique energy. Sharpe is a classically trained cellist and the founder and conductor of Urban Stringz II Youth Ensemble. Although Sharpe collaborates with artists throughout the city, she says Black Women Rock holds a special place in her musical development because there aren't many other opportunities like it.
"To be able to play that and connect with all these other Black women in a band that you grow from, that mentors you, that you can just vibe together with, shows the strong force of Black women and not just what society says is good, but what you know to be good and true and real," she says.
On any other day, many of the featured artists wouldn't identify themselves as rock performers. Many of them have transcended the bounds of genre and prefer to follow a specific feeling, emotion, or technique to achieve a desired sound. These women may just be following their hearts, but according to Nona Hendryx, legendary music icon and Black Women Rock special guest, this "internal dialogue" is vital for her decades-long career as a solo artist and in Labelle.
Hendryx is a celebrated solo artist who has collaborated across genres for decades. As a founding member of the band Labelle (of "Lady Marmalade" fame) alongside Patti LaBelle and Sarah Dash, she knows the ins and outs of creating a longstanding collaborative career.
She recalls the tension of entering a white male dominated music industry in the early '60s and not being taken seriously as a member of a band or as a solo artist. "That was really a difficult hurdle for us," she says by phone from New York. "I was starting to write the music and was not being told, 'This is what you're going to sing, this is who is going to produce you, this is what it's going to sound like.' All of those things had to be challenged, and luckily we were developing and becoming and transforming into Labelle when those challenges were even possible. We broke the mold of what had been because there hadn't been an entity like Labelle before Labelle."
Hendryx cites the internet as a gateway for today's emerging artists to authentically reach niche audiences that music industry machines wouldn't be able to find or sustain. "You have more opportunities because the gatekeepers who guarded the entrance into distribution and audiences, they're not as powerful as they used to be," she says." The power can be and is in your hands."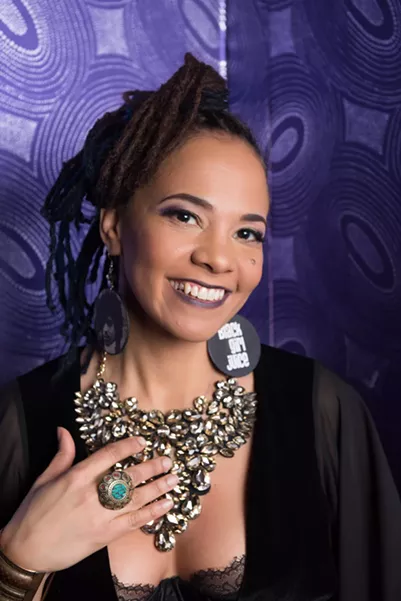 The idea of creative independence and ownership has been a theme throughout moore's artistic career and is especially relevant to the goals of Black Women Rock. This May, moore is taking her Black Women Rock production to San Francisco at Yerba Buena Center for the Arts. One of her ultimate goals is to book a 10-city international tour. moore has relied on her network of multitalented,well-connected artists and friends to bring her creative ideas to life and now she's got it down to a science. She even received a handwritten message from Betty Davis a few years back acknowledging the success of Black Women Rock and thanking her for honoring her career. But there is still work to be done.
moore is in the midst of teaching a Black Women Rock curriculum to a women's class at Skyline College in San Bruno, Calif. She is introducing her students to the musicians who she frequently collaborates with and challenging them to find common threads between their experiences and the themes discussed throughout music from Black women. By centering the performer's stories within larger discussions of inequality, police violence, and feminism, moore hopes to inspire another generation of women to find creative ways to document their stories and respond to their surroundings.
The next frontier for Black women artists is traversing avenues of ownership so that they can not only be independent artists, but also build tangible communities and own spaces that are big enough to hold and sustain their ideas. Just imagine how much progress would be made in the local music scene if the women secured a venue or practice space of their own.
At Bert's, Sabrina Nelson takes a seat at the table next to moore. The artist and curator has come to retrieve a small bounty of stacked bracelets, a leather cuff, and a few rings that she loaned to moore for the shoot. As she re-adorns her wrists and hands, she chimes in on the idea of creative autonomy.
"If you buy spaces then you don't have to worry about people telling you to leave," says Nelson.
Black Women Rock starts at 7 p.m. on Saturday, March 17 at the Charles H. Wright Museum of African American History; 315 E. Warren Ave., Detroit; 313-494-5800; thewright.org; Tickets are $45. The Sisterfire Community Festival will be held at the museum from 10 a.m. to 3 p.m. on Sunday, March 18.