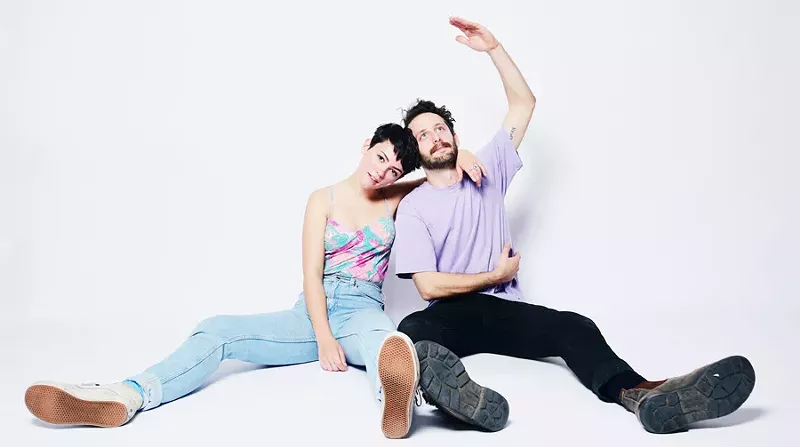 Don't tell Alex Luciano to calm down. And honestly, why would you?
If given the chance, the uncompromisingly blunt and bubbly singer of indie band Diet Cig will gush about the time she waited two hours to meet Guy Fieri and will divulge in existential wisdom you might not expect from a 22-year-old. "I use my phone until it dies/ just like my plants, can't keep anything alive," she sings on "Barf Day" on Diet Cig's 2017 debut Swear I'm Good at This.
Forming the punk duo just sort of happened, she says. Luciano interrupted drummer Noah Bowman during a set at a house party in 2014 because she needed a lighter. That's not why they named the band Diet Cig though, and that doesn't really matter. When it comes to the ferocity of Luciano's confessionary, stylistic approach to punk, it's not about answers — it's all about Miley Cyrus?
Metro Times: Much of your music explores the many versions of yourself, a documentation of growing up. What do you consider the best version of yourself?
Alex Luciano: My star sign is Leo and I think when I am feeling the best version of myself is when my most Leo characteristics come out, when I'm super excited and bubbly and chatty. Most of the time that's who I am. Every so often I get worn down and I'm just pushing through. I think my best version of myself is my most energetic, excited self.
MT: Being on tour can be pretty grueling, even for a punk band. Do you implement any sort of self-care routine to stay sane?
Luciano: A huge part of self-care for me is having alone time outside of those situations. I'm an extremely social person, I love hanging out and chit-chatting, but I feel like I also need that time away. On tour especially I love taking baths. Every hotel we stay, I take a bath almost every night. That's the one time on tour I can truly be alone.
People come up to us after the show and they're like, "Oh hey, you're on tour, you want to come out, come to this bar with us and we'll all do karaoke, we'll get lit, come on, what's your rock star lifestyle, are you guys going to do a bunch of drugs and drink a bunch and get lit?" And I'm like, no. Literally I can't wait to get back to wherever we're staying and take a bath and talk to nobody and maybe play some cards. If I'm feeling crazy, have a beer. You have to take care of yourself.
MT: I would assume the Diet Cig audience is relatively young. Is that true?
Luciano: I think the majority of our fans are teens or 20-somethings but we have a surprising amount of outliers. We have this really odd group of military dudes that love our band. We played in Alaska recently and there's like a military fort nearby and they were going for it. It was so bizarre. Sometimes we get older middle-aged men who just love us. Like, I'm so thankful that you like our music, I'm just surprised that our music is relatable for you. A lot of our music is about growing up and figuring yourself out and fighting with self doubt, but it makes me realize that maybe that never really goes away. Maybe it's not something exclusive to age.
You know, just because you're an adult doesn't mean you have it figured out, but that's OK. The end goal is not figuring it out. You have this, you collect each thing, and the growing never stops. We're always going to be learning. Not to put so much pressure on figuring it out or having a plan, it's like you know I will figure it out, it's not about the end goal. It's about the journey, as Miley Cyrus' "The Climb" would say.
MT: Let's be honest — everything boils down to "The Climb."
Luciano: [Laughs] It really does. I'm going to listen to that on repeat after this.
MT: There's a diary-level of transparency with yours songwriting. Like on the song, "Sixteen," where you sing about having dated a boy named Alex and the weirdness with having to moan your own name in the back of a truck during sex. Is there any territory that's off limits to you lyrically?
Luciano: I think there are some friendships and relationships that were upsetting, and I'm still unpacking with myself, that I would like to write a song about eventually. Right now, I'm not ready for it. I don't think there's any material that is off-limits, though. It's a matter of being ready to unpack it publicly. I've run into situations where I've made people uncomfortable through how honest our music is. The obvious being the first time my mom heard "Sixteen" live. Or the person I wrote the song about. It can be uncomfortable.
MT: You had mentioned in a previous interview that your little sister is a source of inspiration. As a big sister, and a young lady yourself, do you feel any sort of responsibility to inspire youth, given your unique position?
Luciano: My sister is super inspiring because she is the most confident, really loves herself. And she's like a weird kid. She has the qualities that are not textbook cool kid, but she is so confident and loves herself and embraces herself regardless of what anyone says. I try and channel that energy into everything I do and try to put it out into the world. I hope it can inspire other young girls or non-cis men to live their life exactly how they want to.
At the same time a lot of our music is grappling with self-doubt and I think it's important to show that you're not less than whole if you're feeling self-doubt. I hate when people say you can't love anyone else until you love yourself. That's bullshit. I hate that. You're just as valid and important and special if you don't love yourself completely.
MT: It's "The Climb."
Luciano: Oh my god, it is!
Diet Cig will perform on Wednesday, Jan. 31 at Marble Bar; 1501 Holden St., Detroit; 313-338-3674; Doors at 8 p.m.; Tickets are $12.