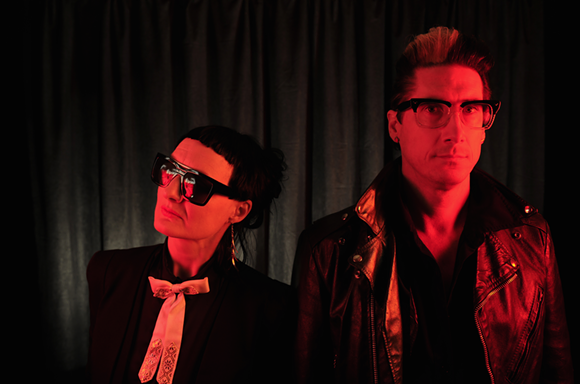 2017 marks 20 years since Adult., the danceable, punkish, electronic husband-and-wife duo of Nicola Kuperus and Adam Lee Miller first played together. In the ensuing decades, the two founded the Ersatz record label, developed a following in Europe, and recorded six albums and 15 EPs on such labels as Ghostly International, Chicago's Thrill Jockey, and Clone.
Their most recent release, however, is the first in four years, and may be the most unusual yet. It's on the storied U.K. Mute label, home of some heavy-hitting synthesizer-based bands, from Depeche Mode to Yazoo. "To have that kind of outside validation makes it that much more special," Miller says.
That isn't all that's notable about the LP, titled Detroit House Guests. It's a wide-ranging collaborative piece created with a half-dozen artists of various backgrounds and recorded by Adult. in the group's home.
What's more, it's the result of an arts grant Kuperus and Miller received from the Knight Foundation, a Miami-based funding organization that has made several high-profile grants to Detroit-area artists and arts organizations.
"The amazing thing about the Knight grant was that it was for the collaboration — not an album," Miller says. "We wondered if there was a way these songs could go together. For weeks we would go into the studio and listen to them in different order — and we realized it is an album!"
For a piece resulting from lots of collaboration with many different people, Detroit House Guests is markedly cohesive. "It almost takes on a narrative which is surprising because that wasn't the intent," Kuperus says. Miller adds, "But Nicola and I are two-thirds of each collaboration and we picked everybody so maybe it's not a surprise."
Kuperus and Miller also played by a fixed set of four rules in choosing collaborators: Each had to be both a vocalist and musician; be active in their career; have toured extensively; and at least have met the duo.
While most of the chosen collaborators were the result of conversations, at least one was an impulsive decision that paid off richly.
"We were going to see Robert Aiki Aubrey Lowe perform at a festival," Miller says. "He was playing with OM and his performance was so mind-blowingly good, it takes you on a natural high. I know it sounds stupid, but it's true." Kuperus adds, "It made my hair stand up. His voice is like a machine; it's an instrument."
"Nicola went up to him and said, 'You have to be on our new record!' It's funny to say but it is a duet album, and every single person had different ways of solving the duet," Millers says. "When Robert started singing in falsetto on 'P rts M ss ng', hearing it come alive in our house, it reminded me how beautiful that performance was."
Months after the OM performance, Kuperus and Miller met Lowe for coffee in New York to discuss the project when Lowe drew a comparison of Detroit House Guests to the Exterminating Angel by Luis Bunuel, in which a group of houseguests are trapped in the same room.
"We hadn't seen it," Kuperus says. "We watched it right away and thought it was brilliant." Inspired by the film, the trio took to creating "This Situation."
"There's some church bells in there that we sampled from the film," Miller says. "When Nicola and Robert started to write the lyrics, they thought to make it a homage so we watched the film with the subtitles on and all the words come from the film but in a surrealist way.
"It's a cut-up."
'A dark Martha Stewart'
Houseguests are a distinct pressure on a home and its true inhabitants. What with six guests coming for two weeks at a time, the load can become substantial.
"The closest we would have is a one-week time period without a guest," Kuperus says. "It's not a lot of time to catch up all the things you've been neglecting. When you have a houseguest and you're thinking about comfort, entertainment, whether they're happy ­— not only are we collaborators but we're also hosts. Personally I'm a very empathic person, so for me at times could be very exhausting because I'm trying to be a good creative collaborator, but at the same time a dark Martha Stewart.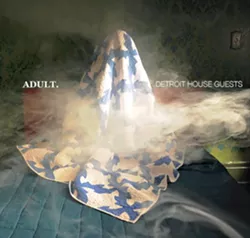 "Because it was in our house, a really domestic environment — you're eating breakfast, working, lunch, working, dinner. There is this developing relationship and you are really vulnerable because you are together all the time."
"It was taxing but not necessarily as a negative," Miller says. "We like to work hard." "It's always work, not to say that 'work' is a bad word. Work can be very rewarding and enjoyable," Kuperus adds.
"A lot of people asked if we had fun, and I always say I have no fun up there but it's extremely satisfying; it's a much deeper experience than fun," Miller says. "When we played with the Detroit Symphony Orchestra, people would say, 'That must have been so much fun!' To which I'd reply, 'No. That was probably the most un-fun show I've played in my life.'"
"But very satisfying," Kuperus says. "But it doesn't mean there's not tomfoolery and laughing. ... Or bad jokes."
Uncomfortable positions
On at least one collaboration, they deviated from the norm, which led to the most danceable song on the record, "We Chase the Sound" with Shannon Funchess. "We didn't really venture out with any of the musicians to where there were performances or music," Miller says. "But we went to Movement two nights or so. Shannon and Nicola went to TV Lounge."
Collaborating with Funchess also led to a seriously pop moment in the long and storied discography of Adult. "Shannon got obsessed with wanting a bass on the song," Kuperus says.
"We were halfway through the album and it seemed like all the songs were longer in nature and we consciously thought we would really like to have a three-minute pop song," Miller says. The result is "Stop (and Start Again)," a call-and-response burner that while different in tone does not feel out of place in the greater context of the dark clattering that populates the majority of the album.
"Everyone had different methods. Adult. has such a long history and investigated the way we work so much we have a very developed understanding of who we are — we were able to be flexible and learn from everyone else. Some people liked to work long shifts, some people want breaks every couple hours to go to a coffee shop or bar. Lun*na Menoh came in with a Fluxus sheet."
Kuperus adds, "She had the most unique way of approaching songwriting: starting with a visual concept and writing from that. It's something that our personal projects have touched on but never for Adult."
"The song 'Uncomfortable Positions,' what was on her sheet," Miller says. "She said, 'I have a concept for this song. We have to get in uncomfortable positions and sing the lyrics.'"
Victoria Keddie and Scott Kiernan of New York's E.S.P. TV happened to be in town during Lun*na's stay. "We asked E.S.P. TV if they would come be our guest audience for our live performance of the recording," Kuperus says. "They came and sat in the basement for 10 minutes while we did this impromptu performance piece." Miller adds, "We shot the music video and did the song in one take."
The other collaboration with Menoh is the slowly warping spiral of "Into the Drum." "That came out of a failure," Kuperus says.
"Nicola and Lun*na were working on a piece that Lun*na came up with where they screamed a list of adjectives at a wall to get a strange reverb," Miller says. "They screamed face to face and we made a great video but the song wasn't coming together. I took a loop from it and thought it was good."
Kuperus says Lun*na immediately wanted to scat over top. Miller started five minutes of looping, adding additional sections while Lun*na ran wild, eventually recording 25 minutes of improvised vocals. Eventually Lun*na stopped singing and asked, "Was I doing a terrible job?" The vocal take made for the longest editing session of the record.
Conversely, some collaborations came quick and on the cheap: the crushing cold electronics-meets-Miami bass of "We Are a Mirror" with Nitzer Ebb's Douglas J. McCarthy was recorded in four hours on New Year's Eve.
"It was a magical moment of turning on an analog sequencer and programming the 808," Miller says. "Douglas recorded vocals in one take with an SM58. The next day, we thought there was no way that it was as good as we thought it was, but we went back to re-record the vocals with the good microphone and couldn't capture that same energy. We imagined that artists with such rich and long histories would be annoyed that there isn't a vocal booth but everyone came from a DIY ethos."
Michael Gira of SWANS was the last artist to confirm his part in the project but his schedule was so slammed that Adult. had to file for an extension on the grant. Delaying until it was almost too late, they finally wrote him and said there were no hard feelings but they didn't think he was going to be able to do it. He replied immediately, "Nope, let's do it," and rushed to Detroit. Things clicked quickly.
"Dorit Chrysler asked if we were happy with the song 'Inexhaustible.' She said, 'Does it sound like Adult. to you?' That's not a concern for our project," Miller says. "We can go in any direction. She was trying to keep with the Adult. sound and wanted a break from having theremin in everything.
"What's wild about her and her theremin is that when she sings it sounds like a theremin. You can't tell what is theremin and what is her voice."
Where blackened feelings take turns niggling at or pervading the sessions, there is an inherent lightness too. "Every morning with Dorit was a gift," Miller says. "We put an amp in her bedroom and she would warm up playing classical music and Satie.
"It was the best way to wake up."
The cohesiveness of Detroit House Guests is in the sound: confusion, paranoia, darkness, fright. It brings to mind the loss of identity — or at least the gravity of house guests staying for an extended spell and upsetting the natural order.
In the end, it's a fairly monumental task that Nicola Kuperus and Adam Lee Miller took on, one that would have cost an inordinate amount more in terms of time, money, and manpower.
"It was an experiment, a really interesting psychological thing to experience," Kuperus says. "We gained a tremendous amount of growth. It changed the way we approach everything now. I feel humbled and enlightened. It's a gift as an artist to go through that kind of experience."
Adult.'s new album Detroit House Guests is out now via Mute Records and available in finer record stores, Internet stores, and streaming services.