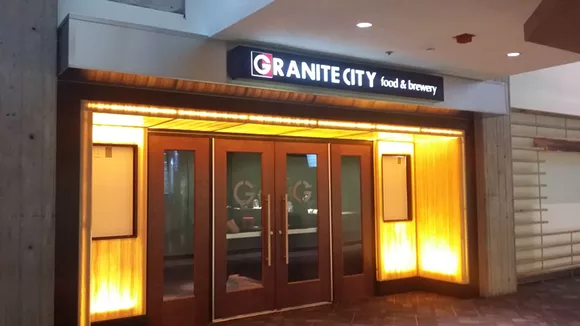 The Renaissance Center is welcoming a new mid-priced restaurant Granite City Brewery and Food this week, in a move that aims to keep thirsty GM workers in the massive skyscraper complex after business hours.
Doors will open to the public on Wednesday, offering diners an array of bar snacks, burgers, steaks, salads, and the brewery's own line of beer, including a new Detroit-inspired small batch. At 16,000 square feet, the Ren Cen location is to be the largest outlet for the St. Cloud, Minn.-based chain.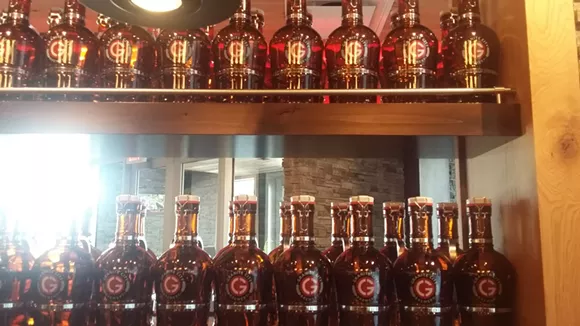 We attended a media preview event on Feb. 5 and got to check out the new space, sample some of the food, and chat with some of the folks behind the development about what this new addition means for the Ren Cen. One of the first questions we had was, why here? The space is tucked away in a little-used corner on the first level of Tower 100, facing Jefferson. Not exactly an easy space to find, let alone find parking nearby.
The answer seemed two-fold. First, Granite City has been in metro Detroit for the past few years, with locations in Troy and Novi, so the company already has somewhat of a following. Second, and we think this is more interesting, is that the Ren Cen is experiencing an upswing in occupancy. In fact, says Claudia Killeen, a manager with GM in charge of the complex's development, some 96 percent of the building is occupied (with about 50 percent GM employees and 50 percent non-GM tenants). Back in 2009 when GM fell into bankruptcy, occupancy was in the low 70s.
The growth speaks to the automaker's resurgence from bankruptcy, she says.
"We're definitely ready because we're hiring again," Killeen tells us.
In keeping up with the growth surveys were circulated to tenants, asking what they wanted most in the property. The answer was almost unanimous: a nice, yet casual and affordable place where employees can grab a drink after work. With starters ranging from $8.95-$11.95, burgers at $11.59-$16.95, and entrees at $14.59-$36.95 - the prices lie a few steps above the fast food found in the Ren Cen's basement, but in most cases are more reasonable than, say Coach Insignia or Joe Muer Seafood, Killeen says.
While we're not usually turned on by the thought of a new chain downtown, we definitely recognize the significance of this development, as it relates to GM's bounce back.