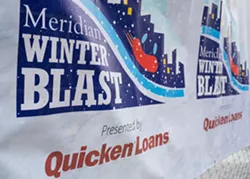 So you're not a fan of the zip line or snow slide. No worries, this season's Meridian Winter Blast presented by Quicken Loans will pay homage to Detroit's burgeoning food renaissance, with the introduction of the "Taste of Detroit" food tent.
Among the restaurants showcasing their cuisine will be El Asador, El Barzon, Revolver, LaDolce Vita, Slow's To Go, Hudson Café, Detroit Seafood Market, and more.
Organizers say the new food tent is a sign of the city's continued turnaround, and liken the 2016 festivities to the energy experienced during the 2006 event, which served as the backdrop for Super Bowl XL. Back then, the event took up 14 blocks in downtown, featured some 60 musical acts, dog sledding, ice sculptures, skating, and a family-friendly zone. The event that year attracted more than 200,000 visitors. This year, organizers expect 75,000 visitors.
"This year's Meridian Winter Blast... reminds me very much of the 2006 event during the Super Bowl," said Jonathan Witz, Winter Blast event producer in a press release. "Much like Detroit's rejuvenation, we're experiencing a rise in both interest and activities, as demonstrated by the return of Meridian Snow Slide and Bedrock Zip Line Adventure, as well as the all new 'Taste of Detroit' Food Tent. We're proud to continue as Detroit's premier winter festival that draws thousands each year and is an annual tradition reflecting the rebirth of the downtown area."
This year's Meridian Winter Blast takes place Feb. 12-14 at Campus Martius.