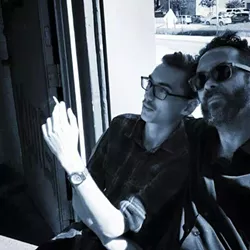 Detroit City Distillery's senior bartender and gin designer Marlowe Johnson will be leaving the Eastern Market spot to join the guys behind Standby, the stylish new cocktail bar and restaurant to open in the Belt alley downtown, to work on the team's beverage program.
Set to open soon (we're told possibly sometime this month), Johnson says he will help partners Chef Brendon Edwards and bartender Joe Robinson design a drink menu that ranges from the classics to the more innovative, including preparing so-called "molecular cocktails."
"From modern techniques such as liquid nitrogen muddling and centrifuge clarification to a closer relationship to the food side of the operation to the sheer dedication of our staff — I think it will be unlike anything we've seen before in our local cocktail scene," Johnson tells us. "I think, ultimately a lot of us are geeks about cocktails and our ingredients — prep work is more like lab work."
Standby's beverage program's reach will appeal to a range of clientele, from the most discriminating craft cocktail connoisseurs to those who prefer to keep it simple - going with old school standbys (hence the bar's name). "Sure I spent three days making artificial sea foam that tastes like jasmine, but I'm still serving a drink and attending to a customer. It's that care, I think, that's what brings us to that next level," he says.
Johnson, who's been mixing drinks since he was a kid, tells us his bar tending style very heavily draws from his family's ties to South Africa (on his father's side). As a child he made gin and tonics for his grandmother, Elvethea, and when he had the chance to design his own gin at DCD, he paid tribute to her by naming it after her. "It's been a big influence... From all the tea we drink, informing tea as my preferred cocktail ingredient, to grappling with the complex and troubling colonial implications of South Africa — which is always connected to cocktails and booze in one way or another," he says.
Even as Detroit's craft cocktail culture continues to evolve to new heights, we have to admit we haven't heard this kind of introspection about booze from a bartender. Frankly, we can't wait to see how Johnson's influences play out at Standby.