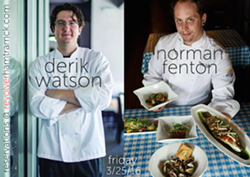 We recently
reported
that Chef Norman Fenton of Tom's Oyster Bar would be relocating to Chicago to accept a position at the award-winning Alinea Restaurant Group. Turns out, he won't be leaving until he and former colleague Chef Derik Watson (Bistro 82) throw a proper goodbye party.
The send-off comes in the form of a pop-up, in which the duo will team up to cook for dinner guests at Revolver in Hamtramck.
Fenton and Watson helped open Bistro 82 in 2014 (with Fenton as Watson's sous chef) to critical acclaim. In August, Fenton took an executive chef gig at Tom's and was tasked with
overhauling
the spot's menu, which he did by offering small plates, fresher ingredients, and more chef-driven entrees.
Two seatings for the $65 dinners will be held March 25 and include five courses (mushroom carpaccio, littleneck clam, Scottish salmon, pork belly, coffee cardamom cheesecake).