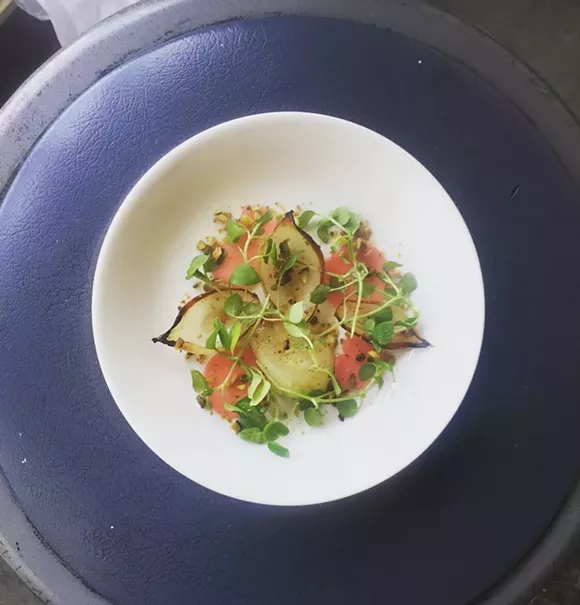 Chef Kate Williams has announced one major step forward in her push to open her North Corktown restaurant, Lady of the House, by launching a months-long dinner series so diners can preview her cuisine.
To commence Feb. 20, her pop-up series will be called Lady of the Market, as it will be held at Brooklyn Outdoor Loft in Eastern Market. The first in the series will be one night only, but after that, each dinner event will be held for three nights on the third weekend of each month. Dinners will include five courses. On the first menu, Williams will prepare dishes like local rabbit with mustard semifreddo, stewed beans with duck sauce, and potato beignets.
Williams tells us that guests should expect a few surprises, as well as DJ sets, and a sophisticated layout put together by sustainable event design firm Detroit Cultivated.
Tickets must be purchased in advance and go for $80. They can be purchased by clicking
here.
Williams has made a name for herself in the local dining scene at eateries including the former Rodin in Midtown and Republic in the GAR Building downtown. Her approach to cooking is in nose to tail, meaning she utilizes as much of an animal in her cuisine as possible. She has become a champion for the #uglyfood movement, in which otherwise good, but ugly food that would normally be tossed out at supermarkets is used in her food preparation.
After a successful opening at Republic, she decided it was time to make a go of it last year and pursue her own passion projects. Since then, she's spent the past several months traveling and holding similar pop-ups in New York. She says her NYC parties have started to pick up momentum and she wants that excitement to carry over in her hometown of Detroit.
As Williams embarks on this next chapter toward opening Lady of the House, she's also found a home for it, in an old former mechanic's garage at 14th and Perry in North Corktown. She says she expects to open the restaurant sometime this year.