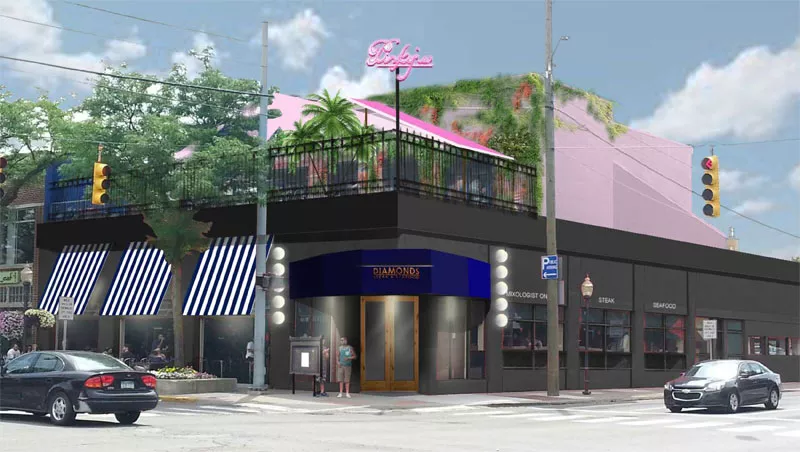 Royal Oak's former Cantina Diablos has a new look, with Diamond's Steak & Seafood officially set to open its doors for a grand opening on Wednesday.
The 7,000 square-foot, 173-seat restaurant is Diamond's second location, following a location in Howell. Diamond's replaces Cantina Diablos on the first floor, while the former Red Fox Rooftop on the second floor will soon be Pinky's, a rooftop patio and bar decorated with tropical plants in the warmer months. Both will be under the same ownership, with restauranteur Adam Merkel, who owns and runs the original Diamond's in Howell, joining as a minority owner. Merkel designed the menu alongside chef Craig Myrand.
Diamond's will be open from 4-11 p.m. Mondays-Thursdays, 4 p.m.-midnight on Fridays, 9 a.m.-midnight on Saturdays, and 9 a.m.-10 p.m. on Sundays. The restaurant is located at 100 S. Main St., Royal Oak. More information is available at
diamondsroyaloak.com
.
Construction for
Pinky's
won't start until next year, according to a press release. In the meantime, Pinky's space will host a Cello Italian Restaurant pop-up, another Merkel restaurant that also had its start in Howell. The 70-seat Cello pop-up will be open through the end of the year; a menu is available
here
, and reservations can be made at
merkelrestaurants.com
. The Cello pop-up is open from 5-9 p.m. on Thursdays and Sundays and 5-10 p.m. on Fridays and Saturdays.
The changeover is one of many to happen to Royal Oak restaurants in recent months. In July, Andiamo announced it was closing after 19 years in business. Also that month, Blackfinn Ameripub announced it would close, and last month, Beirut Palace announced it was calling quits. Beyond Royal Oak's downtown, longtime Italian restaurant Pasquale's
also announced it was up for sale
last month, after 65 years in business.
But don't worry:
Royal Oak will not starve
. Andiamo will be replaced with an as-yet-unnamed restaurant, Blackfinn will become a Bar Louie, and Beirut Palace will be replaced with another Lebanese restaurant.
So many restaurants, so little time. Sign up for our weekly food newsletter delivered every Friday morning for the latest Detroit dining news.