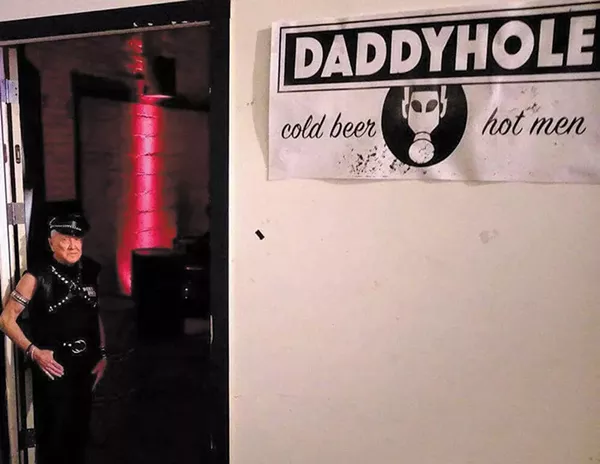 Last year, Jerry Vile — proprietor of Detroit's annual erotic art exhibition, the Dirty Show, now in its 19th iteration — was brainstorming on how to incorporate more from underground gay culture into the event. That's when he, along with photographer Boswell Hardwick and Dirty Show collaborator Tim Toy, decided to build a pop-up leather bar in the back of the Russell Industrial Center's Exhibition Center, inspired by '70s leather club culture. As Toy recounts, it was Vile who came up with the name "Daddyhole"; Toy just took the concept and ran with it.
"It was just kind of like a junk room in the very back of the venue," says Toy. "They cleared it out, and they just happened to leave about 10 or 15 oil drums in there and an old hi-lo lift thing. We just left that there, and the dancers danced on the oil drums. Then we just got some lighting and a sound system." He adds, "It's pretty nasty."
Detroit had a number of leather bars through the years, which have all since closed: R & R Saloon, Chains, and the Detroit Eagle (the present-day Marble Bar). But Toy, a gay man, says he didn't go to leather bars when he came of age in Detroit in the '80s. "I was a punk rocker," he says, more likely to be spotted at clubs like Bookie's, Leland City Club, Clutch Cargo's, and the Shelter. "All of those bars back then, they were kind of a mix: gay and straight, black and white," he says. "I didn't go to gay bars a whole lot, but when we did we went to hear the music, because the music was always really good for dancing back then."
So when it came time to create Daddyhole, Toy had to do some research into leather culture. "It was a challenge for me to do a deep-dive into finding these clubs and then alternative groups. It was quite a journey," he says. "I met a lot of really cool people, and almost family-like atmospheres."
Toy points out that the culture has persisted, and has evolved into other spin-off scenes like pup play, which features leather dog masks and collars. Today, leather culture survives as monthly parties at mainstream gay clubs like Menjo's or the Hayloft in Detroit.
That's despite the fact that gay clubs as they were once known have been on the decline in recent years. "A lot of gay bars are closing — people are meeting each other on (online dating) apps. That made it even more challenging for me, but it also made it a bigger picture for me to keep that '70s leather history," he says. "We're trying to bring some education to the younger crowd who hasn't had any experiences with all of that."
In other ways, Daddyhole keeps the history alive in very real ways: Toy says this year, he has acquired a Saint Andrew's Cross from Man's Country, Chicago's oldest bath house which closed earlier this year after a 44-year run. And keeping with gay clubs' legacy as being safe spaces for expression and cutting edge music, Toy has booked DJs that he says mix an old-school feel with modern sensibilities. "They're pretty young, but they're still following the house music that Detroit invented," he says.
When asked to explain the appeal of the classic leather bar, Toy says it's all about releasing the inner animal. "They're seedy. Dirty," he says. "It's very friendly, but it's very crude and quite uninhibited. There's just something in the air."
Toy says last year, once they put the finishing touches on Daddyhole and it was officially open for business, he noticed a group of normal, straight-looking guys walk into the bar. "The next thing I know, one of the guys is up on an oil drum with all of his clothes off except for his underwear, dancing for like a half hour," Toy says. "It brings something out. It lowers your inhibitions to see people walking around shirtless in leather gear."
As with last year, Toy is inviting leather aficionados to volunteer their time as go-go dancers at Daddyhole. Toy says they'll get on the guest list; all they have to do is show up in their leather gear and hang out for a few hours. (Interested parties can contact Toy via the Daddyhole Facebook group to sign up.) "They're kind of part of the art installation, if you will," he says. "It's interactive, and they're part of the art."
The Dirty Show runs 7 p.m.-2 a.m. Friday, Feb. 9-Saturday, Feb. 10, 1 p.m.-5 p.m. on Sunday, Feb. 11, and 7 p.m.-2 a.m. Friday, Feb. 16-Saturday, Feb. 17; Daddyhole is open 10 p.m.-1 a.m. Feb. 9, 10, 16, and 17; Russell Industrial Complex; 1600 Clay St., Detroit; dirtydetroit.com; 21+ only (Sunday, Feb. 11 "matinee" show is 18+); Tickets start at $30.