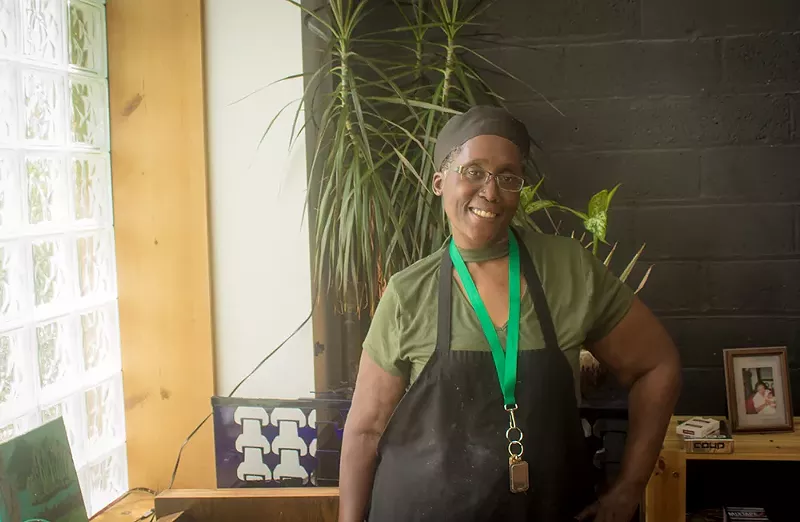 For 38 days, Harriette Brown, sat in the hospital thinking she was going to die. Her mother had just passed away, and it seemed like, with her health declining, she might too. Hit with pneumonia, a steroid regimen that made her gain weight rapidly, and an onset of uncontrollable diabetes — at almost 500 pounds, if Brown were to leave the hospital, there was a possibility of her having a stroke or lapsing into a coma.
Doctors decided she would need weight-loss surgery, but she would have to prove that she was changing her diet and lifestyle.
Brown, also known as Chef Bee, had been cooking and feeding people for over 20 years — even changing up her recipes for people with diabetes and high blood pressure to help them recover their health, but nothing seemed to be working for her.
"I told [the doctor] I heal people with food, but I can't help myself," Brown says. "I don't know what to do."
After the surgery and committing to serve God however she could as long as she could get out of her hospital bed, Brown found solace in a vegan diet. It was helping to restore her health and turn her life around.
Six years later, Harriette Brown, 51, has changed her life with a fork (and veggies). And she's hoping to do the same for others with her mobile café, Sisters On a Roll. Brown wants to have her own food truck, which would help her feed more people in the city who don't have access to free and healthy food; she says her truck would not only spread accessible veganism, but the flavor of love she incorporates into each dish she makes.
Started in 2013, S.O.A.R. began as a result of Brown, post-surgery, helping a wheelchair-bound friend to her business class every day. When it came time for that friend, Sharon DuMas, founder of the global organization Full and Fabulous, to graduate from the class, the instructors asked Brown to be a part of the ceremony too. When the caterer had to cancel at the last minute, Brown jumped at the chance to prepare a meal for the class she came to be a part of.
Her egg-roll bar and kool-aid pies were a hit.
That night, DuMas also gifted Brown with the little green lady that would make up Sisters On a Roll's logo.
"She told me, 'You should do this for a living,'" Brown says. "She gave me my green lady as a graduation present and set up a website for me. I decided to honor her with the name of my business. Sharon had become my family, my sister, and was one of the first people to support my efforts."
Food and cooking, though, had already long been a part of Chef Bee's life.
Growing up, Brown had always been domestic and nurturing, she says. When she would stay with her neighbors, as her mom worked long hours, her desire to take care of and cook for others only grew as she watched her neighbors from different backgrounds and cultures prepare food in ways she had never seen before.
"Food has always followed me," Brown recalls. "It has been my comfort; it has been my sanctuary. It has been the gift that I give away — because it was given to me."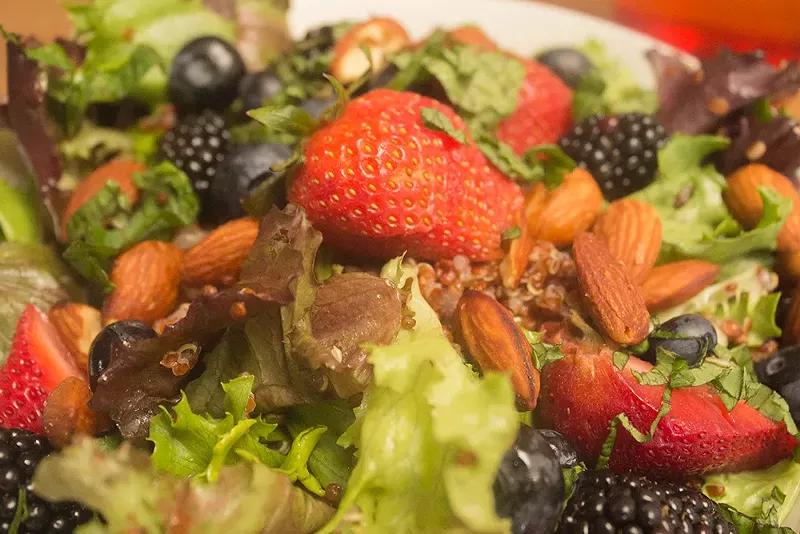 And since then, every Wednesday and Saturday, Chef Bee serves food to the homeless. According to the United States Interagency Council on Homelessness, an estimated 8,351 people experience homelessness in Michigan as of 2018. Sisters On a Roll's values lie in outreach ministry and community service: Brown wants the people she's been feeding her whole life to eat as good as anyone else would. And seeing what they serve out of the Red Cross food trucks motivates her even more.
"I hate the Red Cross food trucks," Brown says shaking her head. "What they show on the news is not what they give away on the truck: green hotdogs, watery soup, one piece of fruit, and a whole bunch of goodies. That's not helpful!"
A food truck has always been a part of S.O.A.R.'s plan. The hardest part has been expenses, though. Brown says she's found a truck that looks hopeful, but she doesn't have the funding to purchase it. She says she hopes it would become a stream of income that could be used as a way to serve the public better.
"Wouldn't it be better to give them a healthy, nutritious meal that will hold them over for a minute and let them be able to take on how they can make their tomorrow better?" Brown asks. "Because that's what I want to do."
Partnerships with places like Nosh Pit Detroit, one of the best vegan restaurants and trucks in Detroit providing innovative and healthy dishes, however, have helped Brown become the city's own Robin Hood.
Karen Kahn Schultz, one of the co-founders of Nosh Pit, was especially helpful in getting Brown to put more value on her food. While once working on the truck, Brown priced her a la carte items all at $5. When Schultz suggested that people should pay more for her food and changed the prices to $9-15, Brown sold out within 34 minutes.
"You can get good food anywhere, but I put love in mine, and I think that's what they're tasting to make them pay that much for it," Brown says. "But I'll do what I need to do to serve the same food I'm making for people with money for those without."
After her surgery, Brown knew that her mission would be to feed people and change their lives with food just as it had happened for her.
"I can't fight the government," she says with a mischievous smile. "But what I can do is feed my people and keep them well for that day. I found my voice through food — it's what gets me up every day — and I want to share that with as many people as I can."

So many restaurants, so little time. Sign up for our weekly food newsletter delivered every Friday morning for the latest Detroit dining news.