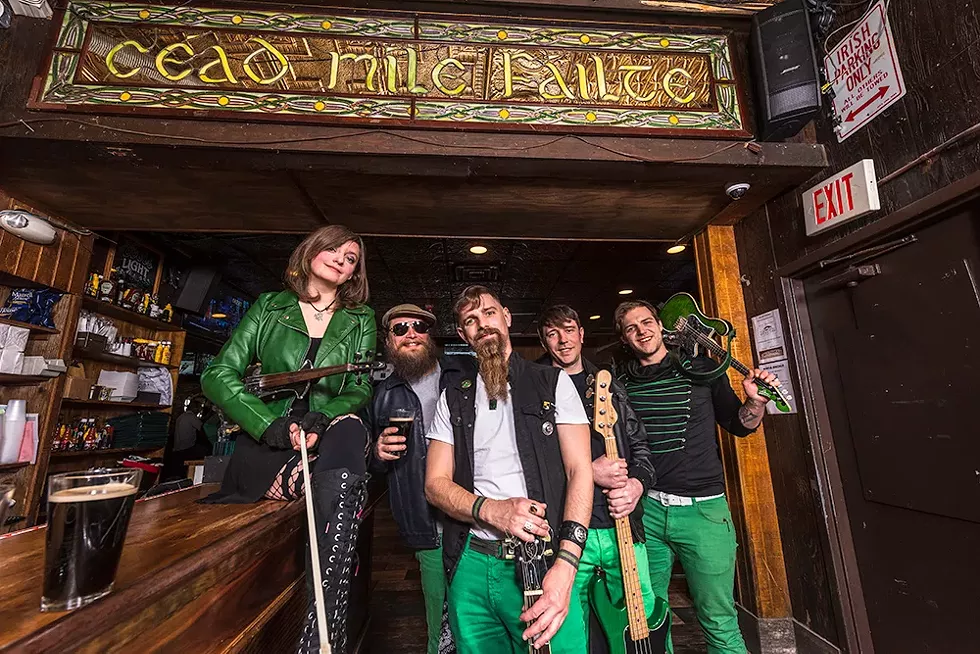 Detroit's Old Shillelagh bar holds a special place for Stone Clover frontman Pauly Brady. His grandfather, a former Detroit police officer, founded Greektown's Irish bar in 1975, and Brady says he spent many Saint Patrick's Days working at the Old Shillelagh alongside his big Irish Catholic family.
"You got to be careful who you say something to about the Old Shillelagh or anything around it, 'cause you might be standing next to one of my cousins, my aunts, my uncles," Brady says with a laugh.
Now, it's tradition for Brady to perform at the Old Shillelagh on Saint Patrick's Day with his rock band Stone Clover, which formed a decade ago when Brady was living above the bar and playing in various rock 'n' roll bands around town.
Brady says Stone Clover was originally formed to perform at the Renaissance Festival, but things just kept happening from there. "We went there and had a lot of fun, imbibed a lot of beverages, and we got a positive response," he says. The band started performing at other Irish pubs around Detroit, and its sound kept evolving. "We started playing rock 'n' roll bars and we got louder and faster," Brady says. "And the Irish community, it was kind of like, 'They're Irish, but they're not really playing Irish music,' you know? And then the rock scene started to open up to us."
Enter "Paddy Slag," Brady's name for the band's blend of Irish and rock influences — "Paddy" as a nod to the band's Irish roots, and "slag" as a nod to the rock influences. "When you refine rocks and minerals, what's left over is called slag," Brady says. "You get that fine, refined piece of mineral, be it a ruby or an emerald or, or even ores. But what's left is the slag. And so as we touched all these different styles of rock, and metal, funk, folk — just, just all these bits we were never able to define exactly what it was we were mixing this Irish influence into. So it became 'Paddy Slag.'"
Soon Stone Clover outgrew the Irish pub scene circuit, and the band developed a crossover sound that landed them on the punk rock Warped Tour, as well as gigs opening for such varied national rock acts as Ben Folds Five, Cheap Trick, Uncle Kracker, and Awolnation.
Brady traces the origin of the "Paddy Slag" sound to the influences of the band members' varied backgrounds and experiences. The band's current incarnation features Brady on vocals and guitar; Michael Berger on bass; Connor Payne on mandolin, cello, and additional vocals; Fanny Daigh on fiddle; and Jacob Pratt on drums. For Berger and Daigh, their backgrounds were studying jazz and classic violin at WSU, respectively. Pratt studied percussion in Hollywood. Payne is self-taught. So is Brady, who has no music background except the Irish pennywhistle his mother taught him and the guitar he taught himself as a kid "to impress girls," he says.
But Brady says he also learned from watching other musicians in the Irish pub scene — people like Billy Dixon, Terry Murphy, and Larry Larson.
"That's the greatest thing about the Detroit Irish music community is that it's essentially a family," he says. "They showed me their versions of the songs. I would say, 'I learned this tune and this country F chord from Terry Murphy,' and I would say that onstage to a small crowd and just give accolades to where it where it came from until it became mine — until I'd done enough to the song that it had mutated or developed into a thing that I felt was my own."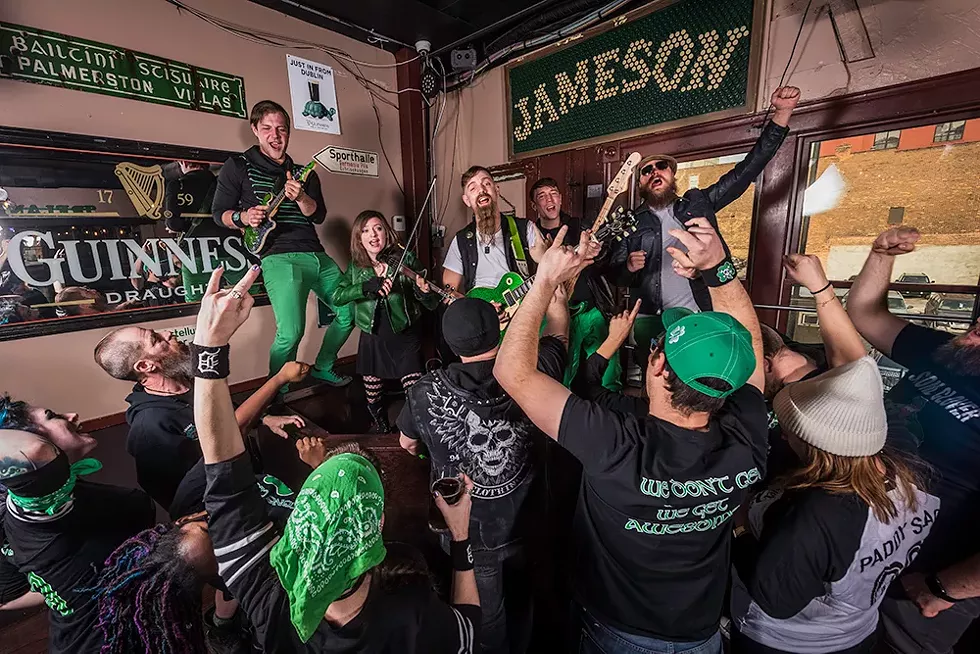 As a band, Stone Clover also acknowledges it shares inspiration with other local Irish rock bands like Bill Grogan's Goat, Black Mist, and the Codgers.
"They all have their own distinct sound, and nobody is trying to play traditional Irish music," Daigh says. "Nobody's trying to play just rock music. They're all putting their own twist on both Irish and rock."
Brady also acknowledges other national and international Irish- or Celtic-rock acts like the Pogues, Flogging Molly, and Dropkick Murphys, but says the goal with Stone Clover was to evolve beyond a typical Irish- or Celtic-punk sound. "I'm not trying to say anyone is Celtic-punk or isn't, but when you hear Celtic-punk, it follows the code, a pattern," he says. "We're trying to not be in the pattern. We're trying to break the mold."
He compares Stone Clover to a band like System of a Down, which blends Armenian and metal influences, if in spirit rather than sound. "When System of a Down got to metal or rock 'n' roll, no one ever said, 'That's Armenian music,'" he says. "They said, 'That's metal and rock 'n' roll.'"
"Tradition is a very important thing and a very beautiful thing that we all learned from," Daigh says. "But there's no moving forward until you create something yourself. And that's what we're trying to do."
Which brings us back to Saint Patrick's Day — a time to celebrate Detroit's Irish community. "The whole community is supportive to carry on the music to the next generation," Brady says. "As long as long as everybody's working as a team and celebrating the music and continuing the tradition, that's what it's all about."
"And that's the thing that's special about Detroit for Saint Patrick's Day," he says. "It's a camaraderie thing. Everyone is a part of that family. We're all here for the same reason — to have fun, to enjoy and celebrate life together. Everyone is welcome. And I like it that way. I want everyone to be a part of it."
Stone Clover have a number of gigs planned on and around Saint Patrick's Day. The band will perform a free show at 8 p.m. on Saturday, March 16 at Soaring Eagle Casino & Resorts, 6800 Soaring Eagle Blvd., Mount Pleasant; 989-775-5777; soaringeaglecasino.com. The band will perform starting at 10 a.m. on Sunday, March 17 at the Old Shillelagh, 349 Monroe St., Detroit; 313-964-0007; oldshillelagh.com; Cover is $20. They will perform again later that day opening for Gaelic Storm at the Buick Event Center; 812 Leith St., Flint; 810-487-4550; buickcityevents.com; doors are 7 p.m. and tickets start at $25.
Doug Coombe contributed to this report.
Get our top picks for the best events in Detroit every Thursday morning. Sign up for our events newsletter.