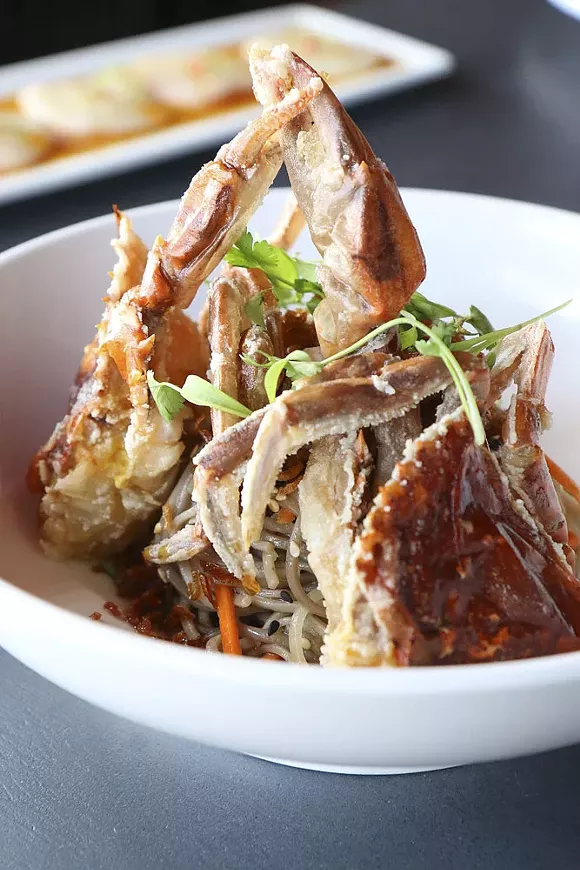 Dining in Detroit has come a long way in the past few years. Where there were once only a couple of fine dining restaurants mixed in with an abundance of take-out places, there are now a slew of destination eateries. Some are fancy white tablecloth places while others are more casual joints, but all of them seem to be on the tip of every Detroit foodie's tongue.
Parc
800 Woodward Ave., Detroit; 313-922-7272
Though prices are high — pasta $18-$38, reserve steaks running from $27 for petite to $112 for 40 ounces — in Parc's first weeks it was hard to get a reservation. Diners will find fresh flowers and heavy white linens, glowing candles in old-fashioned candlesticks, courtly if modern, ever-present service — teams of servers, mostly male — and a "unicorn list" of special wines ranging from $500 to $6,000 a bottle.
Kuzzo's Chicken & Waffles
19345 Livernois Ave., Detroit; 313-861-0229
It didn't take long for the lines to form once Kuzzo's opened its doors. The irresistible comfort food combo — chicken and waffles — is obviously the main draw, and Kuzzo's is the latest in Detroit to try its hand at the dish. But it also offers up a host of other soul food staples. The early raves have held up and momentum has remained strong, which is a solid test of whether a restaurant is merely trendy or built for longevity.
Selden Standard
3921 Second Ave., Detroit; 313-438-5055
Chef Andy Hollyday is very much on the bandwagon of know-your-local-purveyor, and he includes locally grown produce in his popular small plates with much success. As an added bonus to the community feeling of a small plates restaurant, Selden also offers a long community table that seats 14, with patrons chosen randomly to rub elbows with strangers.
Mabel Gray
23825 John R Rd., Hazel Park; 248-398-4300
James Rigato has done it again, this time in Hazel Park. His second restaurant, little Mabel Gray, is a carefully orchestrated mix of seeming blitheness in the decor and a piling-on of fastidious details in the food prep. The result is nothing but fun for lucky diners, who have filled the made-over Ham Heaven diner every night since it opened.
Peterboro
420 Peterboro St., Detroit; 313-833-1111
The differences between the Peterboro and most local Chinese fare are evident on every level. Dishes are exquisitely plated, entrées are bursting with unique spices, and old standards are given a modern touch. At the same time, they don't purport to be strictly "authentic." What you'll find is a cultural collision, where chef Brion Wong's Chinese heritage is met with his New York upbringing, and his expertise in fine European dining.
Rock City Eatery
4216 Woodward Ave, Detroit; 313-265-3729
A recent move from Hamtramck to Midtown means Rock City Eatery's owner and chef, Nikita Sanches, has a larger kitchen to work with — and he's creating a menu unlike any other in Detroit. On top of classic comforts — like the robust and creamy mac 'n' cheese, deliciously charred and semi-spicy Brussels sprouts, and its homage to the venerable poutine — are a number of entrées that embody Sanches' persistent rebelliousness.
Grey Ghost
47 Watson St., Detroit; 313-262-6534
The place is stylish, with floor-length windows, but a big mural of the Grey Ghost, a legendary Prohibition-era rumrunner, seems out of place — he looks like Long John Silver. The vibe is casual but expensive, as every newcomer in this category is striving for these days. The menu is divided not into starters and mains but into cured (such as charcuterie), raw (oysters, tuna, steak tartare), not meat (one fish dish and one each of soup, salad, and pasta), meat (lamb sausage and quail as well as beef), and sides.
El Asador
1312 Springwells St., Detroit; 313-297-2360
In 2014, owner and chef Luis Garza decided to bring sophisticated steak and seafood dishes, with fancy sauces, to Mexicantown. Diners can choose from rib-eyes, New York strips, and aged sirloin steaks, plus squid, scallops, and mussels, none of which is common in the neighborhood. Most suburban patrons just know this restaurant as the place that prepares guacamole tableside. In an effort to be even more inclusive and revolutionary, Garza recently made his entire menu — save pork chorizo, which will be prepared separately from all other dishes — halal.
The Conserva
201 E. Nine Mile Rd., Ferndale; 248-291-6133
Plates at the Conserva are brought out one at a time, at a nice pace. All are on the large side for small plates, and chef Matthew Baldridge seems to specialize in rich flavors (don't be thinking light and salad-y), all of which are accessible to any chef but which are not super common. The recurring theme is some fairly outrageous richness in the main event with just a hint of contrast from an acidic element.
Chartreuse
15 E. Kirby St., Detroit; 313-818-3915
Reservations are highly recommended at this super-hip Sandy Levine-owned restaurant located in Midtown, just across the street from the Detroit Institute of Arts. The spot quickly earned local praise for its inventive and flavorful small plates, its stellar service, an intriguing interior, and complimentary bread and ramp butter baskets. You'll find a long list of cocktails as well as a handful of liqueurs made by Carthusian monks in France — a family of liqueurs that shares the restaurant's name.