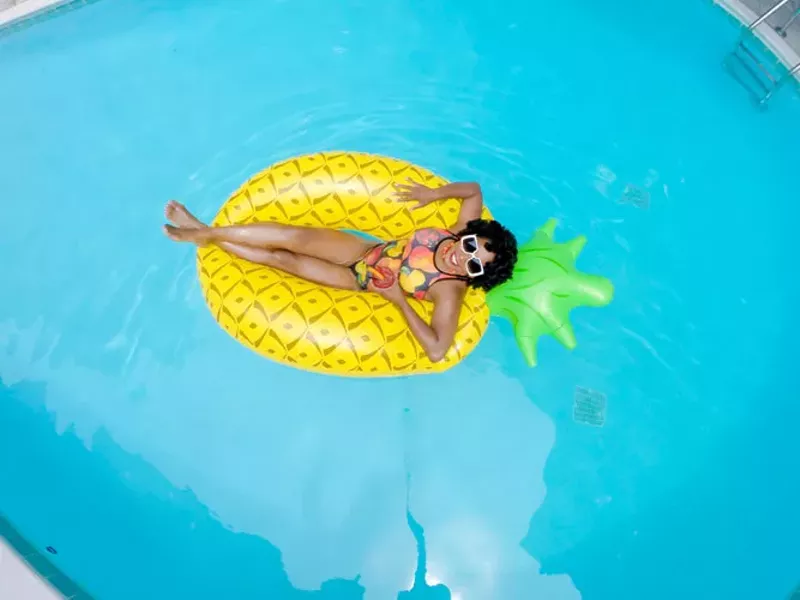 Family Aquatic Center at Chandler Park
12600 Chandler Park Dr., Detroit; 313-822-7665; waynecountyaquatic.com
The park features a grand open-area pool and play area, two waterslides, and a wave pool. The pool is open 11 a.m. to 7 p.m. daily June 17 through Labor Day. Admission is $7 for Wayne County adults, $5 for children ages 3 to 12 and $2 for children 2 and younger. Non-Wayne county residents pay $1 more.
Southfield Civic Center Pool
26000 Evergreen Rd., Southfield; 248-796-4640; cityofsouthfield.com
Features a 10-by-10-foot kiddie pool for toddlers and young children, a 120-foot water slide, and a climbing wall. The pool is open June 18 through August 25, seven days a week, 12:30 p.m. to 6 p.m. General swim is $4 for residents younger than 18, $5 for non-residents under 18, $5 for adult resident, and $6 for adult non-residents. Season swim passes are also available.
Fuller Park Outdoor Pool
1519 Fuller Rd., Ann Arbor; 734-794-6236; a2gov.org
Located just off of the University of Michigan Medical School, the pool features a water slide, a seven-lane pool, a shallow area with ramp access, grills for cooking out, and a 12-foot-deep diving area. Admission is $4 for youth and seniors and $5 for adults.
Belle Isle Waterslide Park & Beach
1 Riverbank Dr., Detroit
The one-half mile-long beach and water park along the Detroit River features waterslides that takes swimmers into the river. Slide rides are $1 each.


Lake Erie Metropark Wave Pool
32481 W. Jefferson Ave., Brownstown Charter Twp.; 734-379-5020; metroparks.com
This action pool lets you ride the waves like you're in an ocean with rafts that the park provides. The park also features a family-friendly "splash pad." Hours for June 19 through mid-August are 11 a.m. to 7 p.m. weekdays, and 11 a.m. to 8 p.m. weekends and holidays. Adults are $8, and children age 15 and younger and seniors 62 and older are $6. Children less than 30 inches tall are free. A twilight rate from 5 p.m. to closing is $5.
Buhr Park Outdoor Pool
2751 Packard Rd., Ann Arbor; 734-794-6234; a2gov.org
This outdoor pool features six lanes, a diving well, a zero-depth area, and interactive water play features. Adults are $5, youth ages 4 to 17 and seniors 55 and older are $4. Public swimming is Monday through Friday from 1 p.m. to 8 p.m., and noon to 8 p.m. on weekends and holidays June 19 through Sept. 4.
Livonia Parks & Recreation Swimming Pools
19444 Lathers St., 248-476-9700; 33123 Van Ct. Ave., Livonia; 734-524-0649; ci.livonia.mi.us
Sister pools Botsford and Shelden offer 50 and 25 meters of outdoor swimming, respectively. The pools are open daily June 17 through Aug. 20. Pool hours are 1 p.m. to 6:45 p.m. Monday through Friday and noon to 6:45 p.m. Saturday and Sunday. Admission is $4 for adult Livonia residents and $7.50 for non-residents, children ages 3 to 17 are $3 and seniors 62 and older, $5.25 for non-residents.
Blue Heron Bay Spray Park at Independence Lake County Park
3200 Jennings Rd, Whitmore Lake; 734-449-4437; ewashtenaw.org
This water park features big water slides, a water jet spider, buckets, water cannons, and a water structure. Open Memorial Day through Labor Day 11 a.m. through 7 p.m. Admission is $4 for residents, $3 after 5 p.m., and children younger than 2 are free. Add $1 for non-residents.
Huron Valley/Milford High School Pool Water Park
1630 Bogie Lake Rd., White Lake; 248-676-2341; 2380 S. Milford Rd., Highland; 248-676-2346; hvs.org
This indoor water park features a community pool with a waterslide that wraps around a giant gorilla, a spaceship, and a tiki hut, as well as a competitive pool with lanes for lap swimming and a 13-foot diving well. Admission is $6 with a day pass and free for children under 3 with adult supervision.
Kensington Metropark
4570 Huron River Pkwy., Milford; 810-227-8910; metroparks.com
Open May 27 through Sept. 4, this splash park offers two 240-foot water slides and water cannons. It operates 11 a.m. to 7 p.m. daily. Adults are $6, children between 42 and 30 inches tall are $5 and children shorter than 30 inches are free.