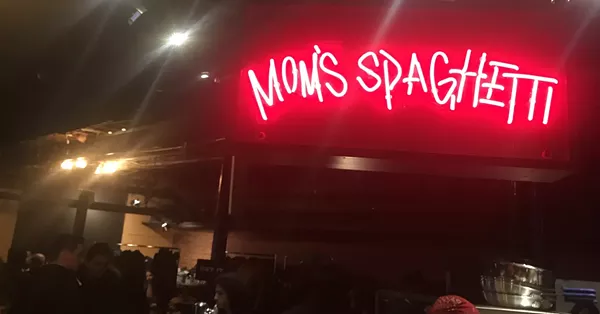 An opportunity like this comes once in a lifetime.
After 15 years, I finally have the answer to a question that has plagued the curious palate of Eminem fans everywhere
—
what does mom's spaghetti taste like?

It tastes like spaghetti. Just spaghetti.

Last night Eminem announced via Twitter that the Shelter would host a "Mom's spaghetti pop-up," and I did not want to miss my chance to blow $5 on a food mentioned in a song from 2002.

The menu features two food items
— Mom's Spaghetti (with or without meatballs) and a S'ghetti Sandwich, which was described as being "literally just spaghetti and cheese on bread" by one of several noodle wizards, all of whom donned uniforms with the official Mom's Spaghetti logo.
Served in a white carry-out container most commonly used for General Tso's chicken and topped with a delightfully floppy piece of butter-soaked garlic bread, the aromatics of my generous helping of Mom's Spaghetti (sans meatballs) were more akin to, say, Grandma's goulash or Dad's lasagna. But I wasn't about to hold that against th(Em).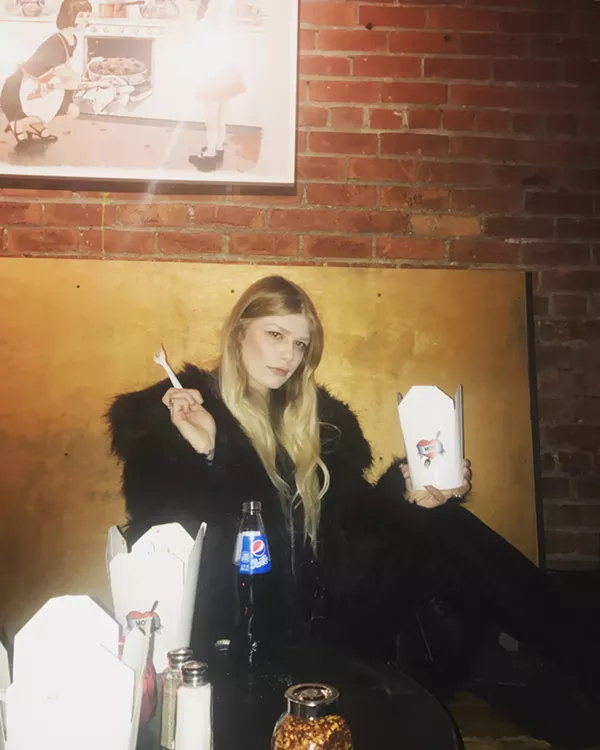 I went for the garlic bread first mostly because I have no self-control, of course, dipping it into the sauce as a few stray noodles clung to the buttery carb log. Upon first bite, it was like a
Revival
of nostalgia in my mouth. Though I can't recall a time my mom made spaghetti, I can't help but think this is what it might taste like. More than likely this was the work of a busy mom who doesn't have time to stew her own tomatoes or gather fresh basil and thyme from her window herb garden. Mom's Spaghetti tasted like Prego, or Kraft, or my many lazy attempts at cooking.
After waiting 45-minutes in 20 degree weather, Mom's Spaghetti was simple and warm — just what I needed to not die. Adequacy at it's pasta-iest.
Eminem's Mom's Spaghetti pop up runs today until 5 p.m., tomorrow, Dec. 16 from 10 a.m. to 5 p.m., and Sunday, Dec. 17 from noon to 5 p.m. The Shelter is located at 431 E. Congress St., Detroit.